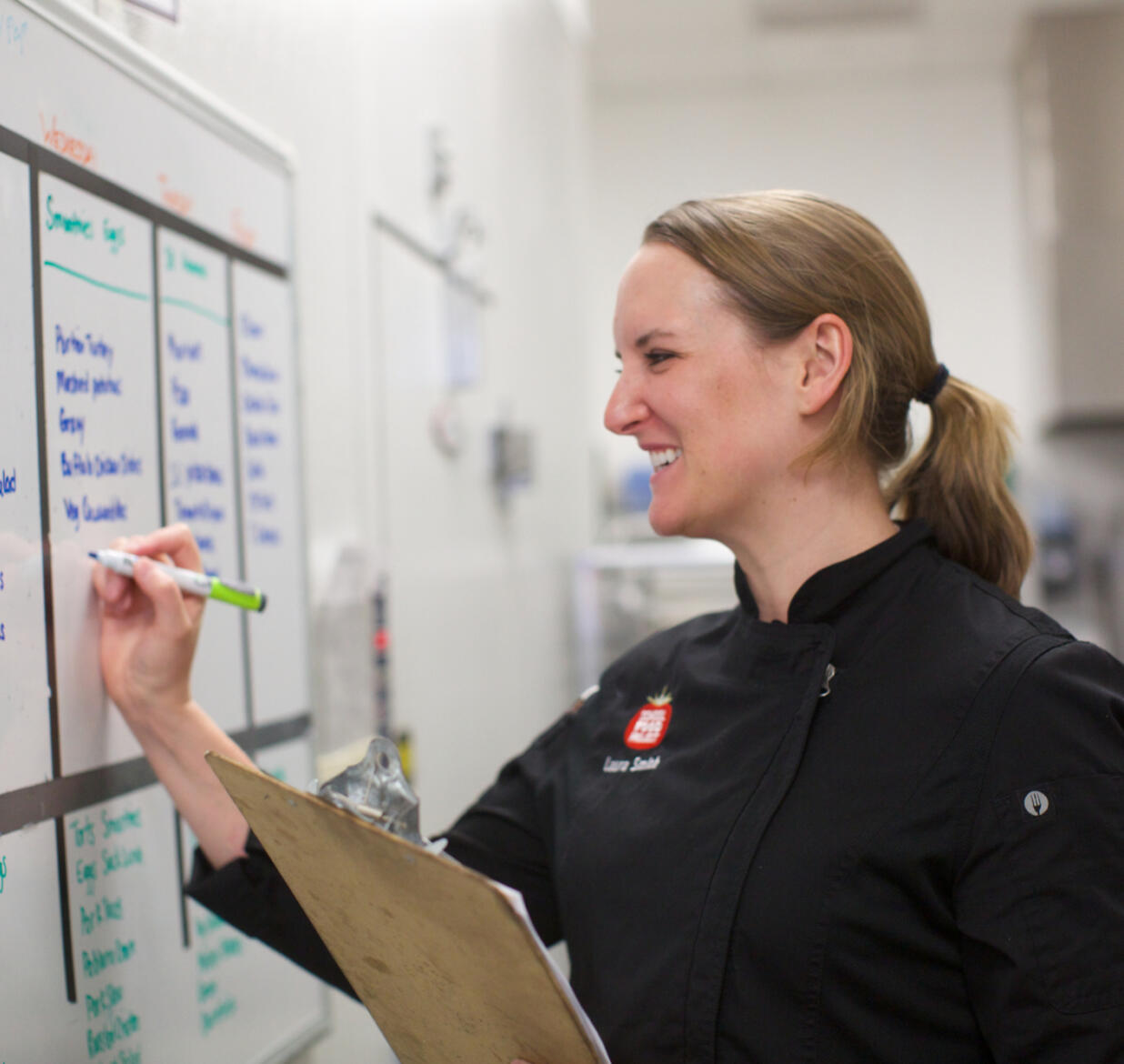 A Month-by-Month Guide to Scratch Cook Operations
June 15, 2021
|

By
Looking to get ahead on your school food operation for the year? We've got you covered with a new resource on The Lunch Box: Roadmap for the School Year.
Managing a self-operated scratch cook program involves understanding your resources, connecting with key stakeholders, developing recipes and menu cycles, and determining key changes to make. Planning out the year to include these tasks, as well as your program's goals and deadlines, makes it easier to stay on track and get ahead.
To make things easier for you, we've put together a roadmap to the roadmap: a quick and easy guide to planning for the year. In this blog, we'll go over what to prioritize and take note of during each quarter to help you plan ahead and stay on track. For the full Roadmap for the School Year, click here.
Q1: January, February, March
In January, school food directors should focus on menu planning for the upcoming school year, especially while transitioning to a scratch cook program. Menu planning in January allows time to project budget costs and plan menu cycles so that your school food operation stays fresh (pun intended!). In need of extra assistance? Check out the School Food Institute's Recipes and Menu Development course here.
Another important objective in January is meeting with local producers and suppliers. This is the perfect time to connect with local farmers and discuss opportunities for the next school year. Don't forget to emphasize your district's volume to demonstrate how local procurement is beneficial for both your program and growers themselves.
February is the ideal time to identify grant opportunities and start your budget for next year. Meticulous fiscal management is crucial to the transition and sustainability of a scratch cook school food program, and budgets can show your program goals and identify opportunities. Budgeting also functions as a benchmark for measuring year-end success. Additionally, grants have the potential to help districts make significant changes to their programs, like implementing salad bars, farm to school initiatives, and improving equipment and technology.
In March, we celebrate National Nutrition Month and National School Breakfast Week. This is a great time to meet with vendors to find local, freshly-prepared foods, and sample new products and ingredients for scratch cooking. Remember to discuss pricing with your vendors and determine what new products to incorporate in your menu cycle.
Q2: April, May, June
April is Earth Month, and Earth Day is on April 22nd—making it the ideal time to focus on environmental sustainability. During this first month of Q2, start testing recipes before adding them to next school year's menu cycle. Recipe testing ensures the recipe is efficient and standardized, and conducting student tastings is a great way to get feedback and inform the recipe development process.
As the school year comes to an end, remember to use up existing inventory, support team members, and prepare to close. Paying attention to these small details in May enables you to set the stage for a successful new school year.
June is the month to wrap up the school year and set your program up for success. Tie up loose ends by reviewing the previous year's financial data and finalizing the planned budget for the next school year. Get your program off on the right foot by planning back to school training, recruiting new team members and marketing your menu for the upcoming school year. If you're determined that CEP is a good fit for one or more of your school sites, make sure you turn in all materials and start determining what program improvements to prioritize. Learn more about school food finance with the School Food Institute here.
Q3: July, August, September
In July, you can attend the SNA Annual Conference to network and garner new ideas and resources for your school food program.
Training and orientation ideally will take place in August, before the start of the school year, when you can provide culinary skills training, support rising leaders with food service management professional development, introduce new team members to your mission and vision, and share upcoming program changes.
September is when kids come back to school, and the grace period ends for Free and Reduced applications. Back to school time is an opportunity to introduce kids to the school meal program and any new changes, which starts with customer service. When staff is able to provide excellent customer service, and incorporate the school food team's perspectives into recipe development, procurement, and planning processes, this creates a feeling of involvement and can lead to higher ADP.
Q4: October, November, December
October marks the verification period for Free and Reduced meal applications, National Farm to School Month, and it's when National School Lunch Week launches. Celebrate Farm to School Month by highlighting the different local or regional producers and vendors in your cafeteria with posters and signs.
Prepare for the upcoming Thanksgiving and winter holiday breaks at the start of November by working with kitchen staff and sites to assess and utilize inventory. This is also a great time of year to host a holiday party or recognize members of your team for their hard work.
At the end of the year, we recommend starting to explore plant-forward meals that focus on fresh fruits and vegetables, and whole grains. December is a great time to start learning about your plant forward menu options before you start menu planning next month!
Tying It All Together
Although we advocate for the importance of planning ahead and being prepared, we know that major events like the COVID-19 pandemic are hard to predict. Due to the pandemic, many manufacturers have had a difficult time fulfilling orders, which has impacted delivery and forced menu shifts for school food programs. Unfortunately, these issues have even started to affect back to school menus in the fall. The disruptions to the supply chain are more likely to occur with prepackaged and prepared items—not necessarily with raw ingredients—which is yet another reason why it is so important to increase the amount of scratch cooking in schools.
Scratch cooking allows school food teams to determine which ingredients, recipes, and menus work best for their community needs. By planning out menu cycles, you can calculate exact inventory needs and project your meal counts and budgets.
Check out the full Roadmap for the Year on The Lunch Box for more details and information on how to stay on track with your school food program.