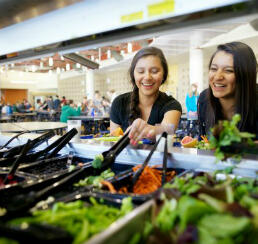 New Jersey Serves Up Education and Creativity
February 04, 2015
This blog post has been reposted with permission from Let's Move Salad Bars to Schools, read the original blog post here.
Instead of insisting that students take one fruit or vegetable each day at lunch, West New York School District (WNYSD) students willingly fill their lunch trays with healthy produce. Occasionally, Sal Valenza, the WNYSD nutrition services director, will point to a student's tray and ask: "Are you sure you're going to eat all that?" But when the lunch bell rings, the lunch trays are empty.
After earning a degree in hotel and restaurant management twenty-five years ago from Florida International University in Miami, Valenza returned north where his career in school food service began. Hired by a management company to serve as the nutrition director of a small local school district, Valenza brought his restaurant management skills to the school lunch arena and made it his mission to serve up fresh, healthy meals to New Jersey's kids. One of the ways he made his vision come to life was by seeking out salad bars from Let's Move Salad Bars to Schools.
The addition of six salad bars to the district drastically improved their food service program. The salad bar tripled students' lunchroom fruit and vegetable consumption in the first year. "The choices on the salad bar empower the students because it gives them ownership of their food," says Valenza.
Number of kids enrolled at WNYSD: 7,792
Number of salad bars: 6
Percentage who are free and reduced: 79%
Kids' favorite salad bar items: Beets (candy cane beets, golden beets, and red beets), field greens, and the chickpea-cucumber salad
Valenza's school food program grew organically. He explains that hiring passionate individuals cultivates a program where the staff takes ownership. Case in point—WNYSD teachers have organized field trips to local farms. Another teacher created pickling classes for elementary and middle school students. After learning about the preserving process, students began their own pickling project. Two weeks later they were able to enjoy their fermented creations.
New Jersey's local partnerships
Valenza utilizes local relationships to enhance WNYSD's program. He works closely with Zone 7, a New Jersey distribution company that connects local farmers to local chefs. Zone 7 frequently offers a discounted rate to WNYSD. "Mikey" from Zone 7 contacts Valenza each time there is a produce surplus. Valenza explains: "I feed 5,000 kids a day. I can move it (the surplus). I tell Mikey, 'Don't let it go to waste, I will buy it.' "
Kids are eating fresh produce, and they are also learning about it in their classrooms. Valenza hired Chef Kim to oversee menu creation and nutrition education and she does her homework. For example, when local green and purple cauliflower is available on the salad bar, Chef Kim creates handouts explaining how different soils affect the cauliflower's coloring. Valenza and Chef Kim also have plans to use the salad bars for an upcoming event called the "Farmers Breakfast", to highlight local produce on the schools' menu.
Valenza and his team's efforts have not gone unnoticed. WNYSD became the first district in the nation to earn a gold award from the Alliance for a Healthier Generation.
Interested in reading more helpful articles from us? Sign-up for our newsletter in the footer below.