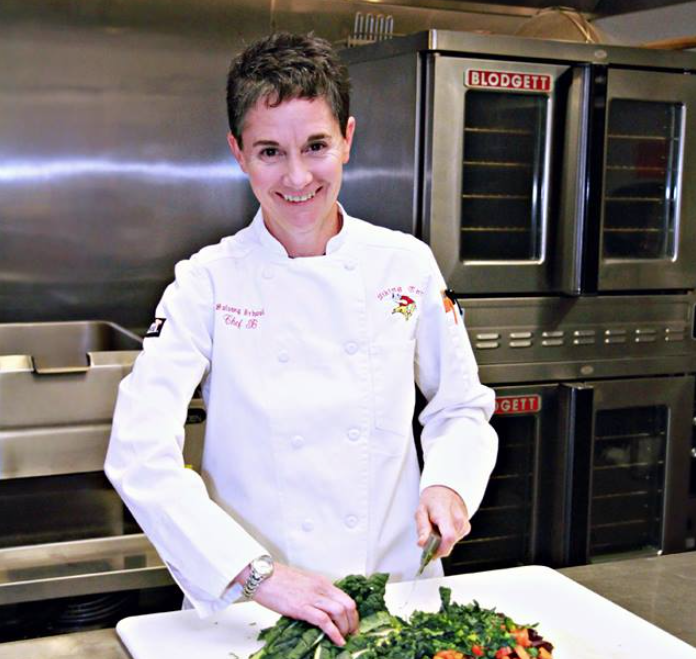 Teamwork, community, and gratitude are key during unmatched times
Director of Child Nutrition Bethany Markee has seen food insecurity rise since the start of the pandemic—along with her team's dedication and sense of community
August 05, 2020
|

By
The Chef Ann Foundation's Hero Highlights | Stories from the Field is presented by Danone North America. To ensure the incredible stories of our school food workers are being told, we're sharing stories from the field as school food teams tackle food insecurity due to widespread closures amid the COVID-19 pandemic. Stay tuned for more.
For school food support during the coronavirus pandemic, view our COVID-19 Resources & Support page.

Why did you get into school food? What drives your passion for this work?
I was a chef in a restaurant and I started very young. I kind of started looking around at what in particular children were eating, what they knew about food and what they didn't know. I don't know which one was more disturbing. And then I had children of my own, and [I thought about] what I fed them vs. what was out in society.
I kind of made this conscious decision to say, well, I want to go work in schools. And most of my chef friends thought I was absolutely nuts, but now they don't think so. I have a great job and most weekends off and I'm doing what I like to do.
I'm very educationally-focused with kids. (I teach in normal times, not in COVID times.) We have a culinary arts academy here and we teach a lot of cooking classes. We teach at the school kitchens and then they go for a tour of the restaurant and learn about the food and its history with the chef. And then they actually run the restaurant for a night. We invite families and friends and different people and community members. It's over 100 people that get sat all at once. I mean, these kids are like, 12 years old. But it's great. It's wonderful. And it's amazing and such a great feeling to see these kids just step up.
Obviously, the chef who owns the restaurant understands what I'm doing and takes the risk along with me in their journey. And we all keep them safe. It's pretty special.
That's amazing. What have you been most proud of? Under normal circumstances, but especially during the COVID-19 pandemic.
At my last school, we received a Golden Carrot award for one of the healthiest school lunches. And it was much easier to do it there because it was just one school, so we cooked entirely from scratch at that school, it was great. Now I'm at work and I have ten schools, which isn't a lot in comparison to, you know, the country. But for me, it's a big leap. So we're implementing as much scratch cooking as we can at the schools. And each year we do a lot more, and it goes back to training of the employees. You know, I know how to do it, but I got to show them how to do it. So I would say in normal times [what I'm most proud of] is getting that award at Solvang Elementary and saying, "Hey, you know, we did pull it off." We really did serve kids some really amazing scratch food.
We also have a different program that we've kind of teamed up with here at Orcutt, a local nonprofit called the Santa Ynez Valley Vegetable Rescue. They go around and rescue all these organic vegetables from the fields and from farmers markets that didn't get sold. We take them and incorporate them into our school food program; some of them go into the salad bar, most of them go into sauces, like tomato sauces.
And then in COVID times, I was so incredibly proud of my team. They figured out stuff that I hadn't figured out, like how to serve better. They were getting really sore because they were bending over to fill these bags. They went online and said, "Okay, what are other schools doing?" And they changed the way they filled them. You can really tell that they came here to serve kids and they showed it. No one ever complained about coming to work. None of that. I was really proud of them.
Under normal circumstances, what is your average daily participation and free and reduced percentage?
We have 10 schools, and our free and reduced percentages range from around 20% to around 81% at the highest. We sell about 800 breakfasts a day, 2300 lunches a day, and about 425 after school snacks daily.
So when the pandemic hit, did you see an increase in food insecurity and need in the community? What did you witness there?
Yeah. You know, what was interesting is we got a lot of parents come through the drive-thru pick up area that really were very honest and said, "I've never gotten school lunch. Ever. And my kids are so excited to come out and get this." And some maybe needed it more than others. But everyone was just really appreciative. And I think across the country it gave school food a big boost. Because we're out there, we're serving, we're smiling. We had a mascot at one school dancing around, just to lift the kids up and make them smile. It was sweet to see how important a school meal actually can be.
You mentioned drive-thrus. Can you give me an overview of what the program looked like during COVID?
We have 10 schools, nine sites normally. We served at four sites and I closed the other five. We did everything in the parking lot as a grab-and-go meal with breakfast and lunch in each bag, five days a week. If we had a day where it was a holiday, we did a double serve.
In terms of what schools look like in the fall, as a district, do you guys know if kids will be coming back? What are you planning for the school food program?
We don't know. Nothing's been decided. We've got some plans of maybe a hybrid learning where they come some days, and they're home some days. We're planning on serving grab-and-go on the school site and then also still trying to do that grab-and-go pick up in the parking lot if the child is in school that day. We've got a bunch of scenarios we're putting out there. We're waiting for the board, the community, and the government to decide how we take this on and do this.
Yeah, definitely. So in light of all of the recent protests and a lot of changing circumstances around race and racial justice, how is your team? How have you handled it? And has it affected conversations that you've had with your team and/or the community on food equity?
You know, it made me stop and reflect on everything and what's important. I just kind of have to step back and try to remember to be very compassionate for everybody involved. And that's what I try to do with my team. We as a district are largely a Hispanic population. And that comes with many of the struggles that I know the African-American community is talking about right now. We're just trying to be aware of that and respectful and kind, and acknowledge that this is going on. How do we all get through this together?
How would you position school food in the larger food justice landscape? A lot of people don't realize how many kids school school lunch programs are feeding. So as someone who works in it, how do you position school food in the larger landscape of the food system and food justice for all?
I really think there is a very strong argument for free food for [all kids]. I mean we feed prisoners for free. But our children go to school and we don't feed them for free. I just think it would take away a lot of the stigmatism. And I know why they do this, but I'd really like less regulation so I could feed them a little more food, and the vegetables that I want to feed them on a given day, especially if it's local and in season. You can do that to a certain extent, but if you haven't served corn that week, you gotta serve corn. If it were up to me, that's definitely what I would like to see.
Absolutely. And I don't think you're alone. I think that the idea of universal free school meals is becoming more than even an inkling, more of a possibility.
I saw a lot of humbleness in parents who came to school, and who you could tell never needed a school lunch before, and now they do. And a lot of gratitude, grace, and understanding that I don't think they would have even remotely gotten if this hadn't happened. So, I mean, for school food, I think it has really shown them who we are as a company, if you will.
Since you started the remote feeding program and since the start of the pandemic, what feedback have you gotten from the community?
They're just really grateful. [When I first started in school food] I kind of brought my restaurant experience in, and it was such a small school that I could make it where all the kids were excited to eat lunch, and there was no stigmatism around it. And then I got to this bigger public school system and I really could feel the stigmatism. Now I think people have been able to slow down, whether they didn't go to work or not, or they just gained some perspective. And really, I think the judgment will change forever. I don't think that will go away, but whether they need it or not in a month or a year, that doesn't matter. They'll remember, "Hey, when I needed it, they were there and they were smiling and they were dancing." We were in the pouring rain out there just serving, and I think they saw the kindness. A lot of people, men and women who come to work in schools, are very, very kind. And I think people were able to see that. I think that's a gift.
How can people offer support for your work?
Just by remembering that we got the kids and the families through this, and that "lunch ladies" in general are known to serve through their heart. They really do care about these kids. As a general message, I've seen this amazing, great sense of teamwork in our field where we all have the attitude of: "Whatever it takes, we're going to get through this. Whatever it takes, we're gonna feed these kids." I think that's pretty amazing.
Is there anything that I haven't asked you about, or anything you haven't spoken to yet that you want the broader audience to know?
Just to say thank you to school lunch workers, cashiers, our cafeteria workers. That goes a long way, even after this is all over. Remember to say thank you. That means a lot.