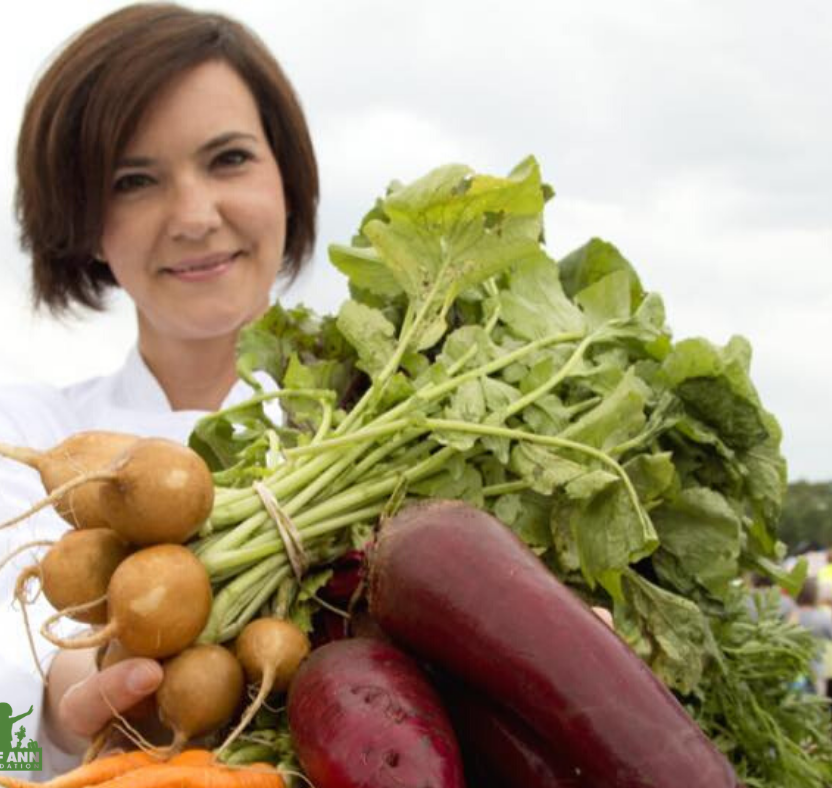 This school chef is striving for scratch cooking—even through COVID-19 copy
Like Chef Ann herself, Sharon Schaefer is a CIA (Culinary Institute of America) graduate who unexpectedly found her way into school food and nutrition. With a chef's background and dedication to feeding kids healthy and delicious meals, the Food Services Director of Gretna Public Schools is hanging on to scratch cooking even through these unprecedented times.
July 03, 2020
|

By
The Chef Ann Foundation's Hero Highlights | Stories from the Field is presented by Danone North America. To ensure the incredible stories of our school food workers are being told, we're sharing stories from the field as school food teams tackle food insecurity due to widespread closures amid the COVID-19 pandemic. Stay tuned for more.
For school food support during the coronavirus pandemic, view our COVID-19 Resources & Support page. If you'd like to nominate a school food leader in your community for Hero Highlights, please send an email to submissions@chefannfoundation.org.

We're excited to share this Q&A with Sharon Schaefer, Food Services Director for Gretna Public Schools in Gretna, Nebraska. Together with her team and school nutrition network, Schaefer put together a comprehensive plan for serving food to her community amid the COVID-19 pandemic. Read on to learn why she believes "scratch cooking is more important now than it ever was."
What was it like for you, when you got the news about COVID-19 school closures?
It was a lot of work, but I had the benefit of two things as my support. My father is a health officer in north New Jersey, so he was kind of my inside man on what was going on, giving me information that was very credible.
And then the second support system that I had in place was the School Nutrition Association through my attendance at national conferences, meeting and mingling with other directors and chefs across the country. We very quickly bound together because we were all going to experience something very similar no matter what state our schools were located in.
So with the support of my peers and colleagues and some great information from my dad—it was a lot of work—in about 48 to 72 hours, we completely redeveloped our service model and executed a great emergency meals program.
When I realized that the information [from my dad] was valuable beyond [our conversation], we coordinated a regional school nutrition Zoom on March 20th, including a great keynote on emotional social wellness, how to stay positive, and make sure you are filling your cup up as a professional so you have something to give your customers and your staff. I think that it was great for me to have the information, but it was even better for us to be able to share that out to others.
Why did you get into school food? What drives your passion for this work?
There was a call to chefs asking them to come to the White House front lawn about 10 years ago. And I'm a CIA (Culinary Institute of America) graduate, just like Chef Ann, but just a different point in time (I graduated 1998). I heard that there were a bunch of chefs on the White House lawn talking about how to feed kids. Coincidentally, right about that same time, my oldest child was going to enter kindergarten. And my husband and I had just bought a new house and we were talking about how I might need to look for a full time job instead of working part time teaching culinary arts.
So then I thought for the first time: Who are the people that will feed my children? Where will I work full time? And then – wait a minute – who's feeding all of the children when their parents aren't doing it? It had never even crossed my mind. And all of that happened right at that moment when something really big was happening for chefs to move to schools.
So my first job was selling food to districts as a DSR (district sales representative). And I went around to all the school districts in my area and sold food to the directors. And I saw this huge internal struggle. They were faced with new requirements like red/orange vegetables and whole grain rich, and terminology that they hadn't been exposed to before.
But, as a chef, I had just learned what the Healthy, Hunger-Free Kids Act was striving for, and I just kept moving forward. So I started writing menus for a lot of those directors in an effort to help them not feel so frustrated.
Within the first year of that job, a woman from one of the school districts I was trying to sell to called me in for an appointment and I really thought they were going to finally buy from me. She called me in for this appointment, and it turns out that it was a job interview; she was one of the only districts in the state of Nebraska that had a chef on staff, and that gentleman had given his two weeks' notice.
She had heard there was some chef going around town, writing menus, working with schools. So she offered me a job. And, I told her, "I'm not looking for a job. I'm really happy with what I'm doing. I'm writing menus. I'm creating recipes."
And she said, "Well, what if you get to do all of those things? But you also get to know the kids that are eating this food."
I said, "No, no, no, I'm fine." But I drove home that night and I told my husband, "I really think I want to work for this person." And I called her that night and she said, "That's so weird that you called. I just told my husband I really want to work with this person." So we worked together for four years until she retired.
And then it wasn't long between then and now that I started as a director in a district close by—a district that I used to sell to ten years ago.
That's amazing. We hope at some point to see more chefs in schools—folks in culinary school who are thinking, "When I get out of here I want to be a chef in a school district."
I think we're starting to get there. People are starting to come to school food a lot faster after graduation. It used to be that we found it by accident, like we didn't even know it existed.
I feel like our job is to teach the kids as much as possible, make the cafeteria an extension of their education, and teach them what they want to be putting in their bodies.
What have you been most proud of during this unprecedented time?
I'm very proud of the Zoom webinar we held on March 20th, because I know that it helped spread information beyond my town. The town that I work for is 70 square miles, and to be able to share information and arm multiple school districts in my state with that same information... I hope that helped a tremendous amount of families eat.
What is your ADP & F/R percentage (under normal circumstances)?
Our schools range from 10 to 15 percent free and reduced.
I would say that our ADP is between 50 and 60 percent, when you add seconds in and you do a meal equivalent calculation; then my high schools are at 98 percent.
Did you see an increase in food insecurity/need in your community since the start of the pandemic?
Oh, absolutely. When we first started emergency meals we sent out a survey asking families if they needed meals and how many, so that when we got started we could have enough food for everybody that was going to show up. And when we compare that to our free and reduced list, 52 percent of the people that were coming for meals were free and reduced, which means 48 percent of the people participating in the emergency meals program did not have a food insecurity need before coronavirus. They didn't qualify. But that's how many people in our town lost their jobs.
Can you give us an overview of your emergency feeding program?
We had people pick up twice a week on Tuesdays and Thursdays, open to anybody that was in need. We did not limit it to Gretna students. We wanted to make sure to wrap our arms around homeschooled kids or people that had just moved here that hadn't registered, or people that have adult children, or people that are just adults themselves.
We did a drive up model, and there was signage outside with a phone number to text their family name, and how many people needed food. We had packers inside the school with access to refrigerated milk coolers that we just rolled down the hall and wrapped. Meals were prepared and packed in boxes, which we put out on the table. After our staff placed it there, people were instructed to get out of their car, take the food, put it in their car, and drive off. Then the staff would come and sanitize all of the surfaces and we would do it again.
Wow. And you guys didn't experience anyone getting infected?
Nobody. Not a one. I woke up every morning hoping that nothing would happen. And our staff and our town remained safe.
How have you transitioned from your COVID-19 emergency feeding plan into summer feeding?
It's a little bit different now because we do have a program that the district decided to keep intact as much as physically possible called Kids Connection. Kids Connection runs the before and after school care program, and right now, they're running the summer care program.
There's still so much up in the air for the 2020-2021 school year. How are you planning for different scenarios?
Well, I have a lot of spreadsheets. One whole set of spreadsheets is pretending like nothing is going to change because at some point I think we'll return to our regular menus. I don't know if that'll be August, September, or January—or a year from now. But we invested a lot of time and energy on those menus. So I just make sure that they're up to date.
And then we also are starting to look at what a back-to-school menu will be. What can we pull off of our planned menu? That would work if we have kids in buildings. But maybe a different social environment while they're eating. Maybe a different pickup model to get the food to the kids. Also, what menus would work if they're not in the building? Do we do daily drive ups? Do we do like we did in the past where it was two days a week?
We also have another model where students come into the building in smaller groups; half the students on Monday, the other half on Tuesday, and then they flip back and forth. There are about five different scenarios out there.
I believe we have to plan on adaptability. And one of the reasons I stuck my heels in the sand a little bit deeper than normal on what I would call my "traditional menu" is because we don't need to reinvent everything. From my six-week rotation, I'm using things that the kids are comfortable with—things that the staff is comfortable with, but that would work for all of these scenarios.
How is your team handling the recent protests surrounding race/racial justice? How has this affected conversations with your team and community on food equity?
Our school year is finished, but I've made sure to email my team frequently. And I'll send them something interesting that I found on the Web—anything from maintaining and reducing your own anxiety, to information about how to treat people that you may be unaware that you have a bias against. How to start having an open mind and healthy, open conversation.
In Nebraska, we are not as ethnic of a population as I'm used to. I grew up in north New Jersey, about 40 miles outside of New York City. And when I moved to Omaha, Nebraska, the first thing that I noticed is it's extremely white and it's extremely Christian. And that was a huge adjustment for me. It almost made me sad that my kids would not know that their neighbors could be any kind of neighbor and equal as far as humanity goes.
So I personally just take a lot of time to go to all different parts of Omaha, not just my neighborhood. I expose my children to a lot of different experiences. So they can see every skin tone, every religion. I can't tell other people what to do, but I highly, highly recommend it because I think my kids will be much more tolerant of all different opinions and backgrounds and races because they've been exposed to it.
And unfortunately, when you live in places that don't have a lot of diversity, the children don't necessarily grow up with bias, they grow up with lack of knowledge. And I think that's perceived as bias. So all of the families out there, black, white, brown, whatever you are, I highly recommend leaving your community at times on purpose to create more understanding with our next generation.
Since you started remote feeding, what feedback have you received from the community?
We had the local newspaper come by a couple of times, and it was nice to see those articles.
The Omaha World Herald came by and did an article about emergency feeding. I think it said something along the lines of, "Gretna lunch lady will not sleep until the town has been fed"—a dramatic headline!
As people picked up their meals, we had asked them to show our heroes that they see them—you could honk or hang a sign, your kids can dress up like a superhero, any way you would like to. And we got a lot of fun little signs and car decorations and things like that. So that was very nice for the staff to see that acknowledgement.
How can we support your work right now? As an organization, as individuals?
I'm on a mission to do scratch food as much as possible. So I think we're very much aligned in that way. One of the things that helps is to continue developing scratch recipes that would work for delivery to the classroom, or a pick-up-and-bring-home model.
I think that any sort of webinar or education session, or something on the website could be shared out, that teaches people culinary knowledge in relation to cost and finances would be helpful. Everybody is trying so hard to do the right thing, but we don't all have the resources that we need to feel confident that we've done the right thing.
I feel so scared that coronavirus will scratch scratch cooking. Many people are saying, "To be safe, I have to go to everything pre-packaged," which is a huge step backwards in a lot of ways. And I don't agree that it needs to be all packaged food. I think that's really bad for the environment if we go that route.
But, I also feel like now more than ever, if we're looking at ways to stay healthy, diet is 60 to 70 percent of that. And then you have the mental health component and you have the physical activity component. So if the largest percentage is within our control for our students, scratch cooking is more important now than it ever was. And I think we need to not lose sight of that.
Is there anything you'd want the broader audience to know?
If someone is unhappy with their school nutrition department or their school menu, I think they need to know that school nutrition is much more than what is seen on the surface level. They need to get under the hood a little bit. Meet with your director in a way that you're trying to gain understanding and not be critical—not tell them everything that they need to change because they could be someone like me. I've been here a year and a half. I've got amazing plans, but I can't make that all happen in 24 hours. So find out what they are working on, and where they need partnership. We already have so many critics. So I think if parents, Boards of Education, and communities really join us on this amazing journey, that will help the progress move faster than criticism.
The Chef Ann Foundation carries out our vision by ensuring that school food professionals have the resources, funding and support they need to provide fresh, healthy, delicious, cook from scratch meals that support the health of children and our planet.
Danone North America offers a variety of brands that kids and parents love, including Dannon®, Silk®, Horizon® Organic, and many more. The company's mission is to "Bring Health Through Food to as Many People as Possible," and greatly values its partnership with the Chef Ann Foundation to bring this vision to life within K-12 foodservice. Learn more at danoneawayfromhome.com.