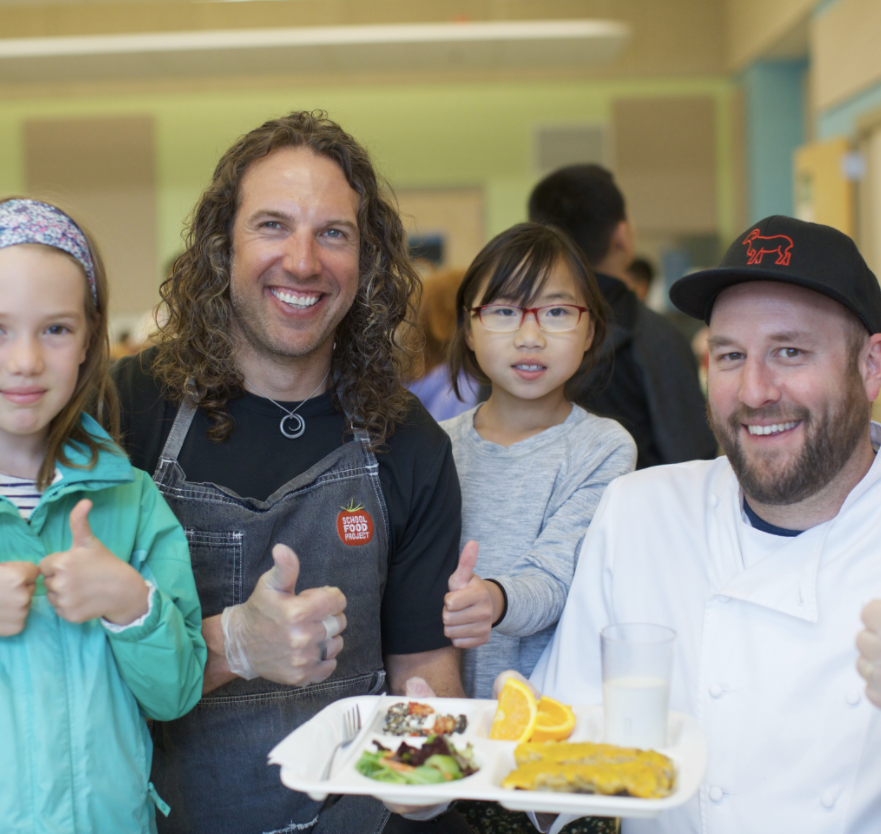 2019: 10 Years in the Making
January 15, 2020
|

By
2019 has been a big year for the Chef Ann Foundation. We celebrated 10 years of work—10 years of providing tools, resources, and funding to school districts nationwide so they can serve healthier food to kids.
After such a big milestone, we want to take a minute to reflect on this year's accomplishments and highlight some of the organization's most notable moments.
Program achievements and milestones
Our programs are the heart and soul of what we do. Through our four major programs, we are able to equip school food professionals, parents, healthy food advocates and more with the tools they need to implement healthier, scratch-cooked food in schools.
In 2019, we granted 223 salad bars to schools across the country in partnership with United Fresh Start Foundation and Whole Kids Foundation—bringing our total number of salad bars granted to 5,650!

"The salad bar has made it much easier to meet the meal pattern requirements while still encouraging student choices," said Emily Cena, Salad Bars to Schools grantee and Food Service Director for Ramona Unified School District, CA.
The nation's only personal learning platform for school food professionals dedicated to cook from scratch operations launched three new courses: Plant Forward, Ingredients for Healthier Kids, and Sustainable Lunchrooms. We also translated every course into Spanish! Click here for our translator's take on bridging language barriers in school kitchens.
We're entering the final stages of our very first cohort's 3-year program. These 2016 GSC districts— Bellingham Public Schools (WA), Buford City Schools (GA), Passaic School District ( NJ), and Watertown Public Schools (MA)—have introduced new scratch-cooked recipes, installed salad bars, added new vendors to procure local products, eliminated highly-processed items from their menus, and so much more.
Transitioning to a scratch cooking model takes effort and time. "This isn't going to happen overnight," said Bellingham Food Service Director Patrick Durgan when we caught up with him earlier this year. "Since we've started making some of these changes, the response has been positive."
We recently gathered applications for our fourth cohort, to be announced in January 2020.
Our free tools and resources were downloaded over 18,000 times in 2019; the Food Cost Projection worksheet is one of our long-standing most popular downloads. We also registered 4,468 new users in 2019—a marked increase, and a good indicator of the rise of scratch cooking in schools.
Real School Food Challenge goes national
In 2019, our fundraising and awareness event went national! Chefs around the country crafted and added a USDA-compliant school meal to their menus during the month of October. Proceeds from each restaurant benefited the Chef Ann Foundation and were matched dollar-for-dollar thanks to our sponsors. We also partnered with StarChefs to debut five recipes at the International Chefs Congress in Brooklyn, NY, where former Rising Star-turned-school chef Mihoko Obunai won first place for her Japanese chicken curry.
Our 2nd annual Real School Food Challenge: Natural Food Industry Edition in Boulder, CO was a success, with competitors from natural food companies like Bobo's Oat Bars and Noosa Yoghurt. Congratulations to Quinn Snacks CEO & Founder Kristy Lewis on her first place recipe: Italian meatballs with herbed polenta and maple-braised carrots.
Spreading the word on scratch cooking in schools
We had many opportunities to spread the word about scratch cooking in schools, from the AFHK Parent Workshop in Denver, CO to the Healthy Kids Collaborative (hosted by the Culinary Institute of America) in Napa, CA. CAF was also accepted into the Food System 6 accelerator program, where we collaborated with tech and ag leaders in the Bay Area.
In addition, our founder Chef Ann Cooper spoke about our mission throughout the country, from the Northern Nevada School Wellness Conference to the Association of School Business Officials (ASBO) International Conference & Expo in Maryland.
What's to come in 2020?
Look out for a blog post from our CEO, Mara Fleishman, coming in January! We're excited to share with you what the Chef Ann Foundation is up to in 2020.
Thank you for 10 years—here's to many more!
This year, we celebrated a decade of working with school communities to help them serve healthier food to children across the country. We couldn't have reached over 3.2 million kids in more than 11,000 schools without your dedication and support. Thank you for sharing in our mission and believing that every child deserves healthy food every day.
We're excited to continue this work as the school food landscape grows and evolves, and to bring you along for the journey as we make an even bigger impact in the years to come.
Wishing you health, happiness, and an abundant new year,
The Chef Ann Foundation Team