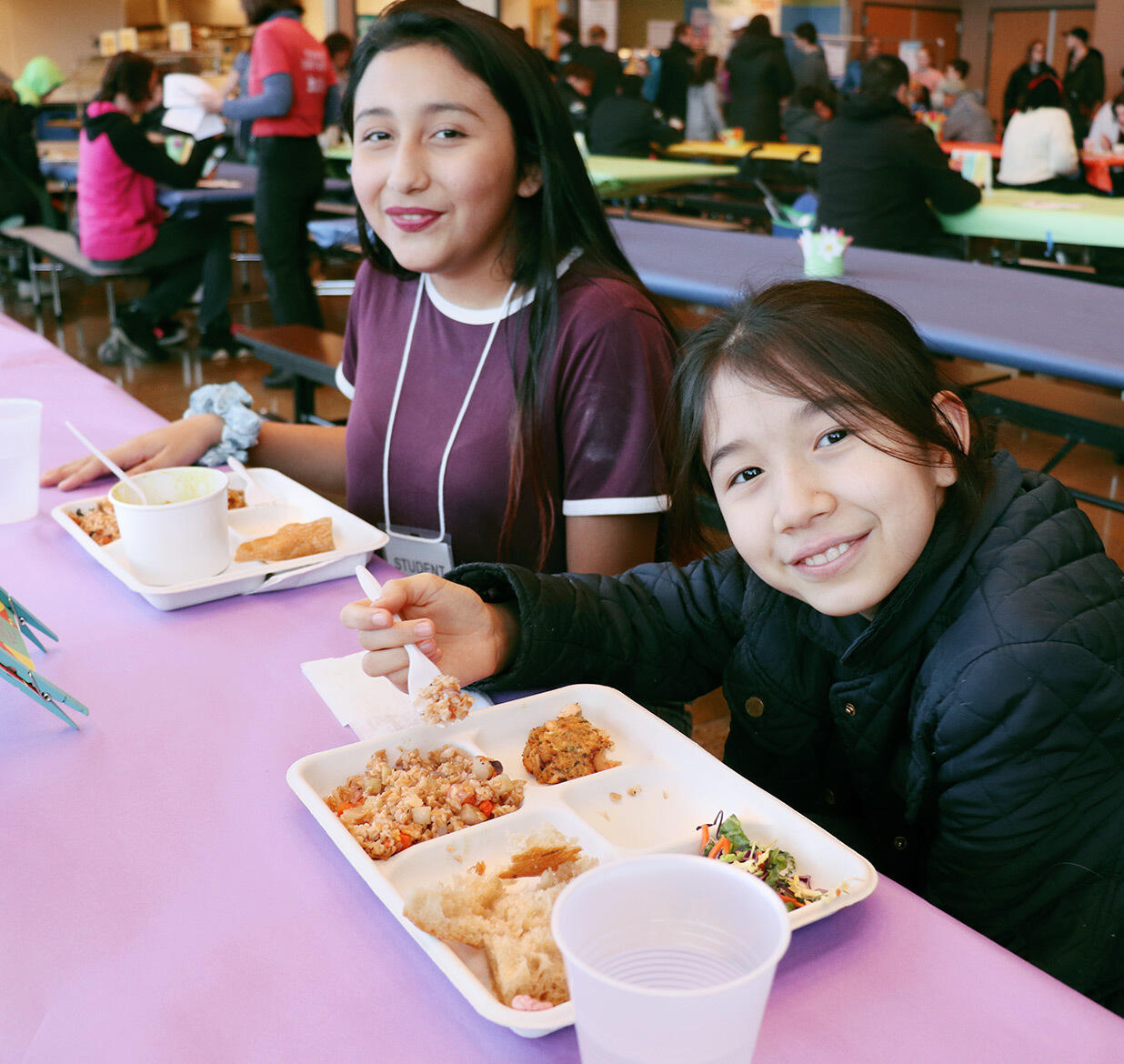 Bellingham Public Schools Gets a Good Food Makeover
Scratch cooking, salad bars, local procurement & more moved this Washington school district toward fresher, healthier food for students
May 23, 2019
|

By
For Patrick Durgan, a focus on scratch-cooking practically came with the job. Soon after being appointed Director of Food Services and Executive Chef at Bellingham Public Schools (BPS), Durgan jumped feet-first into Get Schools Cooking (GSC), a 3-year program intensive dedicated to transitioning schools to scratch-cooking. The district's participation in the program was supported by the Whole Kids Foundation.

ABOVE: Two students enjoy Lummi Island Wild Salmon Cakes and Bluebird Grain Farms Farro Pilaf at the Shuksan Middle School Community Family Night. The pilaf includes tomatoes, cucumbers and onions and is lightly dressed with a vinaigrette.
Durgan traveled to Boulder, CO to join the 2017 GSC cohort for the program workshop March 16-17, 2017. This 3-day kick-off focuses on everything school districts need to know to start scratch-cooking, from procurement to accounting.

For Director Durgan, it was hugely beneficial to hear insights and gain perspective from experienced players in the school food movement, like Beth Collins and Chef Ann Cooper.
"It was great to have Ann to say, 'Yeah, you can expect that,' or 'This is where you should be,'" he shared. "What I took away from it is that [implementing scratch cooking] is really hard."
Through the GSC training, Director Durgan learned how to grab easy wins in the transition and about inevitable challenges he would face. For example, when cafeterias remove the high-fat, high-sugar foods that kids love, there can be a dip in participation, he explained, but once schools refine new recipes using student feedback, the system begins to work.
In his own words, simply put, "This isn't going to happen overnight."
The Work Begins
Transitioning to a scratch cooking model takes effort and time. Get Schools Cooking is a three year program, and, by next school year, cafeterias in the Bellingham, Washington district will be scratch cooking up to 30% of the food served to kids.
BPS is also shifting to a centralized production model—the model that Chef Ann recommends most often. The centralized model fits BPS' need to streamline processes and production. The district originally used four production sites, each with different storage, infrastructure, and cooking capacity. The district has since reduced its production sites to three, but the central kitchen will undoubtedly be a game-changer.
"I think a lot of what we were doing was waiting … for the central kitchen to be built. We didn't have the infrastructure to jump into scratch cooking development."
Rather than wait until the kitchen is complete, Director Durgan has spent much of the last two years setting the stage for the major changes to come. His marketing efforts have centered on engaging the community around the new food system and implementing small changes, a few at a time, to get kids on board.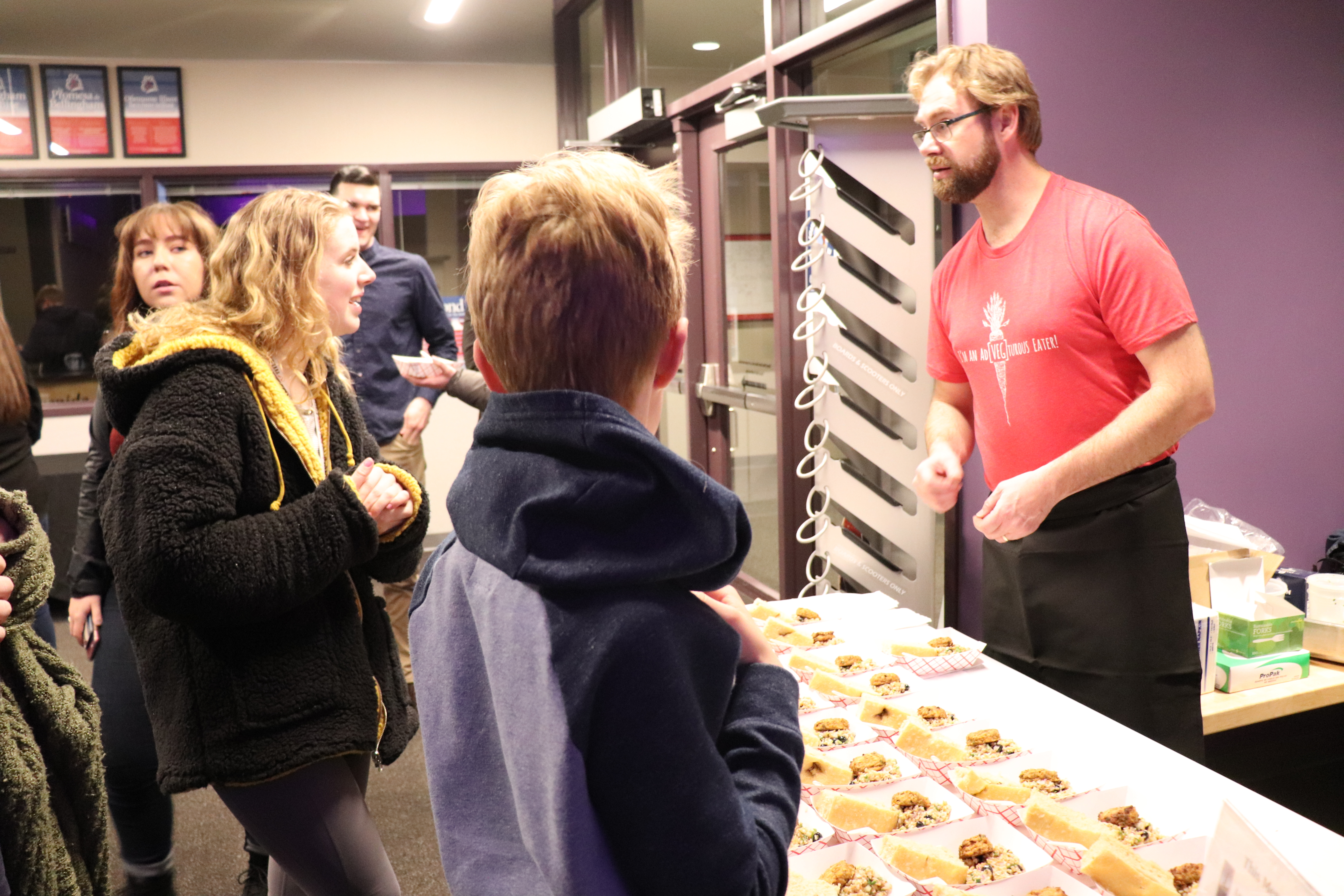 Thinking Local Food
Mataio Gillis shares a sampler of locally sourced items, including Bluebird Grain farro salad with blueberries and salmon, at the DJ Cavem Eco-Hip Hop community event in March at Options High School.
"As we started changing our infrastructure and our menus a little bit, we learned it didn't work to change the menu drastically for kids," Director Durgan explained.
Prior to its scratch cooking transition, the Bellingham school kitchens served pre-formed chicken breasts, which were processed but consistent portion sizes. Once the district began partnering with local farms, they could offer local chicken breast but now struggled with maintaining portions. In order to continue serving a similar chicken dish without the challenge of uneven portions, Director Durgan oversaw the transition to using pulled chicken in recipes.
Pulled chicken began replacing the pre-formed patties in dishes like chicken tacos or barbecue chicken sandwiches. Director Durgan explained that this meant "once we got into scratch production, kids wouldn't see a lot of change."
Additionally, BPS is committed to supporting the local food economy, which means selecting ingredients from local farmers when possible. Next year, BPS will add salmon cakes to the mix, supporting local fishermen and using wild salmon from the nearby Puget Sound.
"When we can put a face to a carrot or a piece of broccoli, we can convince kids to try it. Plus it's fresher!" Durgan remarked.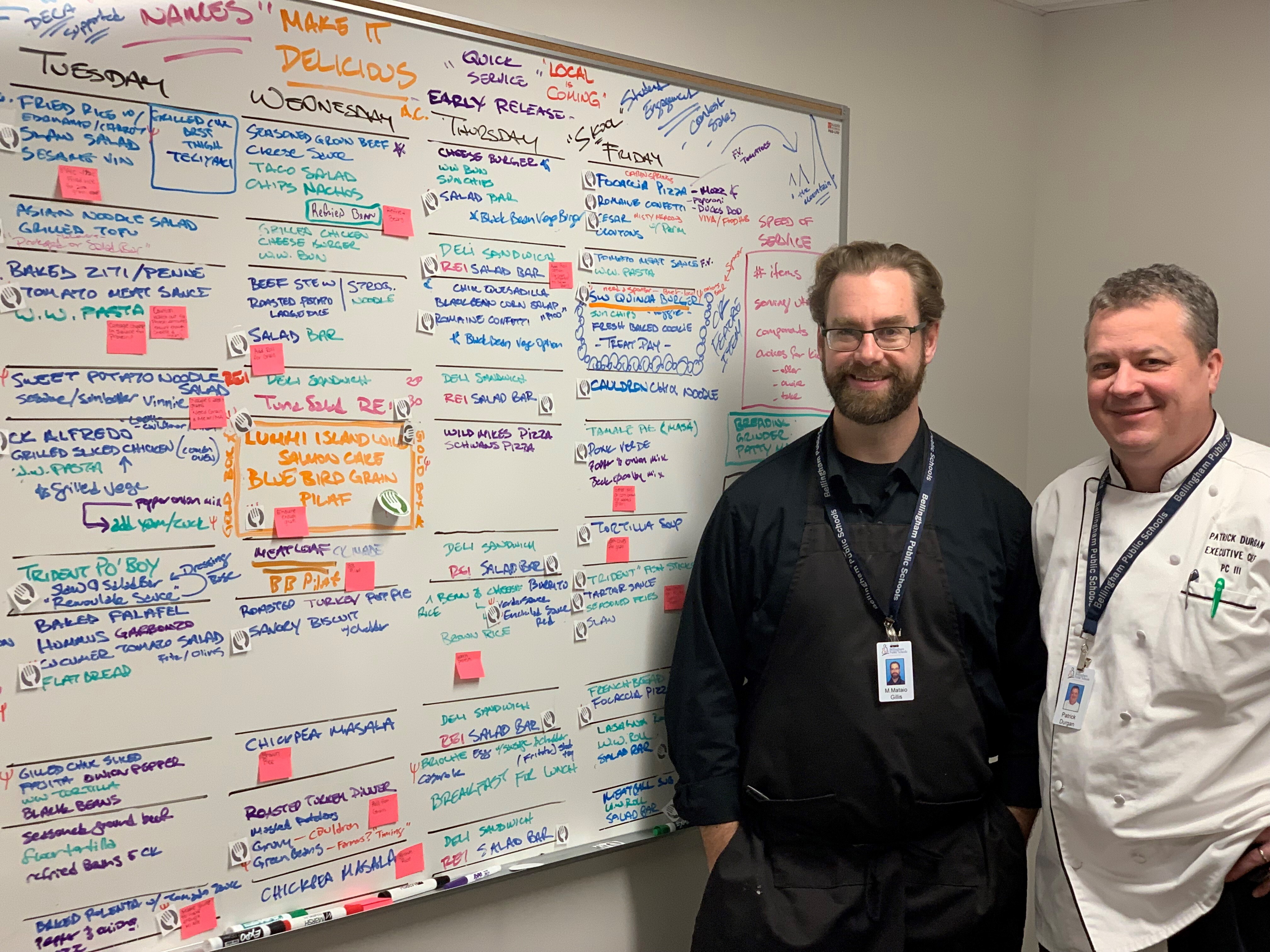 The Road Ahead
Patrick and Mataio show off the visioning board they're using to plan out menu options. Look closely: Bluebird Grain Farms is in the gold box in the middle!
Overall, Director Durgan says the community is enthusiastic about the improvements to school food.
About 33% of students in BPS qualify for free or reduced lunch, and about 18% of students pay for school lunch. Director Durgan expects to see the latter number rise as the district transitions more and more to healthy, scratch cooking— just as participation increased when they introduced salad bars two years ago.
"Since we've started making some of these changes, starting some of our scratch recipe testing and getting that out to kids… the response has been positive," he said. "Kids are really savvy. They know what foods they like. Every kid in our district knows what quinoa is."
Quinoa, really? Yes, BPS has been partnering with food education groups for seven years now. From these programs, kids learn to take "adventure bites" and "not yuck someone's yum." Director Durgan noted that having this food education piece has been critical to gaining traction.
"If we can start food education at a young age and fight the stigma about who eats what, [we'll] be able to share differences over food, [which] is a really important thing globally. No matter who we are or where we come from, we need food," Director Durgan said.
As BPS experienced, school food change can take time—but with hard work and perseverance, big results centered on healthy fresh food can happen.
For more information on the Chef Ann Foundation's Get Schools Cooking program, click here. Grant applications will re-open this August—stay connected via Facebook, Twitter, Instagram and our newsletters to ensure you don't miss out!