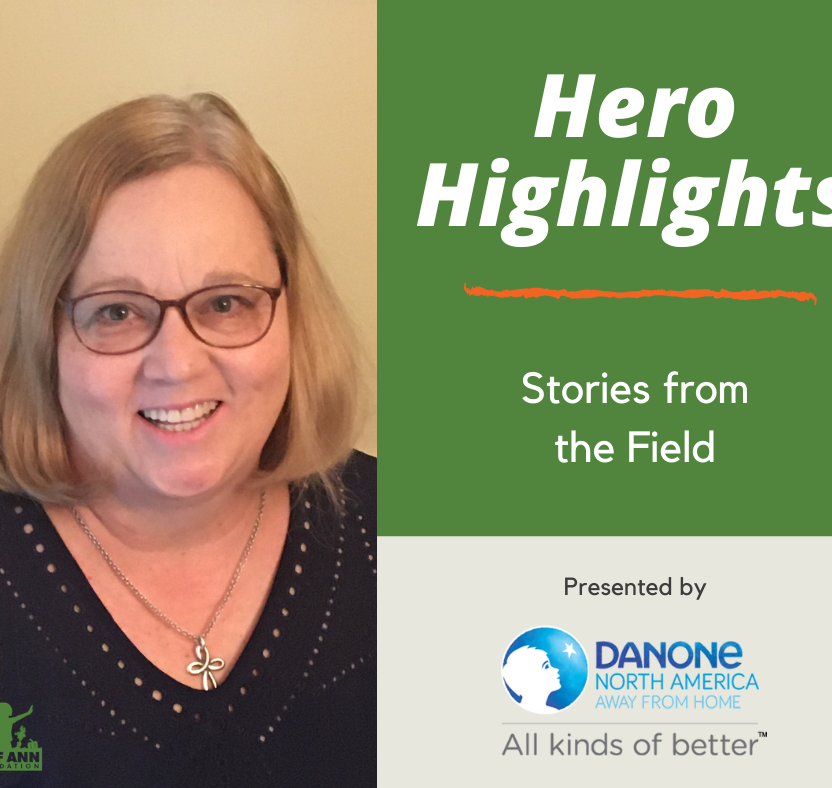 Child Nutrition Supervisor Calls on USDA for Help
This Tennessee district has been working hard to feed their community—but running a self-sustaining program means coming back to school with a negative balance
June 05, 2020
|

By
The Chef Ann Foundation's Hero Highlights | Stories from the Field is presented by Danone North America. To ensure the incredible stories of our school food workers are being told, we're sharing stories from the field as school food teams tackle food insecurity due to widespread closures amid the COVID-19 pandemic. Stay tuned for more.
For school food support during the coronavirus pandemic, view our COVID-19 Resources & Support page. If you'd like to nominate a school food leader in your community for Hero Highlights, please send an email to submissions@chefannfoundation.org
We recently spoke to Robbin Cross, Child Nutrition Supervisor for Franklin Special School District in Tennessee, a fourth cohort Get Schools Cooking grantee district. Here, Robbin walks us through the ups and downs of operating her district's remote feeding program, what summer feeding will look like, and how the COVID-19 pandemic is affecting her department now and in the long-run.
Thanks so much for taking time to talk with me today. When did your department implement emergency feeding?
We started emergency feeding on Thursday, March 19th. We were on spring break the week of the 16th and before we left on Friday the 13th, I had gotten permission to start emergency feeding if we did not come back [if schools were closed] on the 23rd, and that's what happened. Then, during that week, the state waived that if you were on spring break you could go ahead and start feeding. So we got that permission on Wednesday morning and then we started [passing out meals] that Thursday.
How is your emergency feeding program structured?
Starting on April 13th we went to Mondays and Thursdays. At first we were doing five days a week and we couldn't imagine cutting down in days, but it was just wearing the staff out. They were exhausted, and it was stressful on the parents because they were having to come every day. We had some people that were driving in from a good distance. We started serving on Mondays and Thursdays and that's worked out very well. My staff works on prepping Tuesdays and Wednesdays and then Fridays they're off.
The administration made the decision before we ended spring break that every district employee would continue to be paid through the rest of the school year, even if we did not go back. That's awesome, isn't it? Everybody has continued to get their regular salary. They also made this decision due to how hard it is to get out the meals and because people were putting themselves at risk. Any child nutrition employee that works emergency feeding is paid their regular rate of pay in addition to the regular hours they're being compensated.
That's amazing, wow! Did you have a plan in place for when this all started, or was it a big shock? Did you feel prepared?
We were not prepared. Luckily we've had summer feeding and the bus routes before. The week of spring break was not much of a spring break for me or members of my staff, we were just trying to get things going. It took us a while before I was really totally pleased with the products we were putting out.
The first two days we did not roll out everything; we just did the bus route in our most needy area. That first day, we actually went out on Thursday and knocked on doors where we knew there were children, saying "We've got free food, tell your neighbors we'll be back tomorrow!" I had one lady who came to the door who said, "Oh, thank you. I was just sitting here praying and wondering how I was going to feed my grandchildren that I'm taking care of." It was really cool. The second day we had a few more people who were expecting us. By the time we got to the next week the publicity was out.
How large is your staff?
We have 42 people on our child nutrition staff under normal circumstances. Now, we are working a total of about 14 people.
We offered work to anybody that wanted it. Like most child nutrition departments, we have a lot of people who are in the high risk range and that have pre-existing conditions. There were also people that had no one to watch their children and needed to stay home, and people who felt that the extra hours were not worth bringing something home to their children. We ended up with enough people to operate our program and rotate the hours among the people that wanted to work. We have some people that come in on Tuesdays and Wednesdays and help with the prepping. We have some people that just come in on Mondays and Thursdays because they help with the food distribution.
Were you worried a staff member would become infected? Are you using any special protocols?
We went to two days a week when the Safer at Home order was put in place. Once that started, everybody started wearing masks. The school we're working at is a school that has a middle school on one side and an elementary on the other. In the elementary cafeteria, four people are working—two on one side and two on the other. Same thing with the middle school cafeteria, and we have everybody spread out in the kitchen. The gloves and the hand washing are not any different for us than what we do every day of the year.
The district asked for volunteers who made cloth masks and everybody has two or three masks that they can take home and wash and wear. When this started, our plan was to run the program as long as we had staff willing to work and food available to serve and no one came down sick, because that would shut us down. And no one has.
During the school year, if you're sick, we ask you to stay home. We enforce that rule strongly during the school year, we're just enforcing it for a longer period of time now. We're no longer going with 24 hours; you have to be 72 hours symptom-free. And we have a plan: if somebody became infected it would shut down the whole program, because we don't have enough backup staff to come in and take place. We've worked with the county and have a contingency plan for their emergency management team to take it over at that point.
It sounds like you guys are being really safe and it's great that nobody has been infected. How many meals are you serving weekly?
We have been serving anywhere between 8,000 and 14,000 meals a week. We've been seeing a decrease in our numbers lately; this week we were around 70 children shorter than we were the week before. In Tennessee right now, everything is opening back up and we're about to start phase 2 of re-opening, so I think some of it is that people are back at work.
What kinds of meals are you serving during school closures? Are they similar to what you'd be serving in school?
They are similar. We have worked really hard to use up our inventory. During the school year, Wednesday is Chicken Wednesday; we serve baked chicken, mashed potatoes, green beans, and a roll. We were doing Chicken Wednesdays when we were serving five days a week, but once we went to Mondays and Thursdays we moved that chicken product to Thursday. They get vegetables with it and a side of some type.
How does emergency feeding differ from your typical meal program? Could you go through the operation with me?
In Tennessee we've been very lucky that our emergency management people have provided T-shirt bags and clam shell containers for us to use. We have two school buses that run two routes making stops and delivering meals.
We also have two drive-thru sites. At our largest site a car will pull up and we will give them cartons of milk and their fruits and vegetables, then they'll pull down a little and we'll have hot food for them in a small paper bag. They'll also get a ziploc bag that has their cold lunches for the rest of the day and their breakfast meals.At my other site they receive the same food, but they pull up to one station and the food is all distributed at one time.
What is your plan for summer feeding?
Our plan at this point is to continue Mondays and Thursdays through the end of July. We are supposed to be back to school on August 3rd. Our last day for summer feeding will be July 27th, and at that point our plan is to give them seven days worth of food. We'll have a week break before everybody is back on August 3rd. But the one thing that all this has taught us is that we don't know what's going to happen next week or the week after.
Definitely. Are you still receiving expected food deliveries? If not, how has that changed?
It's always a surprise with what we order and what actually shows up. Distributors do their best to make sure there's no shortages. We've run into some problems, but we're just being as flexible and creative as we can.
What feedback have you gotten from your community?
We have not had anybody that has not been just as nice as can be. Everybody is very thankful, everybody has said thank you, and the kids will get excited when they find out what's for lunch that day. We are kind of a small town, with a small town feel. Our Safety Supervisor for the district was working before we even got started. She got in touch with the city police and the sheriff's department, and in the beginning there was a car at each of our sites and everybody has just felt safe. It's been really cool having the school bus drivers too, because they know who lives in what house. Our Director of Schools has even been at our sites assisting with meal distribution. It has been a total district effort. I wish you could ride with us sometime and see, it's a really neat feeling and a really different situation. A lot different than what some people have to deal with in their districts.
What do you want your community and the broader audience to know?
I'd want them to know that we're a self-sustaining program, and our program at Franklin (like a lot of programs in the country) is not making money on this. We're going in the hole. We need USDA to step up and help us out, because we've done everything they've asked of us. We need congress to come through and give us some money to allow us to pay the salaries of the people working and cover our expenses, so we can improve the quality of food we're serving.
One of the saddest things is that I was so excited about the Get Schools Cooking grant we received from the Chef Ann Foundation; the training in Colorado, having an assessment of our program and taking in so many great ideas... We were so excited to get started, but the only things I can get started on are the things that cannot cut my participation or cost me anything. Because I'm going from having a positive balance to being in the hole next year. This is setting me back. And I know there are things I can do, but I'm not going to be able to make changes that could do anything to decrease my ADP (Average Daily Participation). I can't afford for that to happen.
I would also want them to know that the child nutrition staff—from the person that washes the dishes to the person running the cashier stand, or the person serving the food—they're doing it because they care about the children. They're the one person that sees every child in the school every day. They don't know if a child missed their homework or had a fight with their parents and are running late. They're just there to give a smile and nourish the child with a "Hello," and a "Missed you!" The kids get so excited when they see a staff member that they miss seeing during the school year. It's about more than just the food.

The Chef Ann Foundation carries out our vision by ensuring that school food professionals have the resources, funding and support they need to provide fresh, healthy, delicious, cook from scratch meals that support the health of children and our planet.
Danone North America offers a variety of brands that kids and parents love, including Dannon®, Silk®, Horizon® Organic, and many more. The company's mission is to "Bring Health Through Food to as Many People as Possible," and greatly values its partnership with the Chef Ann Foundation to bring this vision to life within K-12 foodservice. Learn more at danoneawayfromhome.com.