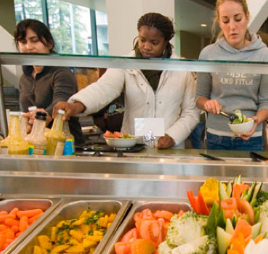 College Cafeteria Food: The Good, the Bad and the Ugly
November 13, 2011
|

By
One of the major complaints about most college cafeterias is that the food served is plentiful but not particularly nutritious. Traditional college cafeteria menus are usually loaded with items like juice cocktails, soda, diner foods like hamburgers, grilled cheese sandwiches, French fries, and breakfasts that contain large amounts of oils and fat (i.e, bacon, sausages, pancakes and syrup), along with an endless selection of sugary desserts. College and graduate students often gain weight during their first and second year of studies, because of poor eating habits.
However, sometimes healthier foods are offered alongside greasy, unhealthy foods. Even though students usually have some fresh fruits and salad bar options available, the selection of healthy foods is usually less varied and flavorful. Therefore, many students still choose the unhealthy food.
College cafeterias can become problematic for a few other reasons as well. They are conveniently located so students do not always search for other selections that may be more suitable for them. Because students get into frenzies when trying to include all their daily responsibilities all the while attempting to accommodate rigorous and irregular class schedules, it tends to force them into incorporating as many easy choices in their lives as possible. Unfortunately, their diets are likely to be one of the first things that suffer because it becomes difficult to resist some of the unhealthier, more familiar choices of food.
Furthermore, the meals are usually paid for in advance or included in tuition, so it is often the cheapest option. If students are paying for their education, they may not be able to afford other alternatives to the cafeteria and are left with lackluster foods that repeat themselves over and over again. Students new to campus may have had guardians who regulated their meals at home before, but feel a sense of "I can eat whatever I feel like" because of the new freedom of college and therefore eat the chicken nuggets instead of the rice and beans.
College cafeteria services are operated either by the college itself or contracted out to food management companies, like franchise food chains and campus kiosks. These organizations seek to offer a variety of meals appealing to the students. While eating healthy foods is best, it can also become a sterile and boring "activity" when maintained with few or no changes. Fast food has strong smells, and many American students are already pre-conditioned to crave the flavors in fast foods. Therefore, fast foods are likely to always be a part of the college cafeteria food plan because they are easier to sell.
There is a trend, however, occurring on some campuses that strays from butter-drenched vegetables and processed meats served in assembly-lines, which opts for meals served in intimate restaurant settings and elaborate dining halls. Meals in some schools are cooked by gourmet chefs who have been well trained in national and international cuisines. According to the Wall Street Journal, some colleges have realized that the students of today require lots of variety to satisfy their finicky taste buds. Enter roasted Portobello or chicken, grilled flank steak, risotto tossed with salmon, pasta stations, espresso coffee, and sushi bars! Yale University had the top four-star rating, and the University of Texas was given the worse rating (one star) for some of the most badly cooked and worst-tasting food ever encountered.
Unfortunately, this new trend of incorporating exciting and well-balanced meals seems to be hitting only the top-tier schools, where wealthier students are prominent and can afford to have the best food available. However, many colleges are at attempting to please their students and offer healthy options. According to The Daily Beast, the top three college cafeterias known for their irresistible cuisine, diverse dining and restaurant setups, economical meal plans, and fulfilling their patrons' requests are as follows:
1. Oregon State University

2. Virginia Tech

3. St. Olaf College (Minnesota)
College cafeterias are responsible for supplying a large amount of food to a diverse group of diners under sanitary conditions. Ultimately, however, in college the responsibility for setting up a reliably healthy diet rests with the students. When students have grown up with cafeterias that serve nachos and processed foods from their K-12 experience, they may choose to continue to eat those types of foods when offered in their college cafeterias. Information is available to college students so that they can better inform their choices when in the cafeteria, and perhaps go for a salad instead of a cheeseburger. Despite overwhelming evidence about the dangers of college cafeterias to student health, it's up to the students to become knowledgeable about proper eating habits and to remain diligent about maintaining a healthy diet, no matter where they choose to eat.