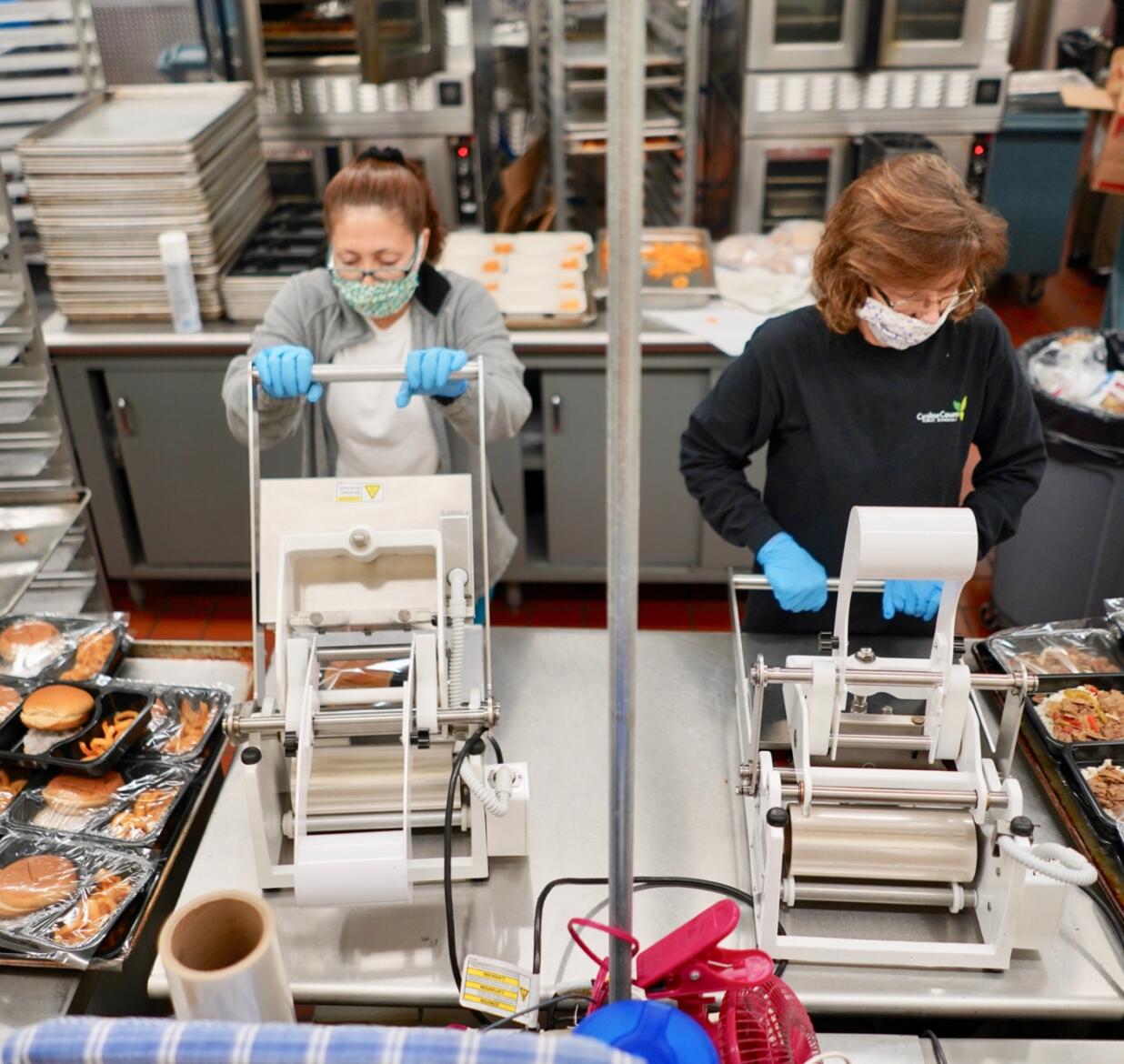 COVID's Silver Lining for School Food Programs
May 05, 2021
|

By
There's no denying that the pandemic has been extremely challenging for school food programs. School food professionals have not stopped serving since the onset and have constantly had to adapt and pivot to the changing times. They have been on the frontlines of feeding children with COVID cases on the rise. But, finally, for the first time, they were also being recognized as heroes for their efforts to continuously serve nutritious food to our nation's kids.

"I never thought that being in school food and nutrition, we would be considered a 'hero' or a 'first responder'. It's been an eye opening experience"



Aaron Smith, Seattle Public Schools



Not only were school food professionals gaining the recognition they deserved, but also making some astonishing progress. Some of the positives that came out of the pandemic include bulk meal packs, increased local procurement, improved marketing efforts and better quality meals. All of this progress likely would not have taken place if it weren't for the pandemic. It turns out that there was a silver lining after such a challenging year.
We connected with Chef Brandy Dreibelbis, Director of School Food Operations at the Chef Ann Foundation and former Director of Nutrition Services at Napa Valley Unified School District (referred to as NOSH), about her knowledge on how the pandemic has created some major shifts in school food for the better.

Can you talk a bit about NOSH's use of bulk meal kits and how they can be beneficial to school districts throughout the pandemic and beyond?
Napa Valley Unified School District's food service program, NOSH, has been working with some new local vendors to purchase products that meet nutritional guidelines. NOSH then uses their personal logo and branding on them and adds these products to weekly meal kits. The district started working with local vendors for items such as loaves of bread and bagels for bulk meal kits. Not only did this benefit the school district, as they were able to continue feeding with less labor during times when they were only serving to-go meals and bulk meal kits, but it also benefited local businesses. It was a great effort by both parties to work together and build partnerships.

In addition to bread and bagels from a local bakery, Bonami Bakery, NOSH also partnered with another local business called Marin Sun, a company that offers good quality beef. Since NOSH was serving everything to-go style, they were no longer serving burgers. Instead, NOSH started purchasing one pound packages of ground beef from Marin Sun's Mindful Meat Program and included recipes in bulk kit boxes for families to enjoy the fresh meat at home. This was extremely beneficial for Marin Sun and also helped NOSH bring an appeal to bulk meal kits by showing that they were serving local and good quality beef. While this relationship was developed under unique circumstances, the district's partnership with Marin Sun will continue well beyond the pandemic.

It's great to see that bulk meal kits were able to benefit not only school districts, but also the local economy! How else were local businesses affected? Can you speak about other improvements you noticed in terms of local procurement?
Santa Clara Unified School District has an amazing farm, Santa Clara Unified Farm, with an abundance of produce. In addition to including this produce in bulk meal kits, they have also been organizing and hosting weekly community dinners with their farm fresh produce. This allows the district to bring extra money into the program, while showing off their amazing farm fresh fruits and vegetables. Usually all of these extra fruits and vegetables would be used in salad bars or school meals, but since salad bars are not able to operate regularly due to the pandemic and schools are serving less meals, this is a great way to bring together community members in a safe, outdoor setting.
San Luis Obispo Coastal Unified School District has also created a local partnership with Cal Poly Creamery. There, they are purchasing hyperlocal milk, cheese, and eggs to use in their bulk meal kits. They have really done an amazing job of purchasing local products. It's inspiring to see how this district has been capitalizing on the local market. San Luis Obispo Coastal is likely going to stick with this approach, even if it's more costly after COVID, because they are willing to support their local economy.


With less in-person serving, how have school food programs had to pivot to keep up their Average Daily Participation (ADP)? Can you give an example?
Oakland Unified School District has done a tremendous amount to improve their program's marketing. They have branded their program, OUSD EATS, and have been able to capitalize on this by creating awareness in their community and making the to-go food they are serving more attractive. This is the first time they have experimented with marketing their program. They even created branded masks & food boxes! This makes the food they were serving look better and more appealing to those receiving it. If it weren't for COVID, they probably wouldn't have taken the time and effort to create their own branding.
During the pandemic, OUSD has served over 10 million meals! They are also currently working on building out a central kitchen and trying to get it open by the time they are back to school in August. This would increase ADP tremendously for when they return to in-person learning - especially considering all the awareness they have built around their program.
Have you seen any major changes in terms of scratch cooking or transformations to healthier meal options in any schools during the pandemic?
The San Ramon Valley Unified School District has been able to eliminate a la carte, directly removing 15 tons of sugar! This district has a low free & reduced population so they had a large a la carte program that they have been wanting to get rid of for some time. An a la carte program is when districts are able to serve snack items separate from a complete meal. In order to offer a la carte items, you have to hit Smart Snack guidelines. However, these guidelines do not have any sugar requirements.
An a la carte program creates an inequitable system because generally the students with money are able to purchase a la carte items, while kids that qualify for free and reduced meals can only get their lunch for free if it is a complete meal. Miguel Villarreal, Director of Nutrition Services and Warehouse Operations, was able to completely remove the a la carte program. By doing so, the only option for the program is to serve reimbursable meals, which are typically more nutritious compared to unhealthy snack foods that qualify as a la carte. This accomplishment was largely attributed to the pandemic.

"Covid has been so hard and stressful on school food programs, but throughout it all there seem to be these really good positives that have come out of it, that have changed some school food programs for the better and created new opportunities."


Chef Brandy Dreibelbis, the Chef Ann Foundation

Despite all of the challenges COVID has presented, there seems to be some significant silver linings. The pandemic also introduced new recognition of school food professionals, free meal waivers, grab & go meals, outside eating and extended meal periods. It's clear that 2020 has fostered a tremendous amount of growth and learning experiences for districts around the country. We can only hope that this newfound knowledge will be a beneficial milestone in the road to school food reform.