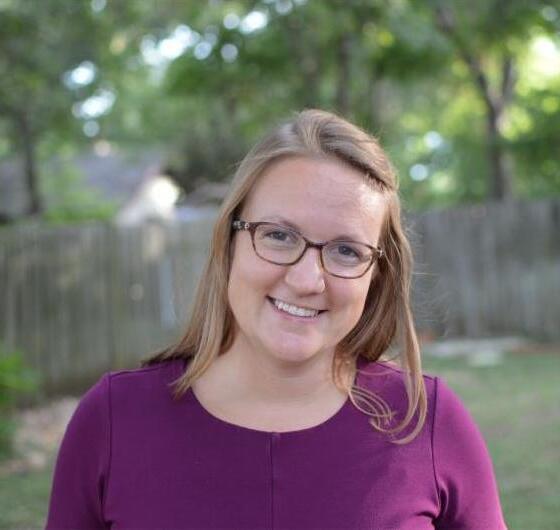 Feeding Kids in a Pandemic: A Conversation with CAF's New Director of Research and Assessment 
March 09, 2021
|

By
READ THIS Q&A TO LEARN ABOUT THE EVOLUTION OF SCHOOL FOOD OPERATIONS DURING COVID AND SEE HOW ANNELIESE TANNER, Director of Research & Assessment, WILL BE an incredible addition to THE CAF TEAM
The Chef Ann Foundation (CAF) is so excited to welcome Anneliese Tanner to the team! Anneliese comes to us following 6 years as Director of Food Services for Austin Independent School District (AISD) in Texas. She will take on CAF's new position as Director of Research and Assessment. In this role, she will perform all district assessments, oversee research, and work with our evaluators, partners and school districts on strategic plans and increasing scratch-cooking in schools.

We connected with Anneliese about her experience leading AISD's food service department during COVID, her expertise around school food reform, and what she's looking forward to with CAF.
How did your school food operations in Austin change in the past year since Covid-19 hit?

Just like most industries, we had to stay nimble and flexible to respond to the current and ever-changing environment. Like many districts we initially transitioned from regular service to curbside service. A year ago we were serving a combination of heat-and-serve and scratch-cooked meals, daily, for families to pick up.

When the school year began in August we began serving meals in the classroom or in socially distanced cafes, based on the model each of the 113 schools chose, in addition to continuing curbside. At that time, based on community feedback and operational need we transitioned curbside service from daily to weekly pick up, so that families only had to come out once a week to get all their meals. The week long boxes are a combination of frozen and fresh entrees, breads and produce, local as much as possible.

Since the busses were needed to transport students, we transitioned one of our warehouse truck routes to deliver meals directly to students' homes in an effort to serve as many students as possible. We also included Child and Adult Care Food Program (CACFP) meals when and as much as the regulations have allowed.


A lot of school food programs have seen a decrease in participation over the past year. What creative strategies did you implement in Austin to try to feed as many students as possible?

In addition to bussing meals to neighborhood bus stops and providing home delivery, we expanded our service to caregivers and to days that we weren't able to serve before, like weekends and school holidays.

Curbside meal boxes include weekend meals, which students take home with them on Friday afternoons. It takes a village to feed a village—in this case, literally, a city—and to that end we leveraged our partnerships to reach more families. Together with the Austin Ed Fund, the City of Austin and local restaurants, we provided parent and caregiver meals from some of Austin's best chefs.

Providing people the opportunity to pick up food for the entire family at once helps to make the trip that much more meaningful, and increases the number of students and families we reach. We also partnered with the Central Texas Food Bank to hold mass food distributions during school breaks where families pick up student meals, caregiver meals and pantry boxes.


How has your labor budget been affected by Covid-19? Have you had to cut staff or have you been able to find work and utilize all staff members?

AISD is committed to maintaining employment for all staff who want to work. While at times staff worked on a rotation and an on-call schedule to minimize contact, they were paid throughout the pandemic for all calendared workdays.
In the first three months of the pandemic, staff earned time and a half for work done on site. All staff were also provided a $500 bonus in December and a $1000 bonus in March for going above and beyond to serve the community. Because we were serving about 24% of regular meal volume, and the District communicates the value of our work through continued employment and much deserved compensation, the general fund is supporting the food service deficit that the USDA doesn't help to offset.


We've come so far with scratch cooking in the past few years, but many COVID operations have encouraged or even necessitated processed foods. What advice can you offer to a program that wants to start implementing a scratch cook model again?

For districts that maintain their staff while serving less meals, the time may be there to scratch cook. The pandemic has also necessitated some changes that districts could choose to keep going forward, such as eliminating flavored milk and some or all a la carte options.
I think there is also going to be a lot of excitement with both the staff and the students when we return to regular service, and that energy can be funneled into and celebrated with scratch cooking—even if that's only replacing a few menu items that weren't scratch cooked before. The pandemic has highlighted the importance of school food operations as a vital component of the food system, and building on that momentum with healthy, tasty, high quality foods can bolster a scratch cook program.


The Universal Free Meals waiver is slated to end in June. Can you explain why it is important for universal free meals to continue?

There are many reasons why universal free meals must continue, from releasing food service departments from the administrative burden of processing meal benefit applications so that they can focus on cooking, to eliminating lunch shaming and lunch debt, a burden for both parents and food service staff.
The most important reason why universal free meals must continue is equity. An equitable food system is foundational to social justice. When all students have access to meals independent of their parents' income, more students eat. When students are eating the same meal, they are eating in community and creating an equitable community. Additionally, since school food programs are funded by each meal served, when more students eat there is more revenue to invest in the food quality.

When meals are universally free to all students, like textbooks, computers, sports, art and transportation, the quality of the food can be improved for all students. Events over the past year have highlighted the inequity and institutional racism in our country, and universal free meals is one way to bring more anti-racist practices into the National School Lunch program.


What are you most excited to bring to the CAF team with your expertise?

I am excited to bring my innovative spirit that is grounded in analytics and logic and six years of experience leading Austin ISD's food service department from a great program focused on fresh, healthy foods to one that is nationally recognized for scratch cooking and sustainability.