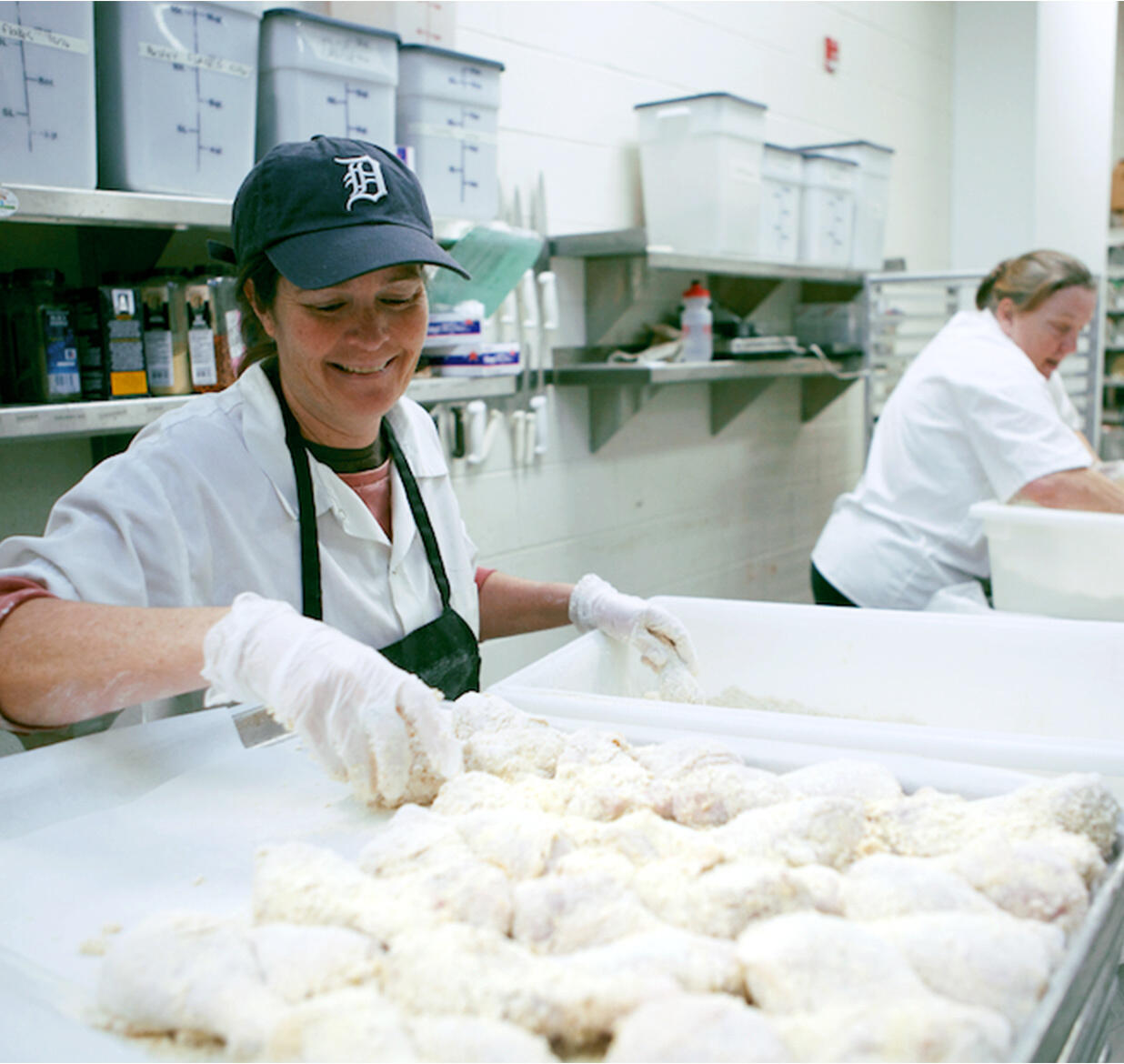 Five New Districts Ready to Take on Scratch Cooking
As we find ourselves diving into another year, Chef Ann Foundation (CAF) is excited to also dive into scratch cook operations with the five new districts selected for the Get Schools Cooking program.
January 27, 2020
After careful review of Get Schools Cooking applications from across the country, the Chef Ann team, in partnership with Whole Kids Foundation, has selected five districts to add to the existing group of 15 districts working to create change and serve fresh, delicious meals to students.
Get Schools Cooking (GSC) is a program designed to guide districts through the process of becoming a sustainably-run, scratch-cook meal program. The program focuses on what CAF considers the five key areas of school food operations: food, finance, facilities, human resources, and marketing. It all kicks off with a workshop in Boulder, CO, where food service directors and other key team members from each district engage in sessions about menu planning and human resources and visit school kitchens and cafeterias in Boulder Valley School District, a leader in school food change.
Over the course of the next year and a half, each district will go through an assessment of their meal program, resulting in a report and recommendations for change. This is followed by a presentation with district administration and strategic planning; virtual and onsite technical assistance; an additional $35,000 for purchases such as software and equipment; and yearly evaluations.

Get Schools Cooking is a nationally recognized comprehensive program that provides the support and means to bring more fresh whole foods to schools. But don't just take it from us! Here is what the new districts are saying about becoming part of the fourth Get Schools Cooking cohort.
Beaufort County Schools - Washington, NC
School District Enrollment: 6,490
Number of Schools: 14
Average Daily Participation: 70%
Free and Reduced Percentage: CEP (100%)
"Beaufort County Schools School Nutrition Department is honored to be selected as one of five districts nationwide in the 2019 Get Schools Cooking cohort. We intend to take this opportunity to bring fresh ideas, fresh (local) foods and fresh cooking to our students making their day as healthy as possible. The possibilities for School Nutrition in Beaufort County just became endless!" - Gwyn Roberson-McBride, Child Nutrition Director
Franklin Special School District - Franklin, TN
School District Enrollment: 3,650
Number of Schools: 8
Average Daily Participation: 58%
Free and Reduced Percentage: 40%
"We are excited about the opportunity that the Get Schools Cooking grant will provide for us to look objectively at every aspect of our program and to help us develop a plan as we move to increase the amount of scratch cooking our schools provide. The ultimate goal is for our students to have healthy options with fresh, locally grown food prepared in our own kitchens by a knowledgeable staff. We know the Chef Ann Foundation will help us achieve this goal." - Robbin Cross, Child Nutrition Supervisor
Manhattan-Ogden USD 383 - Manhattan, KS
School District Enrollment: 6,983
Number of Schools: 15
Average Daily Participation: 55%
Free and Reduced Percentage: 39%
"We are excited to join the GSC program with their knowledge and expertise to help us pinpoint sustainable changes to continue to provide our students with the best food options possible." - Stephanie Smith, Director of Child Nutrition
South Madison Community School Corporation - Pendleton, IN
School District Enrollment: 4,335
Number of Schools: 5
Average Daily Participation: 58%
Free and Reduced Percentage: 32%
"South Madison Community School Corporation is incredibly excited to be a recipient of the Get Schools Cooking grant from the Chef Ann Foundation. Our Nutrition Services team is proud of the important work we do each day serving our students and community high quality, wholesome, balanced meals in Pendleton, Indiana. We are thrilled for the opportunity to work alongside the experts with the Chef Ann Foundation and build upon our strong base to increase the variety and diversity of our program for our students. We can't wait to get started!" - Lindsey A. Hill, RD, SNS, Director of Nutrition Services
Wisconsin Rapids Public Schools - Wisconsin Rapids, WI
School District Enrollment: 5,128
Number of Schools: 11
Average Daily Participation: 65%
Free and Reduced Percentage: 46%
"We are very excited to join the Get Schools Cooking program! We believe this is a perfect next step for our district's school nutrition program as we continue to pursue our goals of providing students with more whole, fresh foods. We look forward to working with the GSC team and learning ways we can incorporate more scratch cooking methods into our program." - Elizabeth Messerli, RD, Director of Food Services
As we welcome this new group of districts, it is also a time to reflect and look back at some of the accomplishments of previous districts from the program:
The elimination of flavored milk, greatly reducing the amount of sugar students are consuming.
An increased number of recipes cooked from scratch such as meatballs, chickpea masala, hummus and even salmon cakes.
The ability to hire new staff with culinary expertise.
The implementation of front of house and back of house software systems that create efficiencies and accessible data and tracking for districts.
The incorporation of salad bars, thus increasing the amount and variety of fresh fruits and vegetables offered.
Increased purchase of local products supporting the regional economy.
The introduction of alternative breakfast programs, allowing more students more opportunities to start their day with a nutritious breakfast.
All of these exciting results come from hard work and a passion for healthy school food. We cannot wait to see what these new districts will be able to accomplish!
Interested in Get Schools Cooking for your district? The grant opens every 18 months, so look for our next application round in January 2021 and visit the program page now to learn more.