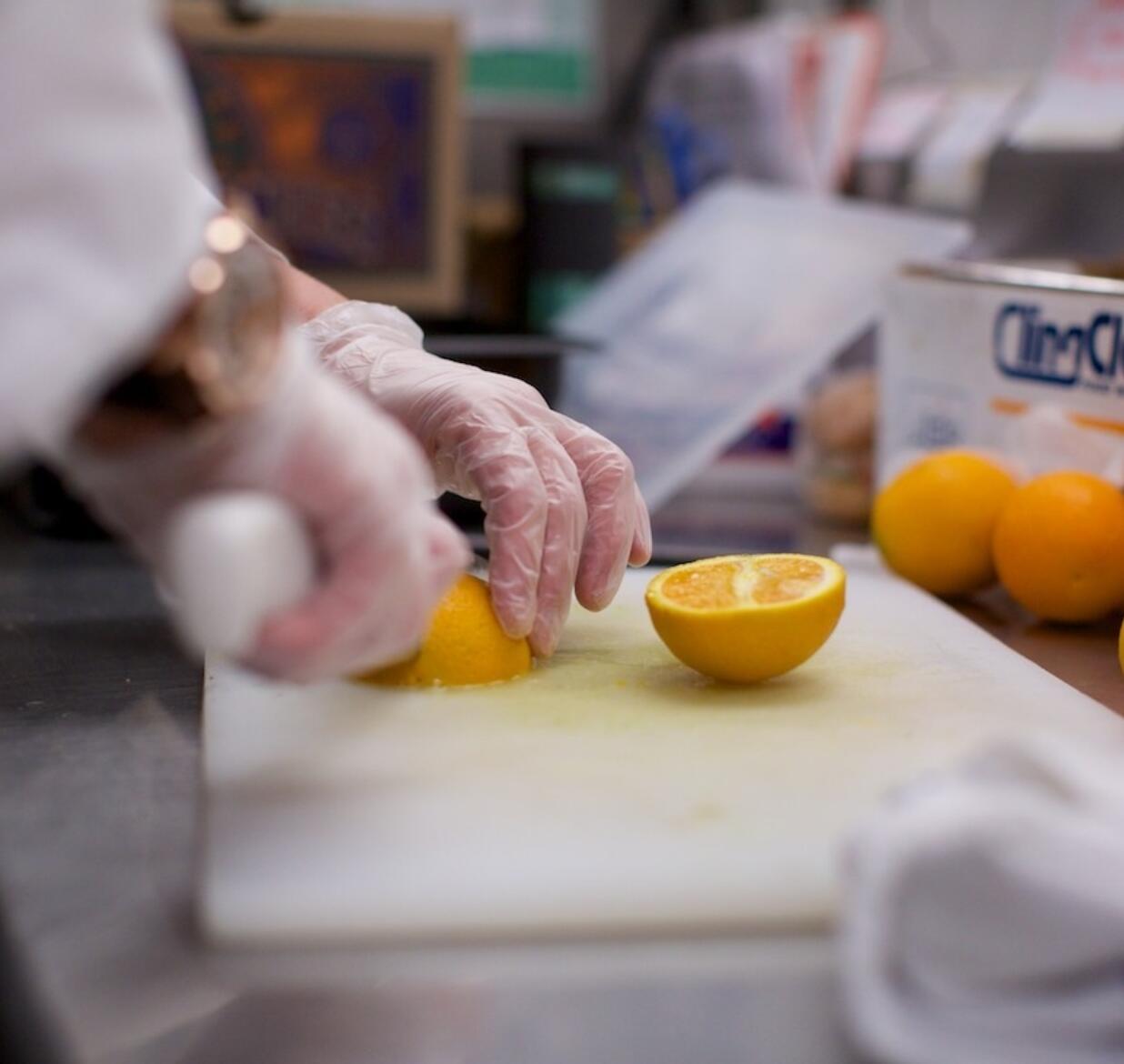 Get Schools Cooking Application Open
Apply Now!
January 23, 2018
|

By
While the health of America's youth has been part of political and public conversations for some time, the Healthy Hunger-Free Kids Act (HHFKA) brought school food nutrition to the national forefront and paved the way for significant progress towards better school food. It raised the nutritional standards, but food manufacturers simply altered their ingredients and many schools kept serving highly processed food.
The next step towards better school food is making scratch-cooked meals from fresh ingredients that kids want to eat, meals that provide the building blocks for a lifetime of better eating habits. Whether you have championed this issue or witnessed a fellow community member lead the charge, you likely heard, "Schools don't have enough money for that."
Turns out, school food budgets have stayed relatively stable since HHFKA. A 2014 study published in the Journal of American Nutrition and Dietetics examined the impacts of switching to scratch-cooked operations and found that although labor costs rise, they are offset by lower food costs.
It also turns out that the transition from heat and serve meals to scratch-cooked operations requires a lot of change and resources, but with the right help and support, it happens. After two years of success supporting 11 school districts, Get Schools Cooking (GSC) applications opened again on Jan 19, 2018 to help schools get that support and make the transition happen. Applications will remain open through March 1, 2018. Visionary for GSC, Chef Ann said, "This is the most exciting time for me because I get to see which districts apply and who wants to make change."
Chef Ann Foundation and Whole Kids Foundation partner on GSC, a comprehensive three-year program that puts school districts on a fast-track to serving healthy, whole, nutritious meals made from scratch. The fabric of the program was built from Chef Ann's 20-plus years of experience in school food operations. It provides an on-site operational assessment, strategic planning, a $50,000 systems grant to cover things like equipment, staff training, and data solutions, and continued technical support to implement the strategic plan.
Nationally recognized school food experts, Chef Ann and Chef Beth Collins visit and assess each school district and their sites to provide customized strategic plans for implementing scratch cooking across five key areas: food, finance, facilities, human resources, and marketing. These assessments are thorough and can last over a week to ensure that Chef Ann and Chef Beth can provide an accurate and achievable strategic plan.
In addition to providing assessment and strategy, GSC uses a cohort model to bring school districts together in their journey to scratch-made meals. This streamlined process enables peer-to-peer support, keeps schools on pace, and uses resources efficiently.
Since 2016, 109 schools in 11 states started transforming their school food operations. Schools are continuing to eliminate highly processed foods, like meat nuggets, patties, and crumbles, and they are introducing new recipes using fresh, whole fruits and vegetables. They are also adding raw proteins like beef, chicken, and fish to their menus. New equipment— salad bars, food processors, ovens— is being placed in school kitchens, and staff are receiving training. Students are still enjoying favorites like mac and cheese, pizza, and tacos, and now they are being made from scratch with healthier ingredients.
"The benefits of making the switch to scratch cooking in schools are far reaching, and they far outweigh any growing pains of change," says Nona Evans, President of the Whole Kids Foundation.
According to a 2016 report from the Pew Charitable Trusts, school food directors report steady or increased participation in school lunch programs and stable or rising revenue after implementing more scratch cooking. Beyond schools, scratch cooking promotes local economic growth. It provides more jobs, and give schools the ability to purchase more ingredients locally.
Recognizing these economic benefits, more states are proposing legislation that rewards schools for local food purchases, like NY Governor Cuomo's recently proposed legislation that includes increasing state reimbursements for schools purchasing at least 30 percent of their ingredients within the state.
While these progressive policies yield the promised local economic growth and are targeted to provide food to students who otherwise might not eat at all, these policies overlook one fact: schools need to cook to take advantage of the local procurement incentives. Schools running heat and serve operations with frozen processed food have limited opportunity to purchase locally.
With the help of GSC, schools can get on track to transition to scratch-cooking operations to reap the benefits: healthier students with full bellies who are ready and able to learn, a stronger local economy, and a future of healthy eaters.
Register for our webinar on February 8, 2018 to learn more from Chef Cooper and speak with current grant recipient and Nutritional Services Supervisor for Tempe Elementary School District Emma Kitzman.
Read more information and apply on the Get Schools Cooking page.