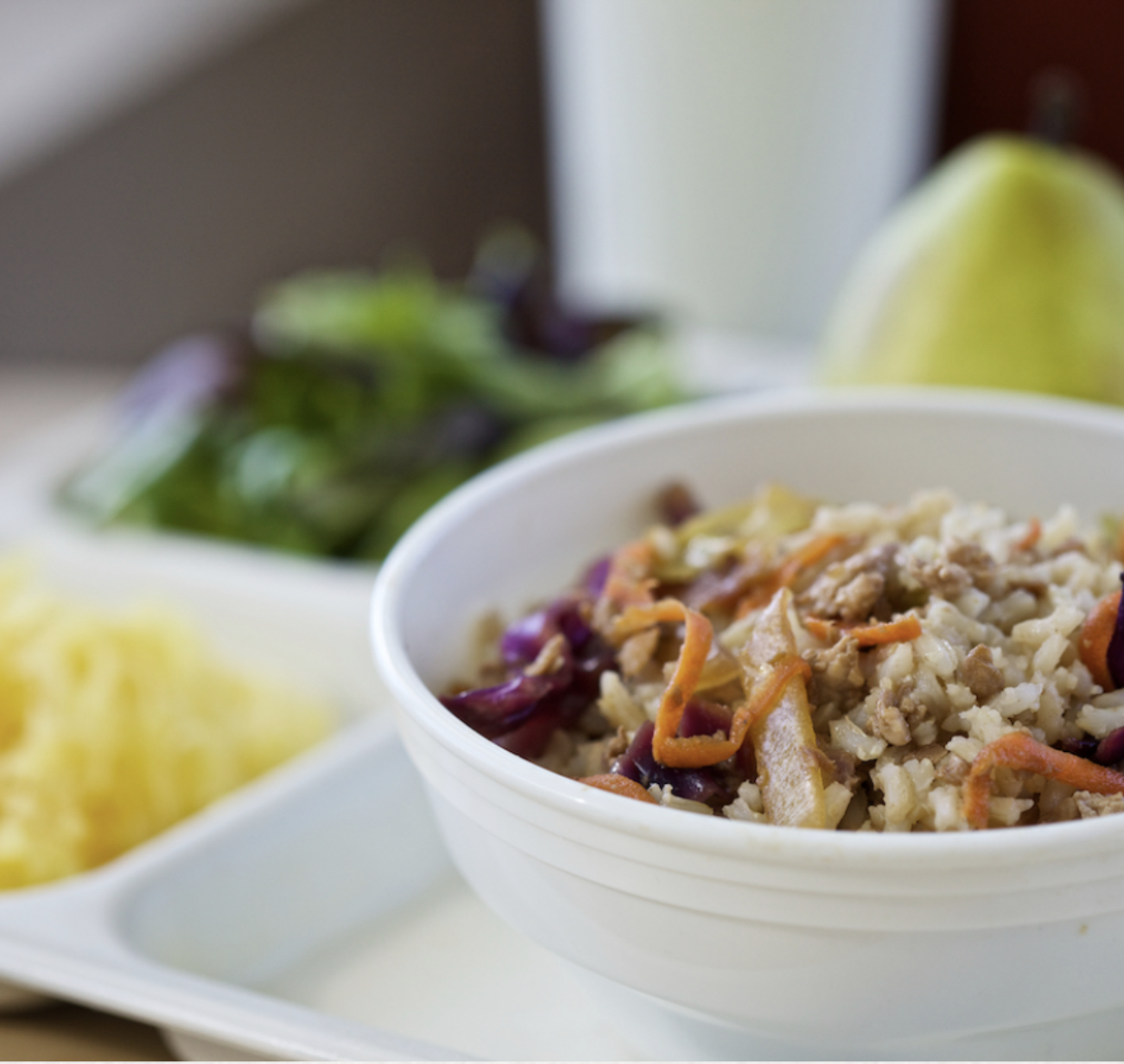 Make Big Changes to the School Food in Your District
How one grant program can support where you are, and where you want to go
September 09, 2019
|

By
To celebrate the 2019 Get Schools Cooking grant application opening, we spoke with Pamela Lee (Ocean View School District Director 2014-2019) about her experience as part of the 2017 cohort. We're accepting grant applications until October 28th—click here for more info.

"Support is always just an email away," says Pamela Lee, former Director of Nutrition Services at Ocean View School District in California.
Our most in-depth program, Get Schools Cooking (GSC) provides school districts with the operational knowledge to transition from a heat and serve or processed models to scratch cooking. Through GSC, food service teams are guided through a three-year program customized to meet the district's current needs and goals for the future.
For Lee, GSC offered the support she needed to start implementing healthier food at Ocean View. "I really needed guidance and direction, and they got me going," she explained.
The Beginning
Lee began following Chef Ann's work in Berkeley in the early 2000s, so she knew GSC would be a good fit. Lee worked with Ocean View School District for two years before partnering with the Chef Ann Foundation, and found that GSC was crucial for implementing organization systems into the Nutrition Services department.
"[GSC] really helped me get some systems down," Lee said, referencing spreadsheets that tracked income, revenue expenses, and meals per labor hour.
These tools were really eye-opening for Lee. "Looking at our costs to see what we're bringing in and seeing how we can close gaps or [cut] back on expenses—this piece was crucial."
On-site Visit & Key Improvements
After a kick-off workshop in Boulder, the GSC program starts with an on-site assessment of districts' current meal programs to better understand each district's facilities and current processes.
"I was a little nervous," Lee admitted. "There were a lot of things that they were asking me that I didn't really know the answers to… But that's how they figure out what to focus on and what to improve, because they are so thorough."
Inventory, a large lift for any district, was identified as a key area for support for Ocean View.
"I would take inventory because I knew that we should be taking it, but I wasn't doing anything with that number," Lee explained. "During the program, I took that figure and input it into a spreadsheet to see how many dollars we had caught up in revenue each month. We worked to spend that down." The value of inventory management and financial tracking tools supported Lee and her goal to get the district's food service budget in the black—no easy task!
Additional efforts focused on reducing waste, increasing breakfast participation, and rebalancing staff load. The district was also able to use their Systems Assistance Grant funds from the program to purchase new service lines, food processors and milk coolers. The service lines have allowed the district to keep food at the proper temperature while at the same time making it more attractive and appealing for students. In addition, Ocean View has been able to purchase more whole, raw vegetables without increasing staff time due to the efficiencies of the new food processors. The milk coolers have also increased efficiencies by decreasing the number of milk deliveries needed.
The program and deep dive into her staffing structure allowed Lee to see that the district could switch to reusable trays. Previously, the kitchen staff had often relied on styrofoam trays when the team was down a person, but Lee realized the staff still had enough time to use the reusable trays and wash them.

For the Future
For those considering GSC, Lee's advice is simple: Be transparent.
"It's a very big job being a Nutrition Services Director," Lee noted. "But Get Schools Cooking will find things that need to be fixed and give you the tools and strategies to help you fix them. They're there to help you and come up with a plan."
Get Schools Cooking is currently accepting applications for our 2019 cohort! Click here to read more about the application process and program details. We're also hosting a free informational webinar on September 12th—click here to learn more and register.