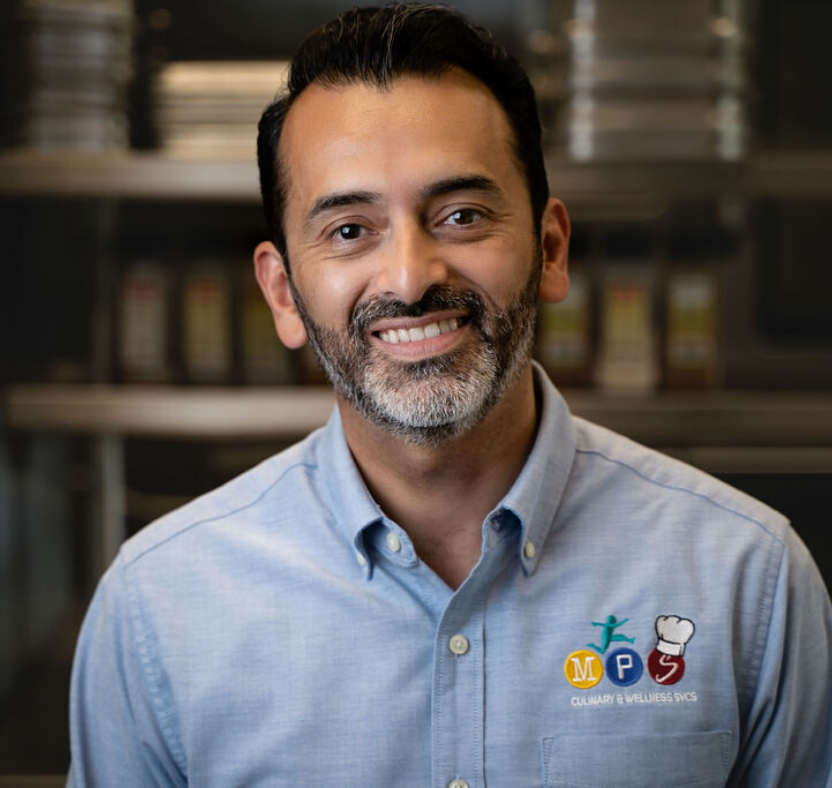 Minneapolis Public Schools is tackling the area's food insecurity
In the first of this two-part interview, Omar Guevara-Soto speaks to his team's successes and challenges, their summer feeding plan, as well as the food insecurity he witnessed in Minneapolis as COVID-19 took hold. "We are satisfying a need, and that need can mean different things for different families," he says.
June 22, 2020
|

By
The Chef Ann Foundation's Hero Highlights | Stories from the Field is presented by Danone North America. To ensure the incredible stories of our school food workers are being told, we're sharing stories from the field as school food teams tackle food insecurity due to widespread closures amid the COVID-19 pandemic. Stay tuned for more.
For school food support during the coronavirus pandemic, view our COVID-19 Resources & Support page. If you'd like to nominate a school food leader in your community for Hero Highlights, please send an email to submissions@chefannfoundation.org
Read or listen to part two of this interview here.
Edited Transcript:
Today, we will be presenting part one of a 2-part interview with Omar Guevara-Soto of the Minneapolis Public Schools Culinary and Wellness Services in Minneapolis, Minnesota. Please check back next week for part two.
My name is Omar Guevara-Soto, I am the assistant director for Minneapolis Public Schools Culinary and Wellness Services. We oversee all the food services in all of the 68 schools that our district has. Our district has an enrollment of close to 36,000 students. Our average daily participation is close to 57%. Of that enrollment we have about 49% free and about 8% of the students are reduced. Our district has 38 CEP schools. (Editors note: Community Eligibility Provision (CEP) is a non-pricing meal service option for schools and school districts in low-income areas.) Pre-COVID, we were serving breakfast, lunch, dinner, snacks – for a total of about 55,000 units a day. We have the food and vegetable program running, and, every program that can grant access to food for our students—you name it, we have it. We tried to look for more to be able to expose our students to more fresh foods.
That's awesome to hear that you are truly going above and beyond to get that going. What inspired you to get into school food, and what drives your passion for this work?
I'm originally from Mexico. I have been fortunate to be born into a family full of restaurateurs; access to food was never a question. I grew up seeing the power of fresh food, what that creates, what that makes, what it is. Fast forward to when I decided to move to the United States and pursue my own personal career goals. I knew it was going to be always related to food. And, really quickly, I was ingrained [in me], how the food system works here. I was aware of what the limitations were, like, I started to get to know the food desert definitions, the lack of access to fresh food. And just in my personal learning on how to navigate a new society, and learning how to live in a new country. Seeing what I was seeing. You know, my mind would go to: why? I come from a third-world country and I know what it is to be hungry. And I found it interesting to know what's happening in the most powerful country of the world. So I was fortunate, again, to always kind of work under amazing pioneers in their areas. I worked with a local chef in Minnesota, in Minneapolis. Her name is Ancam. And I learned a lot [about] how to give to the community. She's very involved in our community, the generosity that she had, and the concern to make sure to look everything through the lens of equity. It was one of the best things I could learn from her. She was one of the first ones to start getting involved with Minneapolis Public Schools at that time when Bertrand Weber took over and he started putting together a chef council. And I learned through her what was happening.
Immediately, as I started digging into what Bertrand was doing within the Minneapolis public schools, something went up and I knew I wanted to be there. I wanted to be part of the team. I wanted to explore that area. And I knew that working with youth and food, there was some really, really, special opportunity there to address all those topics of food insecurity and the limitation to access to fresh foods. The list just goes on. And I'm happy that I followed my hunch. I am now on my seventh year here, and every day my job gets me up and happy, and I enjoy the challenge every day. I see the immediate reaction and satisfaction, and how well what we do reaches all of these youth that currently share a meal with us in our schools.
I love that story. And I am curious, what is it about the youth and impacting youth through that equity lens that is so powerful?
They are the future. They are the ones who are going to be pushing for change. They are the ones who are going to receive the world that we're living in right now and how we leave it for them. And they're the ones who are going to make it better. And right now they are in the position to learn, to see, to observe, to absorb, to identify, to look, to plan, to build. We are in the position to provide the platform for them to build, to create, to improve what we are currently doing. And it is our responsibility that they have on their shoulders. But I think we have the obligation to make sure that they feel responsible for improving and for doing better – you name it, fill in the blank – society. Better access to everything. So I will work and I will put all my efforts into making sure that what I have to do, and what I need to do – I will do it to make sure that everyone, all the generations coming behind us have that in mind.
Thank you for those words and for doing that because it's so needed. And it's harder to see these days. So in terms of the work that you've done during COVID, what has stood out the most to you and what are you most proud of that you have been able to accomplish?
Oh my God. Huge challenge, right? And hats off to every single person involved in school food service and in every industry. It's incredible to see that in literally the entire world working, working to find a solution, and struggling with this. Just to see the generosity of my staff, my coworkers. Just from day one, we knew we were going to be asked to step in there and support the community. We do that during snow days. We do that during any type [of event]. Nobody has done it in a pandemic. And, from one day to the next to suddenly come up with building a new way of operation and continue to stay true to our mission to increase access to food. And now not only to the Minneapolis public school students, to every youth in our community. We all took the steps forward to improve reaching out and evolving to create this new way of providing food. It's been just amazing, you know—an amazing moment to see everybody hands-on making it happen.
And the questions that were asked to us, often were, "What else can I do? What else do you need me to do? Ok, how can I help here?" So, through this, also navigating it through that uncertainty, through the unknown. Through and through the risk.And you can feel it because the first week that we were there, we started this. The first day we did like, a thousand meals. By week two, we were already on to 20-something thousand. So [I'm most proud of] the progress on this and shaping it how it should be. As of today, we're in a transition week where we're transitioning into summer of the same program. This morning, we had all the people that have worked through the school year transitioning into the summer. So, it was an organized chaos, but people were ready to go, ready to tackle, ready to be at the food sites, ready to be at the nutrition center that is a production facility. Ready to go. And I think that has been what I am most proud of, how everyone kept tight and helped us unfold this.
That is so, so powerful to hear. And also, it is what we've been hearing over and over again that it is the teams that are bringing life to these programs. And bringing meaning to the food, you know. In relation to your COVID program, have you seen an increase in food insecurity or need in your community since the start of the pandemic? In comparison to your normally served meals?
You know, my personal view on how we assess it… Society started confronting this pandemic, and a lot of us started being guided by fear. People retreated into their homes, with the unknown of whether it was safe or not to be out there. And then we started seeing by the thousands, people losing their jobs. Suddenly, we just started getting all these unemployment reports and hearing on the news. By the thousands there are applications to work for an employment site.
You would see whole entire families coming to pick up the food. And the conversations that we would have with parents at the food pickup sites in the first couple of weeks were a little concerning. And many of them were in the first industries that got hit – the service industry, the hospitality industry – they didn't know when their next paycheck was going to come and they were facing really harsh realities. And definitely you could hear that concern: "How am I going to bring good food onto the table right now?" Food insecurity grew.
Also, the students that depend on their school counselors, the students that have any type of health issues – suddenly all that support system went away and left them vulnerable. And, you know, that's another group of the population that suddenly were food insecure. We are satisfying a need, and that need can mean different things for different families.
Some of them need a structure where they have to have this connection with a school and have some familiarity to help keep somewhat of a schedule within their day.
And we see when both parents are working, and certainly they didn't know what to do when their kids stayed home. And on the other hand, there's the need of actually depending on food.
We see it in the areas that are a little more affluent than others in the city. How the amount of families that come out and actually pick up the boxes becomes the daily activity with their family and helps them get through the day. And that's a sign. And also, we see that family that needs it most – both parents are unemployed – coming out and picking up the same box and satisfying the same need.
Did you see your numbers change dramatically from the start to the end of it over the time of your feeding program?
So, what we're doing is giving away a box with components to put together seven breakfasts and seven lunches. That was part of the first modifications that we did to our boxes because we started with five on the first day, March 17. We distributed over 1,200 boxes. Throughout the city we have 10 different sites that we visit every single day. So, at the end of the week, we have covered the entire city. We have a total of 50 food pick up sites.
Right now, we are averaging 3,000 boxes a day, when we started with 1,000. And now we have 14 total meals in a box, so weekly we're averaging about 44,000 – 45,000 meals that we're distributing. If you compare it to pre-COVID, we were serving an average of about 55,000 meals a day. There's very little gap between pre-COVID and post-COVID. And we're reaching out to more people because we are getting people in the community that are not necessarily our students or at Minneapolis Public Schools. We're also seeing students in MPS, who normally would not partake in our meals, joining the line to get a box.
I think that has been a huge win for our department, because the feedback that we're seeing and that we're receiving through e-mails, through Facebook, through all these parent groups that are built within each school—the majority of the comments are like, "I cannot believe this is the food my kid gets!"
And we went through a period where actually parents that normally their kids would not eat [school lunch] would reach out to say, "We'd normally not pay for the school lunch for our kids or I send the lunch from home – can we pay for the box? Because my kid loves it."
And we started serving inside of our boxes, the entrees that we'd normally serve. The week that we served chicken parmigiana, we received a lot of really good feedback.
But the week that we put tamales as one of the entrees, people were actually making alliances and asking, "is this the tamale box?" And people started questioning us and we started receiving this feedback like, "Is this for real, what you normally serve?"
So I think we're tapping into the interests of the parents that normally do not participate in the school lunch to see what great quality food their kids are being offered. And hopefully we're making a dent on that stigma of "It's only school lunch." I think that that has been a great, great opportunity that hopefully pays the future for us whenever and however we go back to school; it's on kids' minds, and they're like, "Oh, yeah. I need to go and get in line."
How are you transitioning from your emergency feeding plan into your summer feeding plan? What does that look like?
We are just readjusting. We're doing the same thing. We are letting the community know that we will continue 10 stops a day. We will continue through at least July 24th providing the boxes. You know, because normally during the summer we will partner up with libraries, YMCAs, any type of summer activities through the park board, and our food trucks will be out here at the parks during different times and feeding all the kids that are associated with these parks, enjoying the summer activities.
But obviously this summer, we are very cautious about that congregation of people. So parks are not going to be running these programs. Public pools are going to be closed. Some libraries are just going to be doing curbside pick-up of books and stuff. So, we are partnering with a really limited number of community sites that will be offering some level of summer activities for us for youth. And we will continue to have all of our food pickup sites open, with seven breakfasts, seven lunches throughout the summer.
That transition was not as big as we expected because of the support of our district to say, "Let's stay as is." We are continuing to offer child care centers. Some schools have been open as child care centers, and we will continue feeding those. But our program will be as is. We thought that it would be the best for a community to continue receiving this support because they don't know what this is gonna look like. And there is not a way to congregate people.
And it's changing every day.
Yeah, every day. The Minnesota Department of Education has been amazing. They provide assurance like, "We're here to support you," and disseminating information as soon as possible. They have been amazing partners throughout that whole thing. And, you know, we're inspecting the news so we can continue planning ahead. And just sitting back, waiting to react.
Thank you for tuning into the first part of our 2-part interview with Omar. We hope you're finding it as inspiring as we are and would love you to come back and check out the second half next week, on The Lunch Line.
Now, as a reminder, if you have anyone you think should be featured, please send an email to submissions@chefannfoundation.org. Hero Highlights is a program of the Chef Ann Foundation who carries out our vision by ensuring that school food professionals have the resources, funding, and support they need to provide fresh, healthy, delicious, cooked-from-scratch meals that support the health of children and our planet. The Hero Highlights series is sponsored by Danone North America, who offers a variety of brands that kids and parents love, including Dannon, Silk, Horizon Organic, and many more. The company's mission is to bring healthier food to as many people as possible. And they greatly value their partnership with the Chef Ann Foundation to bring this vision to life within K-12 food service. Learn more at danoneawayfromhome.com. If you'd like to check out any other heroes we've highlighted, please head over to The Lunch Line at chefannfoundation.org. Thank you, and I hope you have a great day.