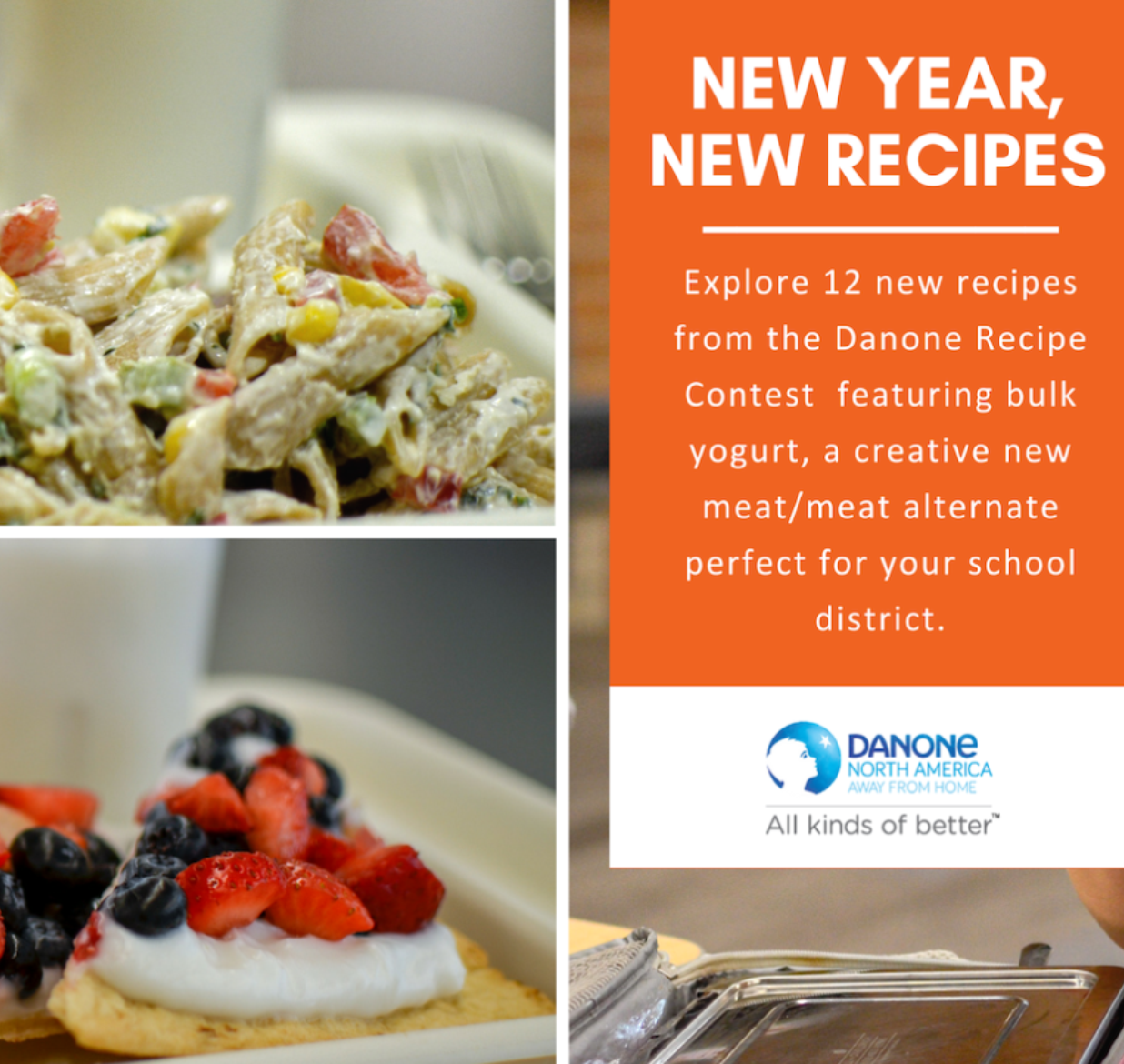 New Year, New Ways To Use Yogurt
Recipe contest winners featuring bulk yogurt are now on The Lunch Box
January 28, 2019
|

By
Ready for your new favorite healthy ingredient? Creamy and delicious, yogurt is packed with key nutrients to keep students going throughout their busy day. Yogurt is a versatile ingredient that can be used as a healthy replacement to foods such as cream cheese, mayonnaise, and sour cream. Best of all, yogurt can credit to the meat/meat alternate (m/ma) component of the USDA meal pattern.
Last fall, the Chef Ann Foundation and Danone North America (brands like Dannon and Dannon Oikos) teamed up to host a recipe contest featuring yogurt in school food recipes.

We asked school districts across the country to get creative with bulk yogurt, and think outside of smoothies and parfaits. Together with Danone, we selected 12 final winning recipes, ranging from breakfast pizza to chicken salad:
Broccoli Cheddar Soup - Trumansburg Central School District, Trumansburg NY
Chicken Salad with Fruit - Evansville Vanderburg School Corporation, Evansville IN
Curry Turkey Stew - Cherry Creek School District, Denver CO
Maple Peach Muffin - Addison Central School District, Shoreham VT
Potatoes Au Gratin - Cherry Creek School District, Denver CO
Pineapple Chia Pudding - Evanston Township High School, Evanston IL
Summer Squash Lasagna - Apalachee High School, Winder GA
Veggie Wrap - South Bend Community School, South Bend IN
Vegilicious Pasta Salad - Williamsville Central School District, Amherst NY
Very Berry Yogurt Pizza - Coppell Independent School District, Coppell TX
Whey Good White Pizza - Darien Public Schools, Darien CT
Yogurt Chia Composite - Brunswick Central School District, Troy NY
(Click any recipe name to check it out, or view all yogurt recipes by clicking here.)
Vanessa David, a cafeteria manager for Darien Public Schools in Darien, Connecticut, submitted the winning recipe for Whey Good White Pizza. "I like the challenge of coming up with something new, and I love being creative," she said.
Ms. David, who has been working in school food for four years, experimented with the yogurt by placing it in a strainer, straining overnight, and using the leftovers to make cheese. She also used the strained liquid whey and water in the pizza dough-making process to resemble sourdough.
Each winning recipe was tested in a school production kitchen, taste-tested by students, and is currently featured on TheLunchBox.org, complete with nutritional and cost analysis, and USDA meal compliance.
The prize for each winning school is seven professional development course scholarships to the School Food Institute. These online courses leverage Chef Ann's extensive experience in transitioning school food programs to cook-from-scratch, serving whole, fresh, healthy food to kids.
We hope these recipes will be a great starting point for schools interested in adding a healthy m/ma component to their meals. By using yogurt as a protein base, we can encourage schools towards the Plant Forward continuum by reducing dependency on meat-based products and exploring new ways to incorporate proteins into a dish.
Many thanks to all the schools who submitted recipes, and thanks to contest sponsor Danone North America. As the largest certified B Corp dedicated to mission-based initiatives, Danone's commitment to making delicious food that is good for you and good for the environment supports ingredient variety in a healthy, scratch-cook school food operation. The Chef Ann Foundation continues to strive for healthy food for every child, every day, one (yogurt!) recipe at a time.