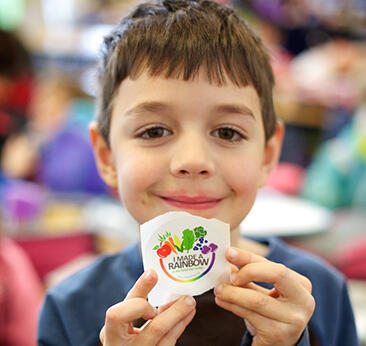 Project Produce Grant Comes to Fruition
Announcing Our First Round of Grant Recipients
January 29, 2015
​In 2014 Skoop and the Chef Ann Foundation teamed up to launch Project Produce: Fruit and Veggie Grants for Schools. This new grant program helps schools expose their students to a diversity of produce through lunchroom education activities that encourage students to try new vegetables and fruits. Each recipient receives $2,500 to purchase the fresh fruits and vegetables for their project.

This month, we are excited to announce our first group of Project Produce grantees. The grants will impact 15 schools and will reach over 3,600 students in 12 states. Our grant recipients have come up with so many creative and engaging projects that we couldn't keep them to ourselves. Here are a few ways schools are using their Project Produce grants to bring vegetable and fruit education to the forefront of their school food programs:
Glenwood Elementary School, Thousand Oaks, CA
Glenwood Elementary School from Conejo Valley USD will be using their Project Produce grant to fund six Harvest of the Month tasting events. Food service director, Sandra Curwood says that, "Glenwood Elementary is our highest free and reduced school, and rarely gets the opportunity to participate in the program." The Project Produce grant funds mean that the students at Glenwood Elementary will get to taste different local produce every month, and even have a farmer visit their school in the spring.
Samuel Gompers Elementary School, Madison, WI
In the Madison Metropolitan School District, Steve Youngbauer is using Project Produce funds to host three different lunchroom activities at Samuel Gompers Elementary School. To get kids learning about the seasonality of produce, Steve will be organizing winter "Root For Winter Veggies!" and spring "Spring for a Salad!" tasting events. Samuel Gompers Elementary is also having a "6 Plant Parts – Taste Them All!" event featuring fruit and veggie samples from all six parts of the plant – fruit (cherry tomatoes, cucumbers, strawberries), seed (peas, strawberries, tomatoes), flower (asparagus), stem (asparagus, rhubarb, kohlrabi), leaf (lettuce, spinach), and root (radishes).
B.F. Kitchen Elementary School, Loveland, CO
The Project Produce events aren't just for volunteers and lunchrooms staff to run. B.F. Kitchen Elementary School from Thompson School District is getting their 5th graders involved in the teaching portion of their "Vive La Veggie" event. The 5th grade students will be researching, creating, and delivering a learning booth on a health topic for the entire school community. Kathy Schlepp, the school district's wellness coordinator says, "The booth will provide an opportunity to experience and taste a variety of vegetables and teach students why vegetables are important." There's nothing better than having healthy eating habits taught by fellow classmates.
Other Project Produce programming ideas include a weekly sampling event called "Try Day Friday," and "Super Foods for Super Kids," a fruit and veggie kabob making activity. There are Rainbow Day events and Chef Demos scheduled as well as a smoothie making party. Because we have received so many creative and engaging Project Produce programming ideas, we will be sharing an activity guide on The Lunch Box at the end of the semester so you can try them out in your cafeteria!
But, you don't have to wait until the project guide is published to bring these types of events to your school. We are accepting Project Produce applications now! Check out the grants page for more information on how to apply.
Interested in reading more helpful articles from us? Sign-up for our newsletter in the footer below.