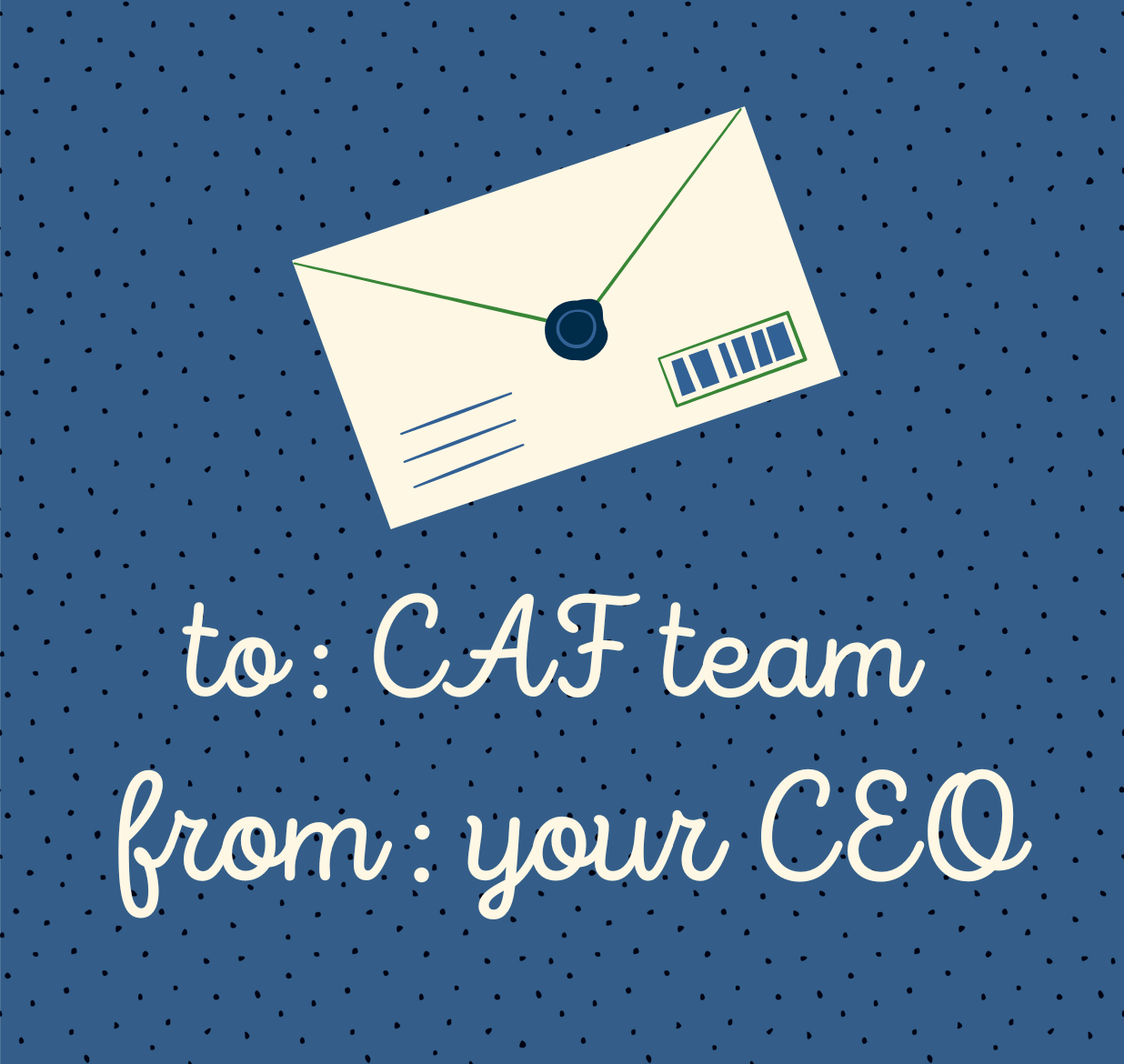 A Letter of Reflection
Together we can make 2023 the best year yet!
January 05, 2023
|

By
Hear from our CEO Mara Fleishman as she celebrates our team's recent achievements and reflects on our collective goals to support school food programs in 2023.
Dear Chef Ann Foundation Team Members,

I hope you all have been able to take some well-deserved time off, spent with family and friends and that you were able to ring in the new year in whatever style felt best for you. 2022 was a big one for sure, in so many ways. I personally needed some time on New Year's Eve to reflect and set some intentions for 2023.
For those team members that have been here for a while, you know that I try to set intentions for myself and for the organization going into a new year. Some years we are more successful than others in realizing those intentions and applying the discipline needed to stay on course. And while we have sometimes strayed from our intentions, we have always come together as a team, tried our best and supported each other in reaching the goals we set for ourselves. This work counts, even if we don't always get to our goal. I count myself lucky to be surrounded by people that want to make a difference in this world and that care enough about each other to let you know when you need to take care of yourself first.
Personally, I consider myself a long-hauler, meaning I tend to stay in my career positions for an extended period of time. It will be 10 years in March that I have been with the Chef Ann Foundation (CAF) and prior to that I was in a role for 13 years. I often wonder why I don't move around more. I am certainly not risk averse, I have various passions and am inspired by so many organizations and businesses doing great work. When I look at it, I realize that for me the "juice" is in the deep work and sometimes that deep work takes time. Systems change is complicated and requires both foundational and structural transformation. School Food is a big system and it has so many facets of complexity. It has taken me a lot of time reading, seeing, connecting, trying and advocating to be in this place that I sit today in gratitude, inspiration and excitement for this upcoming year.
For the last 3 years, our team has had their head down building, planning, testing, innovating and working in partnership with school districts and other organizations/agencies to create change. We have isolated training and built capacity in the school food labor force, increasing our capacity for technical assistance and direct district support as prime opportunities to drive towards our vision; All children have equal access to fresh, healthy, delicious food providing them the foundation to thrive and meet their true potential. We have built out new programming, modified and enhanced existing programming, and ensured all our work is evaluated for effectiveness. These last three years have been hard, thrilling, frustrating, challenging, motivating and inspiring. There are no words to describe how grateful I am to our team for the work we have done to get us to 2023. Through the pandemic, supply chain issues and labor issues, district partners have been tirelessly hanging on but we all came together and showed up day in and day out to get it done. It is honestly hard to reflect on the last three years without getting emotional, but I think it's important for us to take a breath and a moment to give each other a BIG virtual hug and say thank you.
Emotions aside, how can we take what we have learned over the last three years and make sure that we work smarter in 2023? While it has taken a huge amount of effort to get us to this place, we all know that 2023 will come with complexities. Were estimating that our team will double in size by the end of the year and were executing on major projects with big goals, including but certainly not limited to:

Supporting 7 school districts in our next Get Schools Cooking cohort

Launching our first Fellowship cohort of 24 Fellows

Targeting nearly 200 Pre-Apprentices/Apprentices through our CA Healthy School Food Pathways Initiative

Beginning the Healthy School Food Pathway design process in CO and VA

Working with districts from CA to TX to AZ to VA on Specialized Programing to help them reach their scratch cooking goals

Adding new recipes, procurement resources, marketing resources and fiscal management resources to The Lunch Box

Building a strategic plan for School Food Institute and starting implementation to ensure the courses are as effective as possible to support school food professionals

Ensuring our Salad Bars to Schools grant is providing the support needed for districts to operate fresh fruit and vegetable salad bars in schools

Hiring up to 20 new positions, ensuring our team has the talent to take on the change we are targeting

Protecting the retention of our organization's culture while providing structural solutions for efficiency and efficacy.
We have built the programming, secured the tools and resources to execute on the vision, and created the capacity to achieve our targeted outcomes. However, we also have to make sure that we continue taking care of our team and ensure they have enough support to be part of this system's change for the long haul. As the airlines remind us every time we fly, you have to put on your oxygen mask first before you can help others with theirs. This is not a sprint, it's a marathon and we need to celebrate every mile we go. We need to conserve our energy so we can make each step stronger than the last.
CAF Team, my promise to you in 2023 is that I will make every decision with our co-created plan at the forefront. Together we wrote a 2023 operational plan that provides a roadmap for our work and we will work through that plan together. I promise that each decision made will take into consideration our impact, our capacity and our abilities. I promise to try and listen more than I talk. I promise to come to our conversations with an open mind and an open heart. What I ask from you is to hold onto your passion, remember that you are part of an amazing team, challenge us when you see opportunities to do things better and smarter and accept that we will make mistakes. We will all make mistakes as we take on 2023 and the growth that will accompany it. Mistakes are not bad, they are opportunities to learn and improve. We are not an organization that plays it safe - simply put, it's not in our DNA as we were founded by 'The Renegade Lunch Lady' herself. Chef Ann Cooper came about her work because she felt the system was flawed and she wasn't afraid to push for change. I am grateful everyday that Ann's persistence, determination and lack of fear have enabled this organization and school food professionals across the country to trailblaze and take on big change.
So, let's do it! I'll see you on the video screen as we start this new year with renewed optimism and a commitment to caring for each other. Together, we can build and execute the most effective programming in order to support our school food partners in helping them serve the healthiest, freshest, best tasting school meals.

Cheers to 2023, so glad to be here with you!

Mara Fleishman