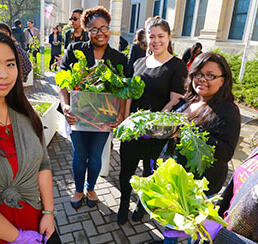 School-based Farmers Markets
Ingredients for healthy food access
August 31, 2016
Sharing some news from our friends over at Chicago Public Schools about their new Farmers Market initiative that launches today! This update comes to us live from the field courtesy of the Chicago Office of Student Health and Wellness:

CHICAGO - Beginning in Fall 2016, the City of Chicago and Chicago Public Schools are partnering to launch school-based farmers markets and establish healthy food access points in the food insecure community areas of North Lawndale and Roseland.
Lavizzo Elementary in Roseland and Johnson School of Excellence in North Lawndale will host weekly community Farmers Markets. Local fruit and vegetable vendors and school gardens will sell produce to students, families and the community each week from September through mid-November. Markets will feature the Supplemental Nutrition Assistance Program (SNAP) "Double Up Food Bucks" program where SNAP/LINK dollars used to purchase nutritious foods will be double in value (i.e. $5 of produce spent with LINK will equate to $10 worth of produce).
CPS serves approximately 75 million meals each year emphasizing that district meal choices available each day have a significant impact on students' overall health. CPS has adopted stringent nutritional standards for all meals, that exceed USDA HealthierUS Challenge Gold status which include mandated servings of whole grains, elimination of unhealthy snack foods, and increased frequency and variety of fruits and vegetables. The District menus regularly feature local food from within a 350 mile radius of Chicago and has spent $6.5 million on local food since 2013. CPS supports 413 school gardens where students put knowledge into practice and experience the growing cycle firsthand. In many cases, student-grown produce supplements the school's menu, as students not only learn about, but eat what they grow.
School-based farmers markets are an ideal application of the CPS Farm to School program." "Students learn about the food system through nutrition education lessons, grow food in school gardens and now have the opportunity to choose healthy foods from these healthy food access points in their own communities.
~ Leslie Fowler, CPS Executive Director of Nutrition Support Services.

The CPS Farm to School program is a coordinated approach to nutrition and food system education occurring in the classroom, dining center and garden. Experiential and curricular Farm to School education includes tastings of locally grown fruits and vegetables, local farmer visits and monthly communications including horticulture tips and curricular connections through monthly newsletters. School-based farmers markets will provide opportunity for community members to access affordable, healthy food and schools to expand upon their Farm to School program. School-based farmers markets will hire community members, engage local farmers and vendors, and feature school garden produce for sale to students, families and the greater community.
To learn more about the CPS Farm to School program, visit cps.edu/FarmToSchool.
Interested in reading more helpful articles from us?