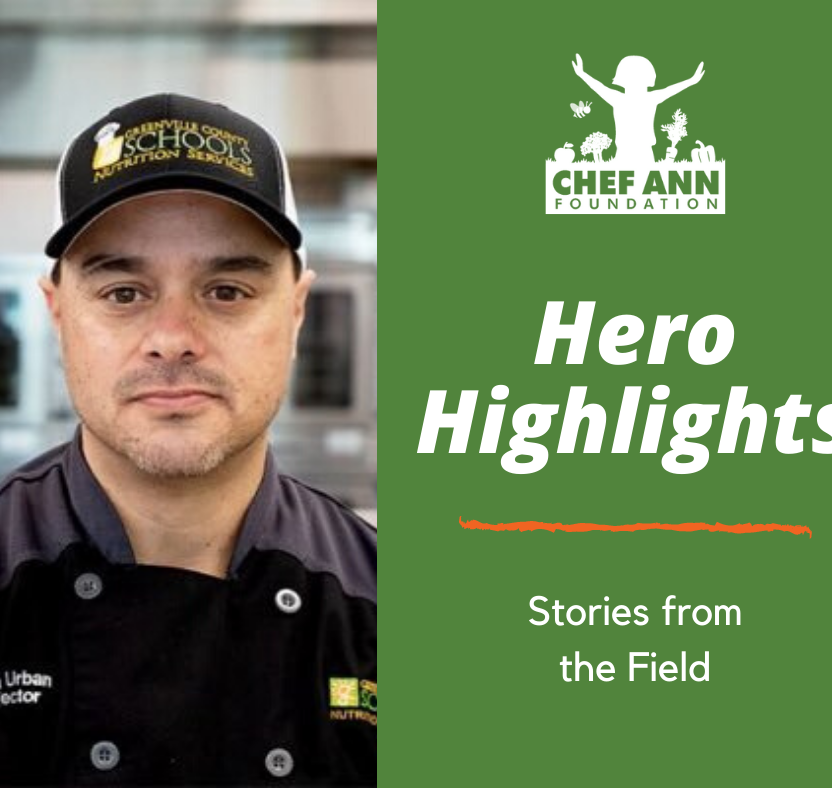 This Food Service Director is Feeding 25,000 Kids Daily Amid COVID-19
Chef Joe Urban and his team went from feeding 1,000 to tens of thousands of kids in his South Carolina community amid COVID-19 school closures. Learn how they prepared to hit the ground running.
April 10, 2020
|

By
This blog post is part of a new series on The Lunch Line called Hero Highlights. The Chef Ann Foundation wants to ensure the incredible stories of our school food workers are being told. These Hero Highlights are stories from the field during this challenging time, as school food teams tackle food insecurity due to widespread school closures amid the COVID-19 pandemic. Stay tuned for more.

For school food support during the coronavirus pandemic, view our COVID-19 Resources & Support page.
"This is heroes' work," says Chef Joe Urban, Director of Food and Nutrition Services for Greenville County Schools in South Carolina. After catching wind of possible school closures due to COVID-19, Chef Urban and his team reacted quickly to adjust their daily work and handle a new set of challenges.
With a district enrollment of 77,500 and almost 80,000 meals (breakfast and lunch) served out of 101 schools and special centers on a normal day, they're no strangers to high demand. Here, Chef Urban shares how Greenville went from feeding 1,000 to 20,000 kids in a matter of days, his thoughts on the importance of providing support to his community, and words of advice for fellow school food professionals.
How did you react when you found out about your school district closures?
We were prepared for the possibility and reacted by implementing phase one of our emergency feeding plan, which was to open one or more eligible schools in our communities—each USDA-eligible and State Department-approved Seamless Summer Option locations.
Do you have any comments on the rising issue of school food staff becoming infected due to operating their remote feeding program?
This is a very real concern. In a time when the public is being instructed to remain in their homes for their safety, these employees are choosing to come to work to ensure that the most basic needs of the children in our community are met. It is essential that we do everything in our power to ensure that our staff are using the most current recommendations for personal safety while we are trying to meet the needs of the public.
While there is an increased risk of exposure for anyone that chooses to leave the safety of their homes during this time, these individuals throughout the country have decided that the risk of exposure is not greater than the need to make sure children are fed. This is heroes' work, and when this thing is all said and done I believe there will be a new found respect for the people throughout the country that have chosen this career choice.
How is your emergency feeding program structured?
We are operating feeding sites at 15 schools with car line pick-up, and 69 community drop-off locations serviced by school buses, providing meals for both breakfast and lunch. Meal service times are 10-12 Monday through Friday at all locations.
Are you still receiving expected food deliveries? If not, how has that changed?
We are receiving deliveries as expected, with modifications being made to account for product shortages. We had a couple of manufacturer orders (whole tractor trailer loads) cancelled due to national demand issues when this first started, but for the most part we have been able to shift quickly and have not had any real product issues. Our distributor partner, Sysco Columbia, has been instrumental in working with us to identify items to secure to keep the food flowing.
What kinds of meals are you serving during school closures? How are you prioritizing which foods to serve?
Primarily handheld sandwiches with milk, bagged vegetables, and fresh fruit. Menus are developed based on inventory and availability of products.
How does this differ from your typical meal program?
We are now limited to serving bagged meals with sandwiches vs scratch made meals with up to nine different choices during the normal school service.
How is your staff handling this? Are you using any special protocols?
The staff has handled this well and appreciates the opportunity to serve our community in this unique time of need. We are exercising appropriate social distancing and following our normal HACCP procedures for safety.
What have been some of your biggest challenges? Biggest successes?
Our biggest challenge was scaling up from 1,000 meals the first day to over 20,000 meals a few days later. The biggest success was partnering with our transportation department to use their buses and personnel to help us expand our reach quickly.
How did you go about scaling up from 1,000 to 20,000 meals in just a few days?
We are now serving 25,000 meals per day, and that number appears to be climbing every day. Scaling up quickly was only possible because we had strong emergency feeding plans in place, have the best people in the business who used their training to get those plans up and running on day one, and have tremendous support from all other departments in our district including our building services and transportation departments. Each of those work groups continues to provide essential support to our staff; without them we would not be as successful as we have been. For perspective, we normally serve in excess of 80,000 meals per day out of 101 schools and special centers.
What actions do you recommend food service directors take to ensure they have a plan in place in the event of another national emergency or similar situation?
This situation is very unique in that most districts had 6 hours' notice or less of an immediate school closure of undetermined length. All districts need to have emergency feeding plans in place to ensure continuous operations for a short time. They also need to have strong relationships with manufacturer and distributor partners and the ability to react very quickly with those partners to identify solutions to the upcoming challenges. We enacted phase one of our emergency feeding plan within hours, which was to open one or more schools in each of our communities. This allowed us to have an immediate presence throughout our district on the first day with 15 schools preparing and serving both breakfast and lunch. We then enacted phase two of our plan two days later, which included using 66 of our bus stop routes in low income areas. This enabled us to provide increased access to meals to those in our community most in need and without transportation to one of our school sites. Having strong relationships with manufacturer and distributor partners allowed us to secure food for the immediate needs, and work quickly to secure food for future anticipated needs.
What's one thing you want your community (and the broader audience) to know?
That at a time when most people are retreating to their homes for their safety, school food service and transportation staff nation-wide are coming out to make sure that all children have access to high quality nutrition during this unprecedented school closure. This is by far the most valuable work we have done in these programs.
For school food support during the coronavirus pandemic, view our COVID-19 Resources & Support page.