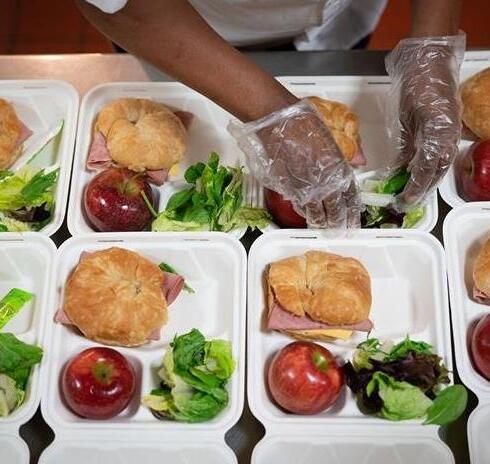 What Can Happen in a Year?
Accomplishments in 2020, and what's on the horizon for 2021
January 29, 2021
|

By
EXHALE… have you been able to take a breath? I think there are many words we can use to describe 2020: awful, harrowing, never-ending, monotonous, sad, unreal, and the list could go on. For the Chef Ann Foundation, I think the word that comes to mind is CHANGE.
With the onset of COVID-19 in March 2020, our work had to change and we had to act quickly. Our 2020 goals to support salad bar implementation in 250 schools, assessments in 5 districts, and onsite scratch-cooking support for all of our Get Schools Cooking districts were all quickly scratched (no pun intended). But school food teams needed help, so we pivoted to ensure that we could support their emergency response needs.
2020 Achievements
Our team was extremely motivated to continue the necessary work to keep school food reform moving forward. It was clear that we wanted and needed to jump in to support immediate relief efforts, and CAF's 2020 goals changed to better support the new times we all lived in.
Emergency Response Support
When districts moved to virtual learning, they had to ensure kids still received school meals, which meant serving to-go through remote feeding stations. It also meant that processed and processed packaged foods were easier. Our work focused on finding new ways to encourage school districts to keep scratch-cooking while navigating new challenges and constantly-changing environments.
Online resources for operational pivots: we added 30+ resources on The Lunch Box website, including USDA guidance, emergency response plans from leading districts, meal kits, community marketing methods, to-go recipes and much more.
Scratch Cooking To-Go: one of the most challenging things in emergency feeding is identifying scratch cook recipes that can be easily packaged, transported, and stored until ready to eat. We worked directly with 20 of our district partners to help them continue to serve some fresh, scratch-cooked food. Additionally, Brandy Dreibelbis, our Director of School Food Operations, curated a list of the top recommended foods for districts to serve to-go style.
Hero Highlights: school food professionals needed to hear how others were doing things, and they deserved acknowledgement for their front line work. We were honored to feature 14 incredible school professionals, all focused on serving fresh food during remote feeding.
Professional Development
With many school food professionals not able to work on the job, school food management needed virtual support, and our programs took a digital focus. Here were a few of our professional support milestones:
The brand-new Lunch Box website with tons of new resources and content, built to provide better support for school food professionals
The School Food Institute, an online learning platform dedicated to scratch cooking in schools, distributed over 100 scholarship seats to districts and staff searching for affordable professional development solutions
Built out scope to complete our new scratch-cook District Assessment Technology, including a District Self-Assessment and Onsite Assessment (expected 2021 launch)
Moved our data collection to Salesforce to better understand district, school, and food service professional engagement with all resources, programs, and grants
Completed research to determine needs and structure of a scratch-cook fellowship
A New Year
While 2021 does not resolve all of our global challenges, it certainly does have an air of hope. With that hope, the CAF team is planning with optimism and implementing with thoughtfulness. Here are our main impact goals:

Launch the free-access Self-Assessment for districts across the country
Launch the School Food Fellowship program, to support new leaders in school food
Teach 650 School Food Institute courses
Support 3,000 new school users on The Lunch Box
Support 15,000 operational resource downloads
Work with the ScratchWorks Collective to support legislative policy that allows more school food programs to scratch cook
Work with California Community Colleges to pilot a learning and internship track for school food within their culinary and food management focus areas.
Here's to a brighter 2021, for everyone.

Mara Fleishman, CEO Chef Ann Foundation