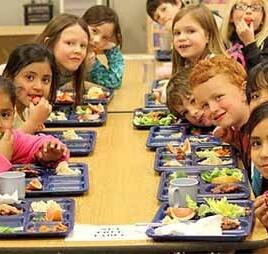 What We've Accomplished With Your Support
Looking forward to what's on our plate in 2015
December 10, 2014
As 2014 comes to a close, we are so thankful to all of our supporters who share the Chef Ann Foundation's belief that healthy food will build a healthy future. The generosity of individuals, foundations and corporate partners, stirred in with their enthusiasm for our mission, has helped us to cook up a year of school food accomplishments.
But we are facing our toughest year yet, and we need to ensure that Congress doesn't roll back the important progress made through the Healthy Hunger-Free Kids Act. Please consider making a year-end donation to CAF so we can plan for an equally successful 2015.
Here's what we've accomplished in 2014 and what we need to do in 2015.
2014 Accomplishments
This year saw the launch of The Lunch Box: The Next Generation, an online resource center that provides school food professionals with free tools to help transition to scratch-cooking and sustainable procurement. Those who supported this initiative helped us create and publish menu cycle templates, kid-tested recipes, budget-planning guides, and fresh food procurement how-to's. In other words, schools now have free access to all the nuts and bolts information they need to provide fresh, healthy meals to children across the country.
We've also provided schools with equipment and funding to put their new knowledge to work! Through our Let's Move Salad Bars to Schools grant, we've sent 773 salad bars to schools nationwide, ensuring that approximately 386,500 children have access to fresh fruits and vegetables every day at school. We also created and launched Project Produce, a granting program that helps schools encourage kids to eat fresh produce through fruit and vegetable samplings and lunchroom education.
We can't rely on schools to change their nutrition programs without community involvement. Just as schools need a resource for healthier, scratch-cooked meals, so do parents looking to make a difference in their community. That's why we created the Parent Advocacy Toolkit this year, a step-by-step guide to help parents kick start grassroots change in their own schools' cafeterias.
2015 Goals
None of these milestones could have been achieved without the support of our individual donors and corporate sponsors. Thank you for standing with us on the front lines of the school food fight. But our work isn't done! We're counting on you in the new year to help turn the fight into a revolution. The next step is to ensure that Congress continues to support the Healthy Hunger-Free Kids Act by showing that schools can successfully transition to healthier food. We'll do just that in 2015 through:
830 salad bar, breakfast, Project Produce, and kitchen-equipment grants to provide equipment and funding directly to schools to help them transition to scratch-cooking, fresh food, and healthy students
The Lunch Box Training: Training and educating school food professionals across the country on the tools that will help them purchase, prepare and serve students healthy food within their budget
The Meat of the Matter: Conducting four case-studies on school districts that have successfully incorporated antibiotic- and hormone-free meat into their school menus
Parent Advocacy Initiative: Bringing the Parent Advocacy Toolkit directly to 100 communities with grassroots, parent-led events
Bulk Milk: Establishing a new granting program that will help schools transition away from single-serve milk bottles and cartons to bulk milk dispensers and reusable cups
We've come a long way in the five years since Ann Cooper established a small foundation to turn her vision into reality: healthy, fresh school food for every child across the country. Since its inception, CAF has reached over 1,840,000 children with healthier school meals to nourish their bodies, minds, and futures.
Together, let's see if we can't reach ALL children, in EVERY school. As Margaret Mead once said, "never doubt that a small group of thoughtful, committed citizens can change the world; indeed, it's the only thing that ever has."
Until the New Year,
Chef Ann Cooper
Interested in reading more helpful articles from us? Sign-up for our newsletter in the footer below.