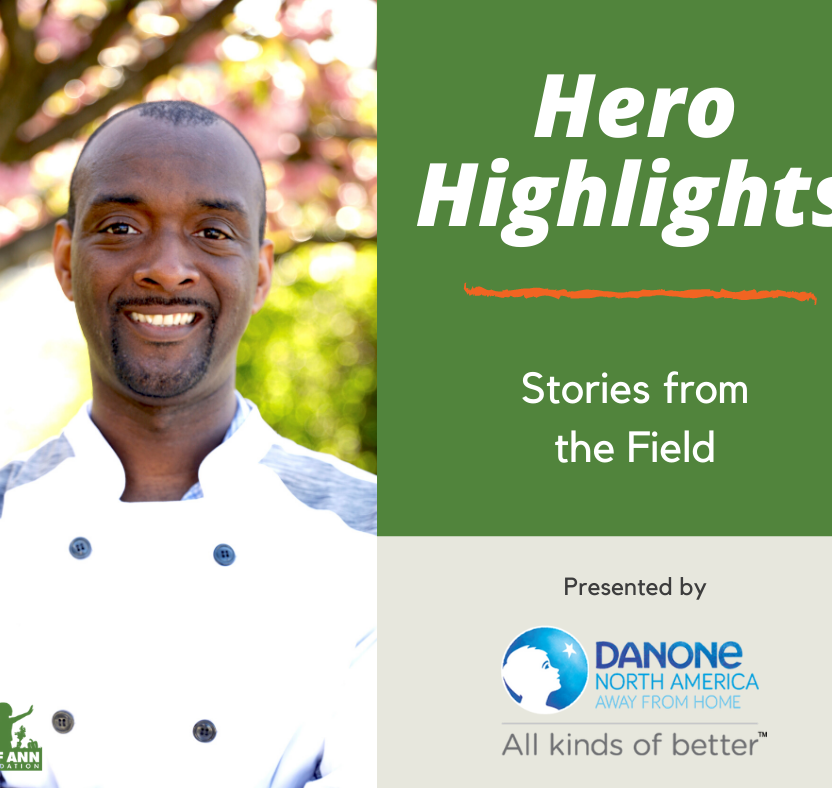 Will COVID-19 shift school food stigma beyond the current crisis?
Seattle Public Schools' Aaron Smith is hopeful. In our first audio Hero Highlight, the Food Services Director shares how his team built 26 meal sites, 35 bus routes, home delivery to 3,000 students, and support for city shelters—plus, his hopes for the future of school food.
May 01, 2020
|

By
The Chef Ann Foundation's Hero Highlights | Stories from the Field is presented by Danone North America. To ensure the incredible stories of our school food workers are being told, we're sharing stories from the field as school food teams tackle food insecurity due to widespread closures amid the COVID-19 pandemic. Stay tuned for more.

For school food support during the coronavirus pandemic, view our COVID-19 Resources & Support page. If you'd like to nominate a school food leader in your community for Hero Highlights, please send an email to submissions@chefannfoundation.org

District enrollment: 56,000
Percentage free & reduced: Around 30%
Washington state was the first to get hit hard by the coronavirus. How did you react when you realized the growing threat could impact the district and your school food program?
Well, we knew that it was going to be a matter of time before it made it to the city of Seattle. We had a plan in place for limited closure and were preparing for if the entire city shut down. Did we have enough resources? Is the staff going to be available? We just started off small, thinking about one or two, or maybe ten, sites to be prepared for emergency feeding if other sites shut down.
When it happened, I think it was on a Wednesday, we saw that two schools were going to close. Okay, we were ready for it. And then the next day, they decided to shut down the entire district. So, it took a little bit of tweaking -- but because we already had a plan in place for a small scale shut down -- we just amplified it to try to cover the entire district within 48 hours.
How is your emergency feeding program structured?
It's a growing process. So we originally started with 26 meal sites throughout the city, for about the first week. Since then we've added 35 bus routes that go around the entire city. We're working on direct delivery for shelters. Right now, we're providing meals directly to men's shelters for example, and there's a total of 37 shelters in the city. In addition, we're in touch with Amazon for home delivery because we have about 3,000 students with disabilities who are unable to make it to the distribution sites.
Hopefully within the next couple weeks, our overall coverage will be our 26 meal sites, 35 bus routes, home delivery to the 3,000 students, as well as providing meals to shelters throughout the city.
How do you think your talks with Amazon are going to impact your current program?
Amazon is the expert on home delivery. We have limited resources with our drivers and a lot of our trucks can't make it down residential streets. So we have been in talks about how we can package meals for delivery once a week with the same box for every student, and have Amazon make the delivery right to the student's door.
Are you still receiving expected food deliveries? If not, how has that changed?
We are still receiving deliveries as expected and it might be going a little smoother now. Part of the reason is that we are working with a reduced variety of items. We have about six different meals that we are offering right now. We haven't had any issues in receiving food from our distributor. They've been very helpful and have provided substitutions when needed, but so far everything is going smoothly.
What kinds of meals are you serving during school closures? How are you prioritizing which foods to serve? How does this differ from your typical meal program?
This is something we've been growing, we started off with just the cold -- ex. sunbutter or turkey sandwiches. Now we are offering a variety of chefs salads, hummus, bagel meals, and we just started implementing take-and-bake options. These are items that families can take home, put in the oven, and eat for a hot meal. Hopefully, [soon] we will start adding dinner to our program as well.
How many meals are you packing per distribution?
Right now our central kitchen is producing about 12,000-13,000 meals per day. We are serving around 6,000 for both breakfast and lunch. On the weekends, of course, we have a little bit extra. On Monday, we will also be incorporating healthy food for dinners and those will be offered every day.
We thought about switching to a once or twice a week program. However, it's such a big city and if a family is not able to make it to a site for that day, they would possibly be suffering for the rest of that week. So we're going to continue to do it everyday for as long as we can.
How is your staff handling this? Are you using any special protocols?
Surprisingly, 90% of our staff has chosen to continue to work during this time. That is one of the main reasons why we've been able to have so many different distribution sites and plans.
We're actually growing -- we just hired another 50+ substitutes. There's a lot of people in the city who have lost their jobs, restaurants are closed, and fortunately we've been able to add a couple of jobs for people to help us feed students.
What does this work mean to them?
It means a lot. Of course it is a terrible time, but it really brought our staff together. There's a warm and helpful feeling going into the city from the things that we are doing. A lot of parents have reached out just to say thank you. We have kids dropping off pictures and cards. It's been an amazing experience. I never thought that being in food and nutrition, we would be considered a "hero" or a "first responder." It's been an eye-opening experience.
Do you have any comments on the rising issue of school food staff becoming infected due to operating remote feeding programs?
Our number one priority is making sure our staff is protected and stays healthy during this time. We're providing them with all of the PPE (personal protective equipment) that they need. We work closely with the Office of Public Health and Security to make sure that we are meeting social distancing guidelines. We are doing everything possible to make sure that they are protected.
I know people are nervous and they are scared, even if they don't speak up about it. But it is amazing that people are overcoming those fears and coming out every day. Words cannot express the gratitude. One thing that we need to make sure we do: we need to protect them. They are the brave ones on the front line every day.
What are the protocols that you are using to decrease the likelihood that the school food staff becomes infected?
Employees are provided with masks and gloves. Security is enforcing social distancing. We have been making changes according to the Office of Public Health. We are laying the items out on the table with customers coming up to pick up the items to limit contact, so the staff member isn't handing the food directly to a person. Every night, we sanitize every single building and station to ensure that it is clean and safe before staff comes back in.
Looking to the future, what actions do you recommend food service directors take to ensure they have a plan in place in the event of a national emergency or similar situation?
This is such a unique situation. It's something that you can't really be prepared for. The only advice that I can give is to just make sure that your staff knows that you appreciate everything that they do.
That's a tough question...
What would you have done differently?
I don't think there's anything I would have done differently. Maybe start planning a little bit sooner. I think because we slowly implemented things, it gave us an opportunity to build on what we were doing instead of having to rush and have everything on the table at first and then have to take it away because of lack of resources.
When we first started, I think the first couple days we had about 900 students, but we were able to add about 1,000 students a week by building up the program and taking our time and trusting the process instead of rushing.
How do you think the students that you weren't capturing before are hearing about the program?
I think a part of it is word of mouth and as time went on things got hard for families. More people lost their jobs, so I think the need increased. I think just the overall media and communication that we are here to help and support made it easier for students to come and pick up a meal.
Have you had to do any special marketing?
No, the only thing we've done is that our communication team put stuff out on the district website. Seattle Media News did a great job on getting the word out and letting people know what's available and a lot of bloggers came by as well. It's nothing that we did, but just the media and the type of city that Seattle is, they all got together to make sure that people knew what was available. The PTA has probably been our biggest advocate and promoter about what is available.
What feedback have you heard from your community?
Everybody's just been so grateful and helpful. People want to donate and help out in any way they can.
We are doing our best to keep variety in the items that we are serving. We seem to get feedback that we could do a better job with accommodating allergies. It's really a difficult thing to do right now. I think we are offering a wide enough variety to accommodate the majority of students. The people that live in Seattle ask for gluten-free and then also just some staples that students like to eat.
What have been some of your biggest challenges?
Our biggest challenge has been the unknown. When we first implemented the bus routes, we had the unknown of how many people would show up. When we opened up the meal sites, again, just a big question on how much to produce -- we didn't want to overproduce or have too much waste. That's been the biggest challenge. We donated the items that we had too much of to food banks.
Another unknown -- the government would go out and say that families should have meals. It was being said so much that we did not know if the homeless shelter would come over to the food site. So just being prepared for who might show up at these feeding sites was just the biggest challenge.
Biggest successes?
Our biggest success are our employees, who are stepping up and coming to work every single day. Right now we are on Spring Break and a lot of them are continuing to work even though it is Spring Break.
What's one thing you want your community (and the broader audience) to know?
Thank you for trusting us. Trusting us to support you and provide you with meals and help out in any way that we can. Our cafeteria staff really think of the students as their own kids and they are going out every day to see them because they treat these kids as their own family. For the community to support us and thank us and reach out and show so much love and support to the lunch ladies and lunch men is inspiring. I'm grateful and want to say thank you.
Is there anything else you would like to share that we haven't discussed?
I'm hoping that the way that everyone is coming together right now and the way they are showing support carries on for a long time and we can help remove the stigma and perception of school food and actually become a bigger part of the school system. We do our best during the school year to provide some creative and delicious options and we are trying to do the same thing during this time. We are trying to provide a variety of items to help support families.
I just hope the support that we are receiving and the recognition for what we are accomplishing will continue and that we will grow on this and be a better support system for the city.
The Chef Ann Foundation carries out our vision by ensuring that school food professionals have the resources, funding and support they need to provide fresh, healthy, delicious, cook from scratch meals that support the health of children and our planet.
Danone North America offers a variety of brands that kids and parents love, including Dannon®, Silk®, Horizon® Organic, and many more. The company's mission is to "Bring Health Through Food to as Many People as Possible," and greatly values its partnership with the Chef Ann Foundation to bring this vision to life within K-12 foodservice. Learn more at danoneawayfromhome.com.