Chef Daniel Asher's At Home Chicken Parmesan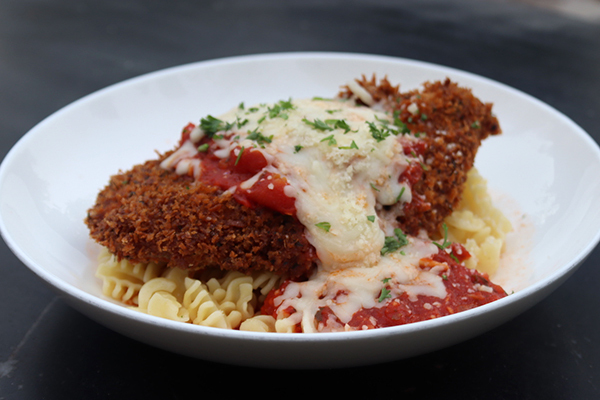 Ingredients
8 medium-sized (5oz) chicken breasts, pounded thin

24 oz pasta sauce
2 eggs
1/4 cup water
1 cup All-Purpose Flour
1 ½ cup bread crumbs or panko
3/4 cup grated parmesan cheese
3 tbsp Italian herb seasoning
1 ½ cup shredded mozzarella
½ cup olive oil
1 lb cooked spaghetti pasta
Instructions
Preparation
Mix flour with Italian seasoning - set aside.
Whisk eggs with water until well-scrambled - set aside.
Mix breadcrumbs with grated parmesan - set aside.
Preheat oven to 350 degrees Fahrenheit.
Warm a cast iron pan on medium heat, add olive oil.
Working quickly, dredge chicken breast in flour mixture, then egg wash, then breadcrumb mixture.
Place gently in pan and shallow fry until brown on one side and then flip over. Continue cooking until golden brown.
Remove chicken from pan and place in baking sheet on top of pasta.
Top with pasta sauce and mozzarella cheese.
Place in oven & Bake until cheese is golden & bubbly.
Parent Toolkit
We've seen first-hand the successes parents have had working with their districts to create school food change. In this section, you will find tools and resources just for parents. Join the community and turn passion into action!
Resource Library
Through videos, presentations, infographics and more, learn about Chef Ann and school food reform—including the issues, the solutions, and people making real change.