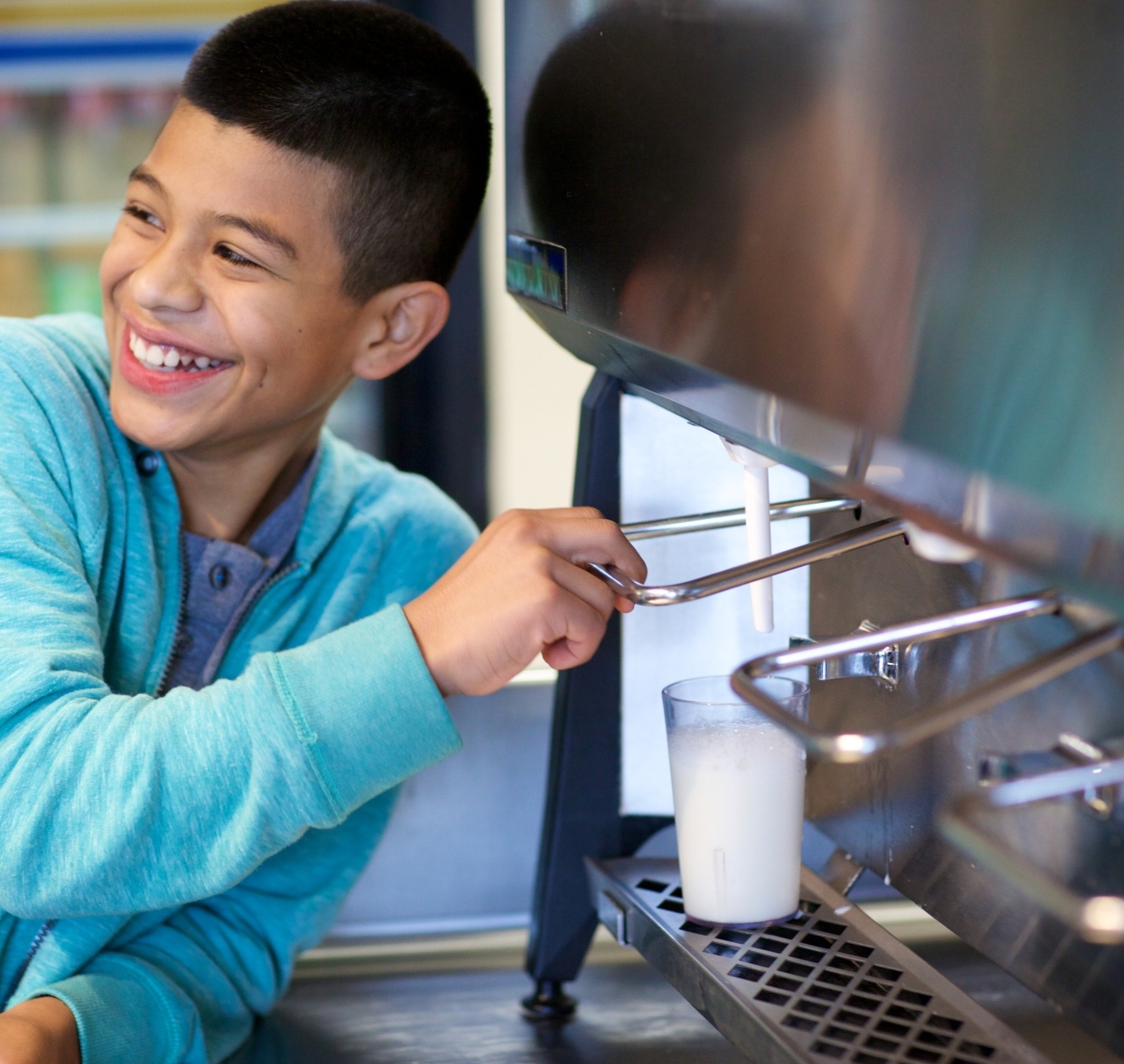 The Bulk Milk Solution: Chef Ann Foundation Launches National Program to Help Schools Reduce Food Waste
Press release issued by Chef Ann Foundation
BOULDER, Colo., May 16, 2023 - Milk is one of the biggest sources of food waste at schools across the country. Schools serve approximately 275 million single-serve cartons of milk to K-12 students every school day, resulting in a staggering amount of waste. Switching to serving milk from a bulk dispenser into reusable cups is a simple way for schools to drastically cut waste.
To help schools transition to using bulk milk dispensers, Chef Ann Foundation launched Bulk Milk. Through this new program, school districts anywhere in the U.S. can apply now for a grant to receive nearly all of the equipment, materials, and training needed to implement a bulk milk serving system.
Early adopters of bulk milk dispensers have seen impressive results. Canby School District in Oregon eliminated approximately 50% of its school lunch waste volume. Meanwhile, Bluestone Elementary in Virginia saw a 91% reduction of milk packaging waste volume when it moved to using a bulk milk dispenser.
Waste also comes from milk students don't drink. Approximately 45 million gallons of milk get poured down drains at schools each year. Wasted milk means the environmental and financial resources that went into producing, transporting, cooling, and storing the milk are wasted, too. By switching to a bulk milk system, which allows students to pour themselves only the amount of milk they want to drink, schools could save 30 pounds of carbon dioxide per student annually — the equivalent of taking 145,000 gas-powered vehicles off the road.
Further, schools using bulk milk dispensers found that students are consuming more milk, supporting improved nutrition. "Since switching to bulk milk, we've noticed increases in consumption. The kids love the taste and enjoy drinking from a cup instead of a carton," said Rita Denton, director of student nutrition at Mansfield Independent School District in Texas.
Denton's experience is backed by a wider study on school milk waste and consumption. By better regulating temperature, bulk milk dispensers help improve taste. "Dispenser milk is always cold and delicious. The equipment keeps it fresh, so kids like it better," said Chef Ann Cooper, founder of the Chef Ann Foundation and former director of food services at Boulder Valley School District in Colorado.
Districts that have switched to bulk milk dispensers have also experienced financial benefits. "We are seeing savings from purchasing bulk milk instead of cartons of $285 per week at our pilot school," said Denton. Savings like these could help schools switch from purchasing conventional milk to organic milk, ideally produced locally and from cows raised on pasture.
School districts interested in learning more about Chef Ann Foundation's Bulk Milk grant program can register for a free informational webinar happening May 31 at 9 a.m. Mountain Time. Grant applications are due July 31.
The Bulk Milk grant is open to school districts across the country thanks to support from the Posner Foundation.