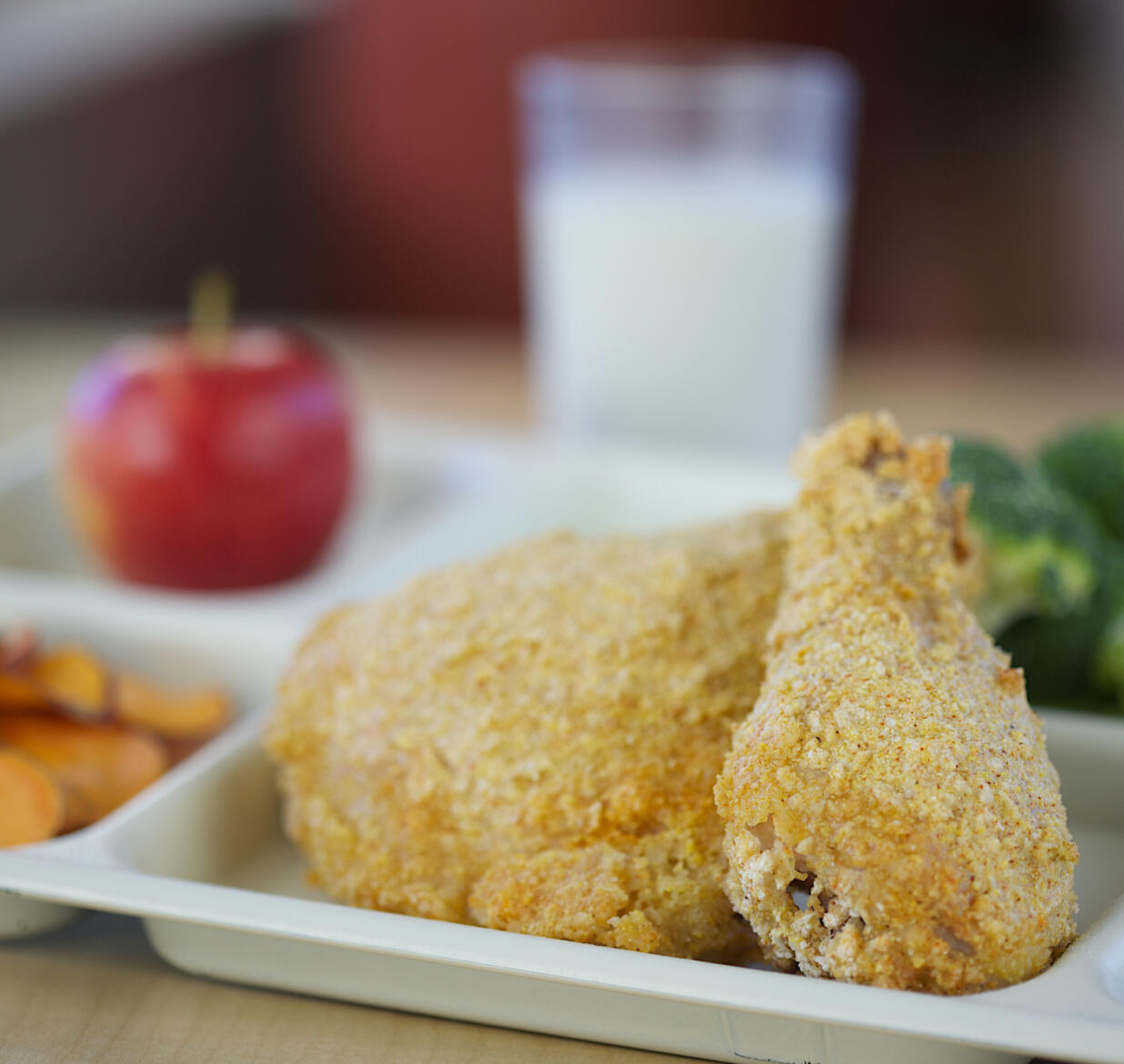 A Moment of Gratitude
A thank you to our partners, school food operators and supporters for going above and beyond this year.
November 18, 2021
|

By
What a year it has been for the nation, and especially for school food. School food professionals continue to face immense hardships, such as supply chain issues and staffing shortages. Despite these challenges, it's important to acknowledge that everyone has been working tremendously hard to serve healthy school food with the resources available. We are so grateful for the ongoing efforts of our partners, school food operators, and supporters working towards a healthier generation of kids.
As Thanksgiving approaches, we want to share our gratitude for organizations that have gone above and beyond this year. These projects and developments have a significant impact on the future of our nation's kids. Read on to learn about their amazing work and how these accomplishments will create monumental change for school food:
Western Nevada County & Foothills Fresh
A National Model For Scratch Cooking
Located in western Nevada County, California, the multi-district school meal program Foothills Fresh has created a 3-year program positioned to be a model for other rural school districts across the nation. In collaboration with Sierra Harvest, a local California non-profit, Foothills Fresh is transitioning their Food and Nutrition Service Departments from a heat-and-serve / processed model to scratch cooking with real and whole ingredients. By creating one food service department for all 9 of their districts, there are numerous opportunities to improve the quality of food served to their 8,000 students and showcase the ability to transform. We are so grateful for Foothills Fresh and all of their hard work to support the health of thousands of children in western Nevada County and beyond.


Arizona Department of Education
Creating Your Kitchen
Creating Your Kitchen is a program designed to provide 10 Arizona districts with the expertise and support needed to reclaim their kitchens and menus as they recover from the impacts of the COVID-19 pandemic. We are grateful to collaborate with the Arizona Department of Education, ScratchWorks, Life Time Foundation, Whole Kids Foundation and especially the 10 districts participating in the program. This state-driven program sets an example of how states can support their districts in expanding scratch cooking, work to exceed standards, and provide their students with healthy, nutritious meals.
California Community Colleges
Creating the Nation's First Pathway for Healthy School Food
California leads the country in driving community college programming that creates opportunities, at both a state and national level. (Eloy Ortiz Oakley, California Community Colleges Chancellor, joined the Biden administration as a special advisor earlier this year to provide advice on higher education policy.) Our partnered work has led to a pilot pre-apprenticeship being launched in 7 community colleges and 7 K-12 school food programs in California in the spring term of 2022. Working with Regional Directors, Sheila Dufresne and Holly Nolan-Chaves, over the last couple of years has been so inspirational. Without the dedication and passion of the California Community College team, we would never have gotten this far. We are so grateful for the opportunity to glimpse a long-term solution for workforce development solutions in school food.



Virginia Food for Virginia Kids
A State-Wide Effort to Increase Fresh Food in Schools
Virginia Food for Virginia Kids, is a statewide initiative that will advance freshly prepared, locally-grown food, and food literacy in public school divisions across the state. This pioneering program will be the first of its kind to be managed and implemented directly by the state, through a new partnership with the Virginia Department of Education Office of School Nutrition Programs. Thank you, Virginia Food For Virginia Kids, for your incredible work to increase access to nutrition education and fresh, local food in your state schools!


TIPS for School Meals that Rock
A Virtual Community For School Food Operators
TIPS for School Meals That Rock has created a Facebook community for school food professionals to share helpful advice for successful school food operations. TIPS is dedicated to feeding kids across the country in the most effective and safest way possible during this trying time. This group has become a 'go to' for industry professionals looking for best practices, tips, trends, recipes, and ideas for serving school food. It's inspiring to see this group grow and share and we are so thankful for not only the organizers, but also the contributors.
Gretchen Swanson Center For Nutrition
Get Schools Cooking
Since 2019, Chef Ann Foundation has partnered with the Gretchen Swanson Center for Nutrition (GSCN) to develop and implement the evaluation of one of our key programs, Get Schools Cooking. This year, GSCN finalized evaluations and evaluation reports on both the first and second cohort of Get Schools Cooking, examining the progress 10 districts have made in achieving their goals and increasing their amount of scratch cooking. As we continue our work with additional cohorts, we are grateful to have such strong partners to establish and manage our evaluation process. Their expertise in school meal programs and both a qualitative & quantitative approach to evaluation has helped us highlight the impact of the program, as well as ways to make the program even better in the future!
Organic Valley
Partnering for Change
With a shared focus on supporting healthy foods (and several years of previous work with Chef Ann), we're excited to meet Organic Valley at the school food table. By embracing the long-term work of changing food systems, we can continue to make strides towards healthier meals in schools. We are so grateful for their enthusiastic support, as well as their deep commitment to healthy food for kids. Many thanks to Organic Valley for their whole-hearted dedication to childhood health and supporting the world of school food.
Whole Kids Foundation
Blazing the Trail for Innovation in Childhood Health
Whole Kids Foundation has been a partner of the Chef Ann Foundation since its inception, being one of the first organizations to see the need for support in scratch cooking in schools. Throughout the years, the Whole Kids team has worked hand-in-hand with us to support innovation and to take risks on pilot programs and new concepts. We are grateful for the trust that Whole Kids has placed in our team and our work, and we hope to continue to ensure that we treat each opportunity with the same level of diligence, value and commitment to our mission.