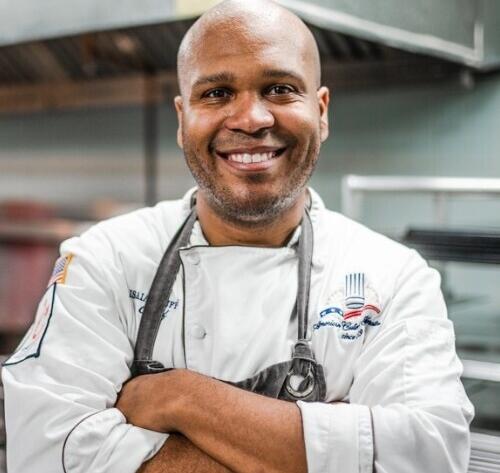 Food justice is woven into the fabric of this Virginia school district
Executive Chef Isaiah Ruffin is determined to make a difference. Together with Aretha Carrington, Isaiah and the team at Alexandria City Public Schools are changing the way schools do food service, even through the pandemic.
September 09, 2020
|

By
Listen to this interview here.

Editor's Note: As the Chef Ann Foundation team prepared to approach Isaiah Ruffin for a Hero Highlights feature, Isaiah reached out himself to nominate Aretha Carrington—a newfound asset to the team, who transferred to the food service department from transportation when COVID-19 hit the U.S. earlier this year. We saw how Isaiah, Aretha, and the school food team at ACPS worked hard to ensure the city's kids were fed throughout the pandemic, and chose to highlight both of these heroes in our final installment of this series. We hope you enjoy it.
Edited Transcript:
Today we chat with Executive Chef Isaiah Ruffin and Aretha Carrington from Alexandria City Public Schools (ACPS), whose hard work and dedication truly shows us how they are creating a healthier, more just food system.
Isaiah: [At ACPS], we have 18 schools and about 18,000 students. These students come from over 100 countries and speak just as many languages. We're very diverse. Before the coronavirus hit our daily participation was around 60-ish%. And our free and reduced rate is around 40%.
Can you detail your emergency feeding program during the coronavirus?
Isaiah: We went through several phases. The initial phase is one school—T.C. Williams, where I met the wonderful Aretha—where we were producing all of our meals and sending them out. TC Williams is our only high school, the biggest high school in Virginia with 4,200 students.
We started there with cold, grab-n-go-style breakfasts and lunches. And then after a few weeks we opened up more locations to five schools spread around Alexandria City, identifying the areas with the highest need. Then at five locations, we started releasing our hot food production. So we're doing hot and cold food. And then we went to a phase where we started having distribution points where bus drivers will go out, put up meals and take them to eight different community locations. At this point, we're doing 13 locations of grab-n-go meals to include hot meals in most of those.
Our program is a little bit of research and development. I've taken this time to try some new dishes, particularly from scratch. Our most popular item was a chicken tandoori that I did. I brought in some chicken from a farmer 51 miles away. It was quite the hit.
That's awesome to hear that your biggest hit was a scratch-cooked meal. Aretha, did you have anything to add to how that emergency feeding program looked from your eyes?
Aretha: It was really kind of a little bit of chaos, just maybe that first week. But then we all came together as a team and figured out how we was going to do this, who was going to be where. Me and another young lady named Diane McBerry, we were the ones distributing the food down here for our site. And just to see the families appreciating, standing there being happy that we were out there.
It just feels good to, you know, give back to the community. You trust your kids with us every day and bring them here. And just to give them a healthy meal every day. They always make sure that their meals are healthy for the kids. And that's what I like about nutrition, because everything has fruit, it has a vegetable, and the portions are right. And, you know, we have no complaints about the food.
I guess a lot of people was out of work. So we was having a really, really long line and it was getting overbearing. So we got a lot of volunteers who came here to help from Recreation and from Alexandria City. They was a great help. It was the best help that we had through the pandemic. Everybody came together as a family to help these children. And it was just really great to see that we all can come together in a pandemic like this. It really was.
Isaiah: The volunteers—I didn't even think about it, but they were vital to our operation. We have volunteers at all of our sites helping with distribution. It's amazing.
That's incredible. Have you transitioned into a summer feeding program?
Isaiah: We went from COVID emergency to summer feeding, the actual federal summer eating program. We actually did the transition for us when we started the emergency feeding. We applied to [operate] under the summer feeding program, and we haven't stopped since.
Have you done any transition in terms of how you're serving or what you're serving?
Aretha: On Fridays they do get a special treat. They get pizza. They might get some healthy cookies to go with the hot pizza. And they always give them a nice, pretty salad. Families really love it.
I'm so used to these families. I know who has a peanut allergy, who has a family of four at most. And I became close with these families. It's almost like they're my family, too, because I can say, "Oh, that's you guys. He got six in his family." That's one of my regulars. I have a lot of regulars that I became really close with. And they always say, "I'm so happy to see you out here, Aretha. You always smiling. You always have a good attitude." And I try to have a good attitude because they might be having a bad day. They might be having a hard time with some things at home.
You got to make that family smile. You got to give them something to be happy about, even if they weren't happy when they got there. We do it for the kids and the love of the kids, because I could be in that predicament one day, you know?
That's why I tell people, you know, when they ask me, "Why didn't you do unemployment?" I said, "There's other people out there who need that more so than I do."
I'm here distributing food for TC Williams High School. I have a job. It's more for the kids out there who's hungry, who really need this. I have food. I'm one person. I can take care of me. These kids can't take care of themselves. Sometimes it's two parents that's out of work. So what is it they do? Come to us, and we can help you guys, and put a smile on your face.
I have a similar motto. You know, as a personal side note, COVID has made it hard sometimes, in terms of our normal everyday lives, to maintain that. But meeting people like you and doing these kinds of interviews and learning about what other people are doing, it just reminds me that we are so fortunate. And that I do have the ability to bring that positivity. So thank you for sharing that because it is important to continue to bring positivity even when you feel like you might not be able to. But you can. You always can.
Aretha: Oh yeah. Oh yeah. And I love it when they come to me. They was like, "Thank you guys for being out here. We really appreciate it." You have some that say, "You know, can I get something different? I had pancakes the other day." I don't mind, you know, "Let me go find you another box that has pancakes and we can switch your box."
You want to make them happy. You want the kids to be able to eat the food. You don't want them to waste it. Some people say, "I wouldn't let them have no choice." I say, "Well, we have choices, kids have choices too."
Isaiah, I'd love to talk a little bit more about some logistics. Has your district made any decisions regarding in-class versus home learning?
Isaiah: There hasn't been a formal decision yet. This Friday, our superintendent is going to brief the school board on his proposed plan, which is called Virual+. It's a 100% online program.*
How is that going to affect your feeding program, or is it going to?
Isaiah: It will affect us. From when school starts, we're anticipating switching over to the National School Lunch Program and this School Breakfast Program, which has different guidelines and payment structures than what we're currently running. So we're tabling all kinds of options. One of the big ones I'm pushing for is a bulk meal type thing: some groceries, maybe a gallon of milk, bigger juices, some bulk items, as well as some custom-made salads. Our salads have been a hit.
I love to hear that your salads are a big hit. As a chef, why did you choose to go into school food and what drives your passion to keep going?
Isaiah: Every stage in my life, it's like every two, three years, I always ask myself, "Well, what can I do more? What's the biggest impact I could have?" And I let my passions guide that.
I've been a chef for maybe a dozen years or so. And every position I take, I want to have the biggest impact possible. So once I googled "most sustainable restaurant in the world" because I wanted to gain some knowledge on sustainable food service. I moved to Copenhagen, worked in this really cool Michelin star restaurant. [I thought], "Man this is cool, but our impact is so little. And then I came back to the States and was like, "well, let me gain my social capital, work with non-profits like ACF, Chefs Move to Schools, Let's Move! And I was like, you know, it's still not enough.
One day I'm just going online, and I see this job that says "Executive Chef of a school district." There's like 18,000 children. I was like, "So you tell me my day-to-day action is going to influence 18,000 people, young minds?" I was like, "Yeah, I have to get in there." That would be an awesome opportunity to not just influence our future generations from a consumption standpoint, but I also have a background in sustainable food systems and that would be a great way to help our local food system as well.
That's incredible. As somebody who has a background in sustainable food systems, how would you position school food in the larger food justice landscape?
Isaiah: Oh wow, that's funny, we were just having some conversations last week about food justice, food equity, like: how are we defining it? And are we supporting it or not supporting it? How are we pushing the needle? We have a very diverse district, a lot of immigrants, a lot of people at risk. I just found out in the last two weeks that we have a lot of families who actually don't even have access to a stove or an oven. And that helps determine our menu. Like, I don't know if we're being insensitive or incorrect. We were thinking about doing a pre-made kit where you can cook your own food, like Hello Fresh. I thought that might be a little insulting to somebody without an oven. So we're planning our meals around that, even if it's just for a small population. We're really big on more access. And I think our school district did a wonderful job as far as meeting people where they are instead of insisting that they come to us. And that's something I definitely want to continue as we push forward our plans, like how do we get the food out to people? We're virtually bringing the information to them. So what are we physically going to do to get the nutrients to them as well?
Right. Now, this question is for both of you. How has your team handled the recent protests surrounding race and racial justice?
Aretha: Can I answer that?
Yes.
Aretha: We have a big diverse staff and a lot of us don't speak the same language. And most of the time when we're here at work, it's all about us just working. We really don't elaborate on the protests and the racial stuff. I guess they just don't think about talking about stuff like that at work. They come to work to, you know, just do work. With Chef [Isaiah], now, he might have a different [opinion] on that.
Isaiah: Part of our strategic plan for our school these next five years is racial equality. Our superintendent is really pushing changing the narrative to the way we educate these learners. Recently, our school, where Aretha is right now, T.C. Williams, is actually named after Thomas [Chambliss Williams]. He's a former superintendent who was a very prominent segregationist in the area. And just recently, the [current] superintendent brought it to the school board to start the process, to change the name, to vote on it. And we've even had some protests from our students. Every day, they go out and throw a tarp over the T.C. Williams name. Right now, it's not even scheduled to go to a vote until August 27. And a lot of parents and children, particularly our students, aren't exactly happy on it even being up for debate. And they've been out there protesting every day. The Washington Post is out there. I say every news organization recently has been out there talking to these children. Our communications staff has been in contact, our community relations. It's actually a really good time to see how the school board is handling it, particularly our superintendent, Dr. Hutchings. He really wants it to be a student led process. So the process has already started with like a lot of community engagement and finding out people's viewpoints for and against changing the name. That's been a really hot topic as far as race and racial justice for us.
It's awesome to hear that the students are really driving that and pushing for that change. How do you think it's affecting conversations with your team and community around food equity?
Isaiah: It really hasn't reached our staff. It just got onto my platform this last week, and we have really done a good job as far as being fair and impartial with our food and the way we design everything. [For example,] we have like a 20 to 30 percent Muslim population. So to avoid any issues of offense, we've actually removed all pork from our menus in summer feeding program just to be considerate about it. We always offer plant-based entrees, anything with the top eight allergies. We really want to be fair and impartial when it comes to our food and promoting good access to quality food.
To me, it sounds like you're already looking at justice and equity in your school food system through that lens, which is awesome and so good to see.
Isaiah: Something I've been saying a lot when people were surprised about the things we're working on is, "I'm not new to this, I'm true to it." You know, this is who I am. This is not me trying to follow the trend. This is not me trying to catch up. I want us to have the best program. I want our communities to survive. I want to set the example and follow others' examples to really make our food system better.
Yeah, I hear that. Congratulations, you are doing great. So, tell me—why did you nominate Aretha for Hero Highlights?
Isaiah: When I first saw the post about nominating somebody—no joke, Aretha was the first person that came to mind. When I first met Aretha—she might have a different experience with me because I can come off more off putting sometimes—there's never been a time where her passion has wavered in the face of anything. Aretha is always the person who's like, "Yep, I got it. Whatchu want?' There were simple things like having the menu posted. A lot of people will be like, "Oh, man, I'm sorry, Chef." Aretha's like, "You know, I got it. Show me where it's at, and I'll do it."
That kind of energy is... Those are the people I want to have around me, and who I want around others, because that kind of energy is infectious and helps you get things done, and it keeps everybody honest. Aretha is not somebody who's going to hold back her opinion, but she at no point has ever been disrespectful. And that goes above and beyond.
When I mentioned it to others, our director, our assistant director, even our receptionist—they were all like, "Oh, yeah, Aretha is a great person." She's been with us for a while, even though she technically wasn't even in the food service department—she's transportation. She's great. And that's the reason why I nominated her.
Aretha: Well thank you Chef. I appreciate that.
Aretha, what pushed you to transition from transportation to the food service department?
Aretha: To be honest, I always had a love for food. My grandmother taught me how to make homemade bread. I cook every Sunday. I do a lot of entertaining at my house. As far as cookouts, do all the parties for my grandkids. So I think if I get into the food service, I can learn a lot more, and learn how to be safe with certain foods, and what I can mix with something to make something taste great.
Chef taught us how to do overnight french toast. That's something I've never tried before and that came out pretty well. So you learn a lot from [the] nutrition [department] and just being around great people, and a great chef—like Isaiah. It makes you want to come and work T.C. nutrition. So it's really great to be here.
I love everybody here. Everybody's respectful. Everybody helps out with each other and we get the work done. We work as a team, you know.
I love food. I love to eat. I have not yet gotten the recipe down [for my grandmother's bread], but I am working on it. Every time I make it, I think it gets a little better.
Oh yeah, you have to keep on trying. Don't give up on it. You can't give up on it. If you give up on it, then you are never going to be great at it.
That is a life lesson if I've ever heard one! I see why you are an asset to the school food service team. Chef, have you seen an increase in food insecurity and need since the start of the pandemic?
Isaiah: That's actually something that's been brought up to me. [Food] insecurity has increased. And our Alexandria City, it was it really hurt a little bit because we're putting out these meals and under this program, anybody ages 2-18 can participate at no cost to them. So it's a matter of two things: accessibility and marketing. That's something in our section we've been working really diligently on to market out to these families. We've been working with some teachers who actually go out to these neighborhoods as far as doing that. And, not just marketing. How do we get these meals out there when they know they're there and people feel safe? That's not necessarily my lane to do. We actually have a whole department, community relations, dedicated to that. But we work with them at all times to keep them aware of what's going on with what we're doing. And hopefully they can fill that gap to reduce our food insecurity in the area.
Aretha, what feedback have you received from the community, in the last couple of weeks and throughout the pandemic as a whole?
Aretha: Well, I have a few neighbors who come out to the food distribution, giving away the food, and they're always telling me how great it is, and how they appreciate all the help that we're giving. They didn't know about other locations, and so I let them know about [more] that are giving out food. But they're really happy that we could help through this pandemic. It's been more stressful for the families, for the community and the kids. They said the kids enjoyed the meals. And I always try to let them know that we are open Monday, Wednesday, and Friday and to get out and spread the word.
Awesome. Now, these last three questions are really for either of you to answer, so feel free to jump in as you want. I'd love to hear what you're most proud of in terms of the work you've done during this unprecedented time.
Aretha: The thing that I'm most proud of is just being here, seeing the families, and serving the families that need to be served. I'm most proud of seeing my coworkers work together through this pandemic. And I'm proud of just being a grandmother to everybody that I know around here, even Chef.
And Isaiah, did you have anything you wanted to add to that?
Isaiah: I would say the dedication of most of our team, especially the people... And there's been opportunity for people to really slack off and not necessarily show up - just collect the paycheck and just kind of wait it out. A lot of my coworkers didn't take that. They still showed up every day. Particularly our field operations supervisor, her name's Gina. She's brand new. She didn't hesitate to be like, "Oh, you know, I can work from home. I still need to show my presence, show my support." Even our assistant director, Sarah, has been out there packing lunches. It's been all hands on. And nobody has ever thought once, like, "Oh, they're not thinking about anybody else who doesn't go to work." They're thinking about what they can do to make our program successful. And that's something I'm very proud of.
Awesome. Is there anything we can do as an organization and as individuals listening to support your work?
Isaiah: Just highlighting people's stories. I've listened to them, listened to them all and a lot of them are close friends, so it's great to see how everybody's working hard. And the fact that you guys are sharing that on a bigger platform. The load is lighter if we all lend a hand, and I love it. I'm really looking forward to working more with you guys as far as training online. I think I'm even going to try to apply to Get Schools Cooking, the program you guys have for converting kitchens to scratch. That's one of my plans. I definitely want any help I can get in that, because it's quite an uphill battle.
Aretha, did you have anything to add to that?
Aretha: There isn't that much more that I can say, that you didn't already say. I want to thank you guys for letting us participate in Hero Highlights. You know, maybe something good is gonna come out of all of this. Maybe we can all create something good for the community. Just something we can come up with.
I would argue that you are creating something good for the community, and now we're just telling more people about it. Is there anything either you would love the broader audience to know about your program, your work, or where you guys are at right now?
Isaiah: Well, I have a million new programs starting. The one thing that I'm really excited about as far as school year goes. And even with the pandemic, a lot of our programs that we were planning are not going to stop. Like, the Harvest of the Month program. We've taken a bit of an asymmetrical approach to it this year. Instead of having it ingredient-focused, we're going for a more farm-focused program. I reached out to farms and I let them pick the product that's going to be highlighted on our menus every month. We're doing things like microgreens, honey, mushrooms, pea shoots, things that you don't see on other people's programs.
We have a program called Around the World Wednesday; once a month, I did samples of a dish that was globally-inspired, but a plant-based version. That's something we continue to do throughout the year, even if it's in grab-n-go style. It's even better because for me, food literacy is just as important as food consumption. So I want people to get smarter with every bite they take. And that's the approach I take. The menus, programs, development and professional development.
Awesome. Thank you so much for sharing that. Food literacy is just as important and often undervalued.
Isaiah: Oh, yeah, extremely.
*Editor's note: This interview took place on Monday, August 3rd. Since then, Alexandria City Public Schools has decided on Virtual Plus learning.

Hero Highlights is a program of the Chef Ann Foundation who carries out our vision by ensuring that school food professionals have the resources, funding, and support they need to provide fresh, healthy, delicious, cooked-from-scratch meals that support the health of children and our planet. The Hero Highlights series is sponsored by Danone North America, who offers a variety of brands that kids and parents love, including Dannon, Silk, Horizon Organic, and many more. The company's mission is to bring healthier food to as many people as possible. And they greatly value their partnership with the Chef Ann Foundation to bring this vision to life within K-12 food service. Learn more at danoneawayfromhome.com. If you'd like to check out any of the other heroes we've been fortunate to highlight, please head over to our blog. Thank you and I hope you have a great day.