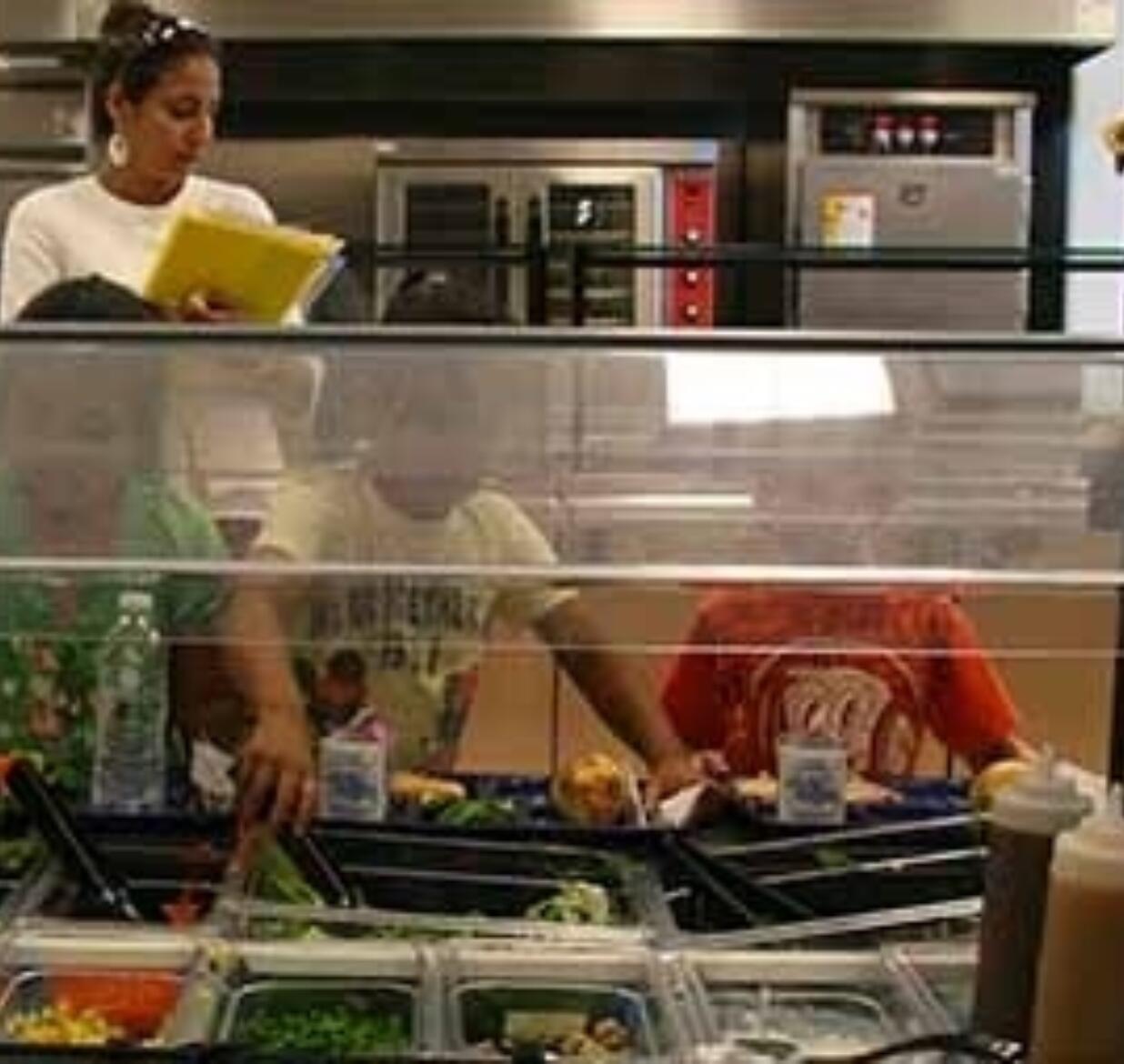 Location, Location, Location
Have you determined whether or not a salad bar can fit into your program—literally?
December 09, 2014

This blog post has been reposted with permission from Let's Move Salad Bars to Schools, read the original blog post here.
When a district is first considering reconfiguring their menu planning to include a salad bar (aka "harvest", "veggie," "fruit and veggie," and "garden" bar) the concept alone is very attractive. Why? The salad bar assists in meeting the vegetable subgroup requirement, it offers that coveted "student choice" we always talk about, and it's a great marketing asset.
But before you get your heart set on salad bars, have you determined whether or not it can fit into your program—literally?
The busiest and often tightest cafeterias in most school districts are found in the elementary sites. More often than not, elementary cafeterias have been designed or morphed into "multipurpose" rooms that may not have had the benefit of any capital improvements, such as dining fixtures like tables and chairs, in decades. Nothing like a challenge! But it's important to make it work in order to engage the youngest students in choosing—and ultimately embracing—fresh vegetables and fruits, which will provide many paybacks for your program and for their lifelong health. So how in the world can we make a salad bar fit?
Assessing the physical attributes of every school site that you are considering for a salad bar is essential. On The Lunch Box, Chef Ann Foundation provided an assessment workbook to collect data that will enable the implementation team to really dig in and consider the challenges of every school site. In addition to the physical layout of the schools, you must also consider bell schedules, daily participation, and how adding a six-foot unit with multiple self-selected items will affect lunchtime traffic.
Top Considerations – Age and Point of Sale (POS)
The younger the diner, the longer it may take them to make a selection. If you want to offer a self-serve concept (one that does not include pre-portioning into disposable cups), then we recommend positioning the bar after the students make their hot entrée selection. If there is room to give the kids a "spill area"—a spatial gap between the bar and the POS—even better. Students who are not selecting from the salad bar can go directly to the POS, while kids still making selections are not deterred by pleas to hurry up. For middle and high school students, a location before the hot line can work fine since these students have more dexterity and may be "salad bar veterans" if the district has salads bars in the elementary sites.
Now, consider where your cashiering station is currently located. If the POS is parked at the end of the hot line, barricaded behind a cement block wall with one entrance and one exit, and out of sight of the dining room itself, well then welcome to the most common service set up in America. This setup is a bit of a salad bar nemesis. Where should the bar go? If the bar is on the outside and the POS is on the inside, this is a recipe for disaster unless you have the labor and funds to assign an attendant out in the cafeteria. We've seen great success, regardless of which side of the hot line the salad bar is placed, when the POS is in the dining area. This solution may create some concern from team members who prefer to be "on the inside" (never stepping foot into the cafeteria), but the advantage of having a set of eyes on the salad bar are many. Benefits include engagement with the students by the staff member who is operating the POS. This breaks down the boundaries between the kitchen and the cafeteria and provides the foundation for Lunchroom Education with food service team members as the catalysts. Moving the POS outside also creates more service area on the hot line, reducing a "crowding" effect that can occur if the salad bar is squeezed into a short service area.
Two-Sided vs. One-Sided vs. All Around the Bar
Along with where the bar goes, you also have to consider how you will organize the choices on the bar. Mirroring the choices on a two-sided bar eliminates the dreaded reaching across the bar for the single container that has something that every student wants. Some salad bar programs want 20 selections on the bar, so that is a full walk-around or reach-across set up. And some districts don't have much space, so it's a one-sided or nothing. From an efficiency and training perspective, we recommend keeping your initial salad bar layout simple and consistent from site to site. This makes training your team easier and enables labor movement between sites without anyone having to learn a different set up for each school. Your team needs to have the salad bar Standard Operating Procedures dialed-in to support food safety as well as labor and cost efficiencies. Controlling cost is a huge factor, and the more loosely your salad bar program is defined, the higher your risk for mismanagement at both the site and the central office level.
A one-sided bar is most often utilized in spaces where there is simply no ability to navigate diners on both sides—the most common cause being wall configurations relative to kitchen access points. However, we strongly recommend trying to create a two-sided solution because of line speed and then working on the layout of the food choices.
But, We REALLY Don't Have Room for a Stand-Alone Bar!
We know that some sites simply are too challenged to fit a six-foot piece of equipment anywhere near their hot line. This doesn't mean it's an insurmountable barrier for offering kids the choice that a "bar" provides. Creative solutions are often found in the most challenging conditions. We know of food service teams that have physically cut their counters and inserted a mechanical unit right next to the hot line; others have created a chilled "unit" out of freezer pads and hotel pans.
If you need help finding a solution, invite the CFO and superintendent to have lunch at the sites so they can experience the challenges of eating in a poor service and dining environment. This is a method of stakeholder engagement that is often stronger than words. Principals are also key allies in your quest to create a better school lunch; they often control the funds and decision-making for dining room improvements. Nourish all of these key relationships with regular communication over a school lunch.
The Salad Bar Layout
Now that you have figured out the location, one or two sides, access to the bar by the kids and your staff, as well as the flow to or from the hot line, how do you plan the actual ingredient layout on the bar? Part of that equation may be the equipment and smallwares that you currently have, but regardless, take the time to think through what will be most effective with your menu plan and your student demographic. On The Lunch Box, operated by the Chef Ann Foundation, there are 4-well and 5-well salad bar layout tools that you can use to configure pan shapes and ingredients.
In our next salad bar blog, we'll take a closer look at layout, ingredient selection, and placement for efficiency, cost, participation, and marketing all of your wonderful meal innovations.
Interested in reading more helpful articles from us? Sign-up for our newsletter in the footer below.