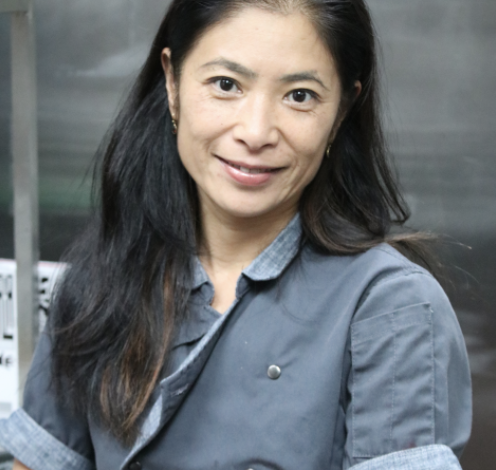 Q&A with Chef Mihoko Obunai
As a school chef in our first national Real School Food Challenge, Chef Mihoko Obunai has a unique take on what makes good restaurant cuisine and good food in school. Learn how she became the head of Midtown International School's culinary program and took on the Challenge with her Japanese curry.
October 27, 2019
|

By
What inspired you to get involved with school food?
My career has been as a professional chef, working in fine dining restaurants and casual restaurants. Being a chef and a woman in the kitchen, it's a very tough job. I really enjoyed being in the restaurant business, but I felt like I didn't want to just feed people who came to the restaurant, worry about my revenues and sales and food critics and if I could get a good review.
It wasn't until my children told me their school should provide better food that I went one day and really, I was kind of shocked. Students were grabbing trays, drinking chocolate milk and dumping everything in the garbage can. I thought, maybe if I can be a school chef, I can start something where people are going to respect me and what I do. I wanted to be more involved in something for the future.
What about the Real School Food Challenge sparked your interest?
I go to StarChefs International Congress every year. I spent time in NYC for culinary school and working in different restaurants, so I always like going back to New York because I feel like I'm going back to my second hometown.
This year, I got an email from StarChefs that they were hosting the Chef Ann Foundation's National Real School Food Challenge this year, and I thought, This must be a dream!
What inspired your Real School Food dish?
It's a Japanese chicken curry. People say sushi, tempura, teriyaki chicken (when they think of Japanese food). But chicken curry is one of the Japanese traditional homemade foods. Every house makes it, and this is a very traditional school lunch menu item. It's different from the traditional Indian dish; we kind of adjusted it to the Japanese way.

What's the biggest challenge about leading the culinary program at Midtown International Schools? What have you implemented since starting there?
I had complaints from kids in the beginning saying, "I want a burger, I want pizza." For them, things were comfortable and all of a sudden a chef comes and changes everything. I started putting in a salad bar, and I don't use any kind of preservatives. I make everything from scratch. I told everybody in the school, "You hired me for a reason—because you wanted change."
I focus on not wasting, and composting and recycling as much as possible within my menu. For example, I started "Meatless Monday" and "Zero Waste Wednesday." On Mondays I serve a vegetable-based menu only and encourage students to eat more local seasonal vegetables. On Wednesdays, I use all parts of animals and produce, like "Pork Carnitas" (I get local pork shoulder and braise it overnight). Lastly, all our utensils, bowls, cups and trays are compostable and earth friendly.
Why should the average person care about school food in America?
School meals are important because it's like education for children on how to eat, and then when they grow up they know how to cook and eat well. Eating school meals, it's culture, it's education—it's part of your body needing fuel.
What are your hopes for the future of school food?
I think it's going to take time to change, but I would like to see fresh produce—not canned—and less fried foods like French fries and chicken nuggets. I don't want to see anything where you can't see the animal's shape.
I want more local chefs involved in the school system. Many young chefs want to get famous and be on TV and get better food critiques. But children are the future and we need to support that.