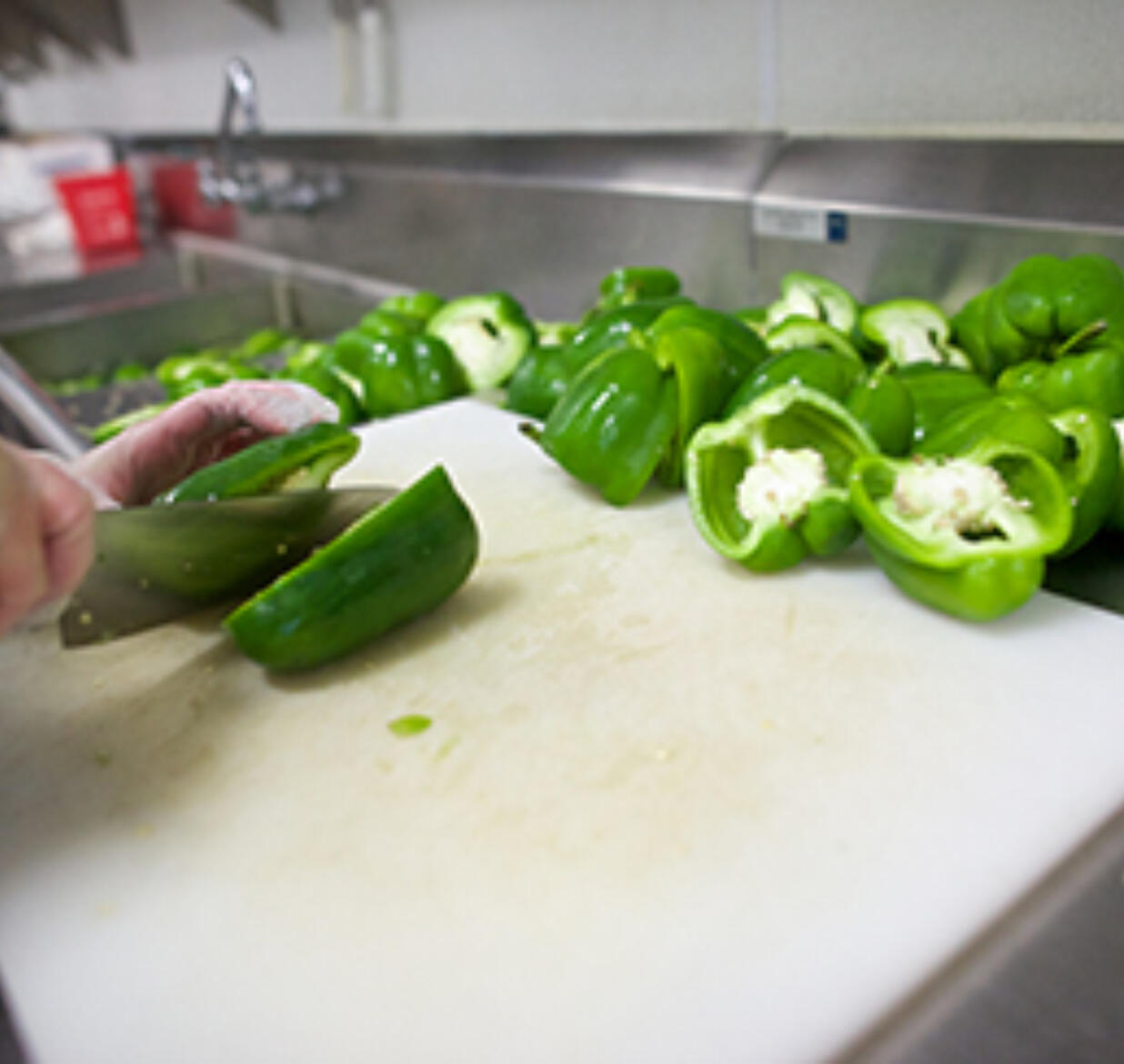 School Food Support Initiative Has Taken Root!
Announcing the First Round of Grant Recipients
February 07, 2016
When it comes to serving our children good, nourishing food at school, school districts in America face some serious challenges. Tight budgets, lack of kitchen equipment and proper culinary training are just a few obstacles that schools must contend with when serving up healthy, delicious food.
That's why this past October, Life Time Foundation, in partnership with Chef Ann Foundation and Whole Kids Foundation, launched the School Food Support Initiative – to help motivated school districts committed to improving their school food establish healthier meal programs.

We had a group of really powerful applicants apply for the available spots, and were able to support five with technical assistance services valued at $120,000. We are excited to announce those five recipient districts today!
Bellingham Public Schools
Bellingham, WA
School District Enrollment: 11,004
Number of Schools: 24
Average Daily Participation: 37%
Free and Reduced Percentage: 36%
What are the primary challenges faced by the Food Service program?
USDA reimbursement rates: "The current rates are not keeping up with the increasing cost of providing USDA compliant meals to our students. Increased food costs, labor and benefit costs have created very tight budgets – we are not meeting our goal of running a break-even Food Service program."
Kitchen Capacity: "We have the classic 'heat, hold & serve' model of food preparation in our district. The four cooking kitchens are limited in space and equipment, making it difficult to prepare scratch-cooked items for the menu. Satellite schools only have warmers and steam tables for service. The kitchen staff has limited skill in preparing fresh, scratch cooked meals. The menu relies heavily on highly processed foods."
What do you hope to gain from this grant experience?
"I hope to gain firsthand knowledge of how a scratch cooking K-12 school district works on a day-to-day basis. Also, I'm looking forward to collaborating with other school districts that are interested in making a similar shift to a scratch-cooking model. It's a big change for our existing program, and it will be beneficial to hear how other districts are managing the change in their own school districts."
How will your district benefit from this experience?
"Our community has committed bond dollars to build a new central production kitchen for the school district to be opened in 2019. How our district evolves from our current production model of highly processed "heat, hold and serve" food to a fresh scratch cook model will require enormous changes. The SFSI experience will be invaluable in helping navigate our way through the process of opening the new scratch cooking central kitchen! Ultimately, through better quality school meals and teaching children how to be lifelong healthy eaters, the students of Bellingham Public Schools and the greater community will benefit the most from the experienced gained through the School Food Support Initiative."
Buford City Schools
Buford, GA
School District Enrollment: 4,300
Number of Schools: 4
Average Daily Participation: 57%
Free and Reduced Percentage: 44%
What are the primary challenges faced by the Food Service program?
Staff Training: "We lack the personnel to train managers and employees on how to properly prepare new menu items. We try new recipes frequently but without providing the managers and staff with proper training, sometimes the items are not cooked correctly and the students do not accept them."
Outdated Kitchen Equipment: "We lack proper cooking and holding equipment. 2 of our schools are over 20 years old; the ovens do not cook evenly – the temperature varies so much that products are frequently burnt and/or under cooked."
What do you hope to gain from this grant experience?
"We hope to gain additional knowledge to assist us in creating new ideas and enforcing the current procedures to serve our students healthier, appealing foods that have been produced in our kitchens. We also hope to gain lasting relationships with other school nutrition professionals across the country that have the same expectations and desires Buford City Schools does when it comes to preparing and serving healthier food to our students."
How will your District benefit from this experience?
"I think our district is going to benefit from this experience in numerous ways. First, having an outside eye see the things we are doing and point out areas where we may be able to improve will be very helpful. Second, learning new ways of serving our students and different techniques that could be beneficial to our students and food service staff will benefit us greatly. Third, creating relationships with the SFSI team and other districts involved to help better our existing program and also have a network of individuals to assist with fresh ideas to help us serve our students in the most beneficial way possible. In addition to these benefits, I hope that Buford City Schools Nutrition Department can assist in further cultivating an environment throughout the district and community that teaches children and parents the importance of good nutrition."
Passaic School District
Passaic, NJ
School District Enrollment: 14,400
Number of Schools: 22
Average Daily Participation: 74%
Free and Reduced Percentage: 100%
What are the primary challenges faced by the Food Service program?
Fast Food's Influence: "Competing with the advertising dollars of McDonald's and Burger Kind is a challenge. Initially, I had a lot of pushback when I took chicken nuggets off the menu. However, after joining PTA meetings and getting parents on board, our participation has gone back up. I still have chicken nuggets and chicken patties on the menu. For many students in our high needs district, this may be their only hot meal."
What do you hope to gain from this grant experience?
"Since coming on board back in 2013, I have been working to incorporate less processed foods into our menu mix. We have reduced our commodity processing from 85% (2013) to 55% (2016). We have been using more brown box items from the government and doing more scratch-cooking using USDA batch cooking recipes in our menu. Unfortunately, we still have a number of pre-plate schools for which we get food from a pre-plate feeding company. I would like to decrease that number of schools."
How will your district benefit from this experience?
"Last year, we successfully implemented USDA farm to school grant. We did a tasting of locally grown and organic produce at a number of schools. A large percentage of our students were unaware of the term local and organic. However, by the end of the grant implementation, I had emails from parents and administrators wanting more of this. There were also a number of students with health issues who were aware and appreciative of what we were doing. I think I will learn to incorporate more "scratch cooking" menu items. I've reviewed Chef Ann's school menu and I like what I see."
Warren City Schools
Warren, OH
School District Enrollment: 4,900
Number of Schools: 5
Average Daily Participation: 83%
Free and Reduced Percentage: 83%
What are the primary challenges faced by the Food Service program?
Product Availability: "Our largest challenge is product availability. This problem has forced us to change where we purchase our food. We had to change to a different purchasing service because our hands were tied when they were out of product. The situation is greatly improved; however, manufacturers cannot keep up demands, which results in menu items not being available. When changes need to be made to our menus because of product unavailability, it has overreaching ramifications. With the economy not improving in our area, this year in particular, the department is hearing complaints that students need more food because they are still hungry."
What do you hope to gain from this grant experience?
"I hope to gain knowledge and ideas that I can take back and apply to my school district. I hope to develop peer relationships that can be mutually beneficial to our school districts."
How will your district benefit from this experience?
"Our district will benefit because it will generate excitement and shine a spotlight on Food Service. I am a proponent of improving the "status quo", and this will enable us to enhance our program for our students."
Watertown Public Schools
Watertown, MA
School District Enrollment: 2,687
Number of Schools: 5
Average Daily Participation: 40%
Free and Reduced Percentage: 28%
What are the primary challenges faced by the Food Service program?
Marketing: "Lack of effective communication, marketing, and presentation of our program after regulation changes in 2012 caused a significant drop in participation. Finding ways to improve participation of our diverse student body and maximizing free and reduced participation has been a challenge."
Limited Budget: "Rising expenses have prohibited us from purchasing higher quality, healthier products. Outdated aging equipment has led to an increase in repair and maintenance costs. High payroll costs and decreased grant funding sources have limited the amount of professional development we can provide to our staff."
What do you hope to gain from this grant experience?
"With the assistance provided by this grant, WPS hopes to improve upon their food service program. We hope to gain the tools and experience needed to make greater improvements to the overall operations as well as provide healthier more desirable options for our students."
How will your district benefit from this experience?
"WPS will be provided the opportunity to learn and gain first hand experience from other districts already making these positive changes. Our operations will benefit from equipment upgrades and staff training. Our students will benefit from healthier great tasting options in the cafeteria. Grant opportunities like this create learning opportunities, and provide equipment and strategies that enable sustainability beyond the grant period. We are fortunate to have this opportunity!"
Dedicated to improving school meals in America, the three founding cannot wait to help these districts overhaul their meal programs. Program services will begin this Monday, February 8, 2016 and will run all the way through the end of the 2016/2017 school year. Here's a look at the grant timeline:
One-day intensive workshop at Boulder Valley School District (2/8/16)
Three-day on-site assessment visits
Recommendation reports
On-site strategy sessions lead by school food experts
Opportunity to apply for $50,000 for each district to purchase new equipment
20 hours of off-site technical assistance
We will be providing updates on our progress throughout this and next school year!
Interested in reading more helpful articles from us? Sign-up for our newsletter in the footer below.