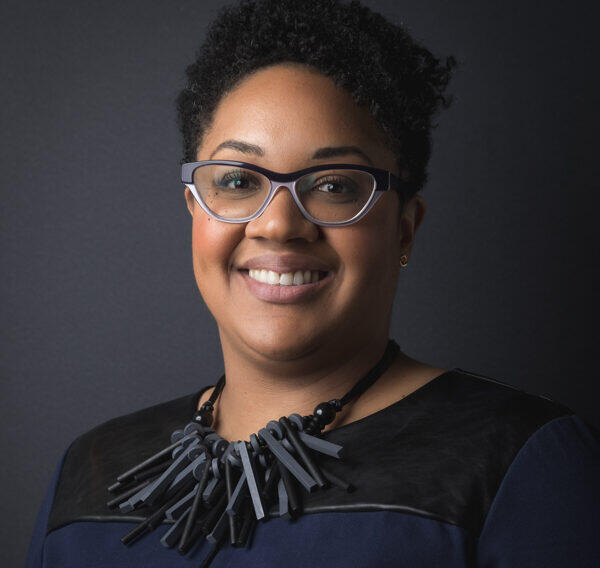 What it's like to transition districts during a global pandemic and national racial equity movement
Shannon Ebron, Director of Child Nutrition for Riverview Gardens School District in St. Louis, walks us through her experience transitioning districts and the role of school food in the larger landscape of food justice
August 20, 2020
|

By
The Chef Ann Foundation's Hero Highlights | Stories from the Field is presented by Danone North America. To ensure the incredible stories of our school food workers are being told, we're sharing stories from the field as school food teams tackle food insecurity due to widespread closures amid the COVID-19 pandemic. Stay tuned for more.
For school food support during the coronavirus pandemic, view our COVID-19 Resources & Support page.
Read or listen to this interview here.
Edited Transcript:
Today we are joined by Shannon Ebron, Director of Child Nutrition at Riverview Gardens School District in St. Louis, Missouri. Shannon's story sheds light on what it's like to transition to a new district in the midst of a global pandemic and national racial equity movement.
I'm Shannon Ebron. I am a registered dietitian and I'm the newly appointed director at Riverview Gardens School District in St. Louis, Missouri.
Why did you originally get into school food and what drives your passion to keep going?
I was exposed to school food as a dietetic student; I had a practicum that I had to do in food management, and I didn't get to pick my assignment. They put me in a school district and it was actually the intro year of the Healthy Hunger-Free Kids Act. So I got to work alongside a school food service team and closely with the director. I went to my first USDA food show, sat in on the round tables with all the directors. I did everything from washing dishes to accepting an order. I had the opportunity to do a taste test with students and to try out a new hummus recipe. I did cashiering. I did a catering event. I had my hands in everything and I was like, "Okay, I can do this!" I just really liked it. Actually, I went into dietetics as a second degree student.
My first degree was in family and consumer sciences with a design concentration. So I worked with two designers, as design assistant and in their studios. And I had done a lot of retail. So I kind of felt like school food service was a little bit of everything I've ever done that I've loved. Just because you get to be creative, you know—the retail aspect, thinking about how you're going to merchandise things, how you're gonna market things. You're thinking about how it's going to look on the menu, with different colors that you're going to have on the plate. So that was a little bit of the artistic and the business aspect. And then I was into nutrition. It just brought everything full circle for me, and I found that I enjoyed it. And I never looked back. I really didn't expect for my career to take this path and to move so fast in school nutrition.
During this unprecedented time, what have you been most proud of that you've accomplished with your district?
I've been proud of my team. I was at Fox C-6 school district in Arnold, Missouri, when COVID officially came before I made the transition to Riverview. So I've been proud of my team and I've been proud of the fact that I've been able to work alongside them. I really got to meet or just refresh my relationships with team members. Just because, you know, when you're working in a school district that has 17 schools, you can't be with everybody all the time. And sometimes some schools get more of your attention than others. It was cool to be able to work with some team members that I usually don't get to work with; to affirm the work that they're doing on a regular basis. But to work with them every day and just see the effort that they're putting forth—[I'm proud of] how much they really care about the students, and to be able to tell them that face-to-face every day was really special during this time.
Other than that, just taking on the challenge to go to another school district in the middle of a pandemic and not looking back at it. I'm just going with the flow and taking on this huge challenge of a personal victory for me.
Can you give us an overview of your emergency feeding program? What it looked like, what you're walking into, and maybe the differences?
Sure. So at Fox, we did a curbside model, what a lot of other school districts are doing. We pared it down to three days a week. We were serving on Monday, Wednesday, Friday at our two high school sites, which were our largest kitchens, so that we could do our social distancing. And for the preparation that it takes to do to-go meals, you just need a lot of space anyway.
At the current Riverview Gardens school district that I'm in, they decided to do more of a partnership approach. They partner with food banks, community organizations, faith-based organizations like churches, and different community partners to do the CARES Act boxes. It's my understanding that they first donated a lot of their USDA commodities to these organizations to be passed out within the community. They really wanted to make sure that the organizations that they were paired with were actually in the Riverview Gardens School District community. And now it's transitioned to the CARES Act boxes since those have become available. But they took a different approach from my understanding.
They started off with a curbside model, but then, sadly, the community that I am serving has been a COVID hot spot. That was part of the decision to do a different feeding model—to remove the risk from the team. So it's been different. It's been hands-off for me. I mean, we're kind of providing the food storage space to these organizations, since we have, you know, the warehouse space. That can be very challenging for us and for these organizations. But, since they're bringing the food to us, we are helping them with some of the storage aspects.
What's that going to look like as you move forward? And has your district decided on any learning programs?
I am curious too! I am very concerned about what the fatigue will look like for the team. They've been out of practice for a while, which I don't know is good or bad. So they've had some rest time. But I'm happy that I've had both experiences; the curbside service and now the partnership aspect. I feel prepared to lead them.
Right now it seems like we're going for a hybrid or a blended style schedule. I'm very nervous about losing kids in this type of schedule. You know, if they're not at school that day, how will they get meals? These are the things I'm still trying to figure out. I just really hate that this process might still mean that there are gonna be some children who are going to miss meals. And that really makes me sad. It's really hard to figure out how we're going to work through this with that type of schedule.
That's such a big unknown and such a big variable. What is the difference between your ADP and free and reduced lunch percentages between the two districts?
It's night and day. At Fox we had about a 50% ADP and our free and reduced was about 28%. So I'm transitioning to a CEP [Community Eligibility Provision] District, which I'm very happy about for a lot of reasons. But obviously that, you know, children are getting meals no matter what. There is no stigma associated with it, I don't have to worry about free and reduced applications or private information going out. It's very different.
That's good to hear. And what's the difference in location?
Fox is about 20 minutes south of St. Louis and somewhat rural. It's a newly developed part of Missouri right outside of St. Louis, whereas Riverview Gardens is St. Louis County. So it's about maybe 40 minutes north of my former district. I'm kind of in the center.
But with it being a CEP school it is a food desert. The students face food insecurity, since I'm feeding everybody meals—breakfast and lunch. It's an older community. I mean, to put it into perspective, since the famous, sad news story of Michael Brown, this community is adjacent to that community. That might give you a little bit more of an idea of where the community is located.
As a transitioning food service director, what are your experiences in that transition, especially during COVID?
Everybody in my new district has been really welcoming. I feel really comfortable where I am right now. It's just been tough with COVID anyway, some days working from home. But I'm really happy that I've had that opportunity and that people are really taking the guidelines seriously. For a while there I felt a little disoriented. But right now, I am still in the transition period. Some things have just taken a little bit longer than expected to set up. I have been fortunate in that the former director who retired, we had time together. So that was really nice to have her guidance as I took on this new position.
As an accomplished and experienced Black woman in school nutrition, how are you handling the current national and global circumstances surrounding race, racial justice, and equity?
I feel like it's opened up a lot of communication around friends or dietitians or professionals or just friendships that aren't professional. Just the conversation about race, about the injustices of Black people and people of color. So, I mean, that's been refreshing. People who would never ask me questions or talk to me about these subjects before have asked for my opinion. Which has been kind of interesting because in some ways I'm kind of shocked that for some people this seems to be something new. I don't know if it's social media. I don't know if it was just like the world stopped with the pandemic. But it's been very interesting.
It has brought a lot to light. What's interesting about my transition right now is that in the new district that I'm in, I see a lot of people of color, which is really exciting. Black people are in administrative roles. So that has been a huge sense of support for me transitioning to this new district. You know, I think people are aware and they're taking things into consideration for our students that at previous districts, maybe cultural aspects have not been addressed or have not been looked at. So that's really exciting for me, transitioning to this new district.
On that note, moving forward, has this, or will this change any other conversations you have surrounding food equity and school food?
I don't really think it's going to change the messaging that I've always used as a professional, as school food service. I think food justice really does start at school. I think it's one of the first opportunities that students have to learn about food, about where it comes from and about food deserts and the different challenges that are faced by communities surrounding food access. So I don't think it's really going to change for me. I guess I'm bringing new ideas to the district just in the fact that the previous food service director, she was there for like 20 years. And one of the things that attracted me to the district was that—from the outside looking in—I could see that there are new programs I can implement. Different people I can partner with, different distributors to bring in local foods. Things that just haven't been happening in the district that I'm really excited to expose the students to.
That's awesome.

Yeah, I think that's going to be the difference in the district starting this school year.
And what a school year to start with. You spoke about how school food informs a child's understanding of food and eating. How would you position school food in the larger food justice landscape?
I mean, I think it's huge. I'm going to be serving students at least 2/3 of their meals a day. It's a really big opportunity to teach them about nutrition. One of my favorite experiences was at Rittner School District. I was the dietician there and actually I was a recipient of a Chef Ann Foundation Project Produce grant. Part of that grant was that I did a lot of taste tests with students and exposed them to different foods. I tried to use local Missouri foods to shape what direction I would do my taste test. I just knew I was making a difference in a student's health, in their life, in what they were going to take with them nutrition-wise through the rest of their lives. So, yes, I do believe it has a big impact, school food service in the whole food justice landscape.
Do you anticipate in the fall keeping the CARES Act boxes going? Are you going to reintroduce your team to cooking operations?
Yes, the main goal is to reintroduce us to a cooking operation. I'm working on plan A, B, C and D of how to do this. We will get back into the kitchens and we will provide meals to our students; the meals that they have come to love and that they expect from school food service. I'm sure they have their favorite meals that they've been missing ever since COVID hit and closed everything down. But I do think about continuing a partnership because I don't know what my school day or week might look like; closures might occur. So I think it's good to have these collaborations in my back pocket.
Which of the plans you've made is your top choice? Of the four, which ones are you most hopeful for?
Probably some sort of classroom feeding, maybe a social distanced cafeteria. I'm just really nervous about the number of team members that will be able to work. And, you know, sickness during this time. There's just not enough time in the day. My team doesn't have time to cook the food and to also distribute it. So I'm really hoping that I get help from our different building staff to pull this off. I'm nervous about the distribution aspect, more so than the preparation of food. That's something that I really question in the back of my mind. I'm probably most nervous about closures and the students that are distance learning.
So since you started your remote feeding, what feedback have you received from the community?
At Fox, we had a social media account for our department. So I had some parents who would post their haul, what they got from us. They would lay it out on the table or I got a couple of pictures back of students that were actually enjoying their meals and with parent permission, they let me post them on our social media. And then when we had School Lunch Hero Day, we had some students who came through the line with their signs in the window. So, it makes it worthwhile. We got a lot of good feedback and a lot of appreciative moments from the community.
That's so awesome to hear, and so well deserved. As an organization and as individuals, how can we support your work moving forward?
Pick up the school meals. Participate in your school meal program. You know, everybody can participate. You don't have to be a free or reduced meal student. Chef Ann Foundation can continue to offer the grants and the different funding opportunities and learning opportunities and resources for our programs. As I've said, I've used them before in the past, and now I'm going to be looking at Salad Bars [to Schools], in the future—whatever that looks like.
You said it best. Well, we will continue doing that, I promise. And I'm excited for this to go out so that people who are listening can hear that picking up school meals and being engaged in their program is super important. Is there anything you'd like the audience to know that we haven't talked about or that you'd like to share?
I love my job. I love my career. I love what I do. I'm really thankful for this opportunity to get my story out. I hope that this inspires somebody else, especially someone who looks like me. I hope maybe somebody looks at this and reaches out to me for mentorship. I'm really big on mentorship. I want to help people and bring them up alongside me. So I hope that this inspires somebody. I'm always open for contact, question, or collaboration.
Thank you for tuning into another Hero Highlight. If you were inspired by Shannon and would like to reach out for mentorship, please email her at sebron@rgsd.k12.mo.us.
Hero Highlights is a program of the Chef Ann Foundation who carries out our vision by ensuring that school food professionals have the resources, funding, and support they need to provide fresh, healthy, delicious, cooked-from-scratch meals that support the health of children and our planet. The Hero Highlights series is sponsored by Danone North America, who offers a variety of brands that kids and parents love, including Dannon, Silk, Horizon Organic, and many more. The company's mission is to bring healthier food to as many people as possible. And they greatly value their partnership with the Chef Ann Foundation to bring this vision to life within K-12 food service. Learn more at danoneawayfromhome.com. If you'd like to check out any of the other heroes we've been fortunate to highlight, please head over to our blog. Thank you and I hope you have a great day.